Remembering Brett Murphy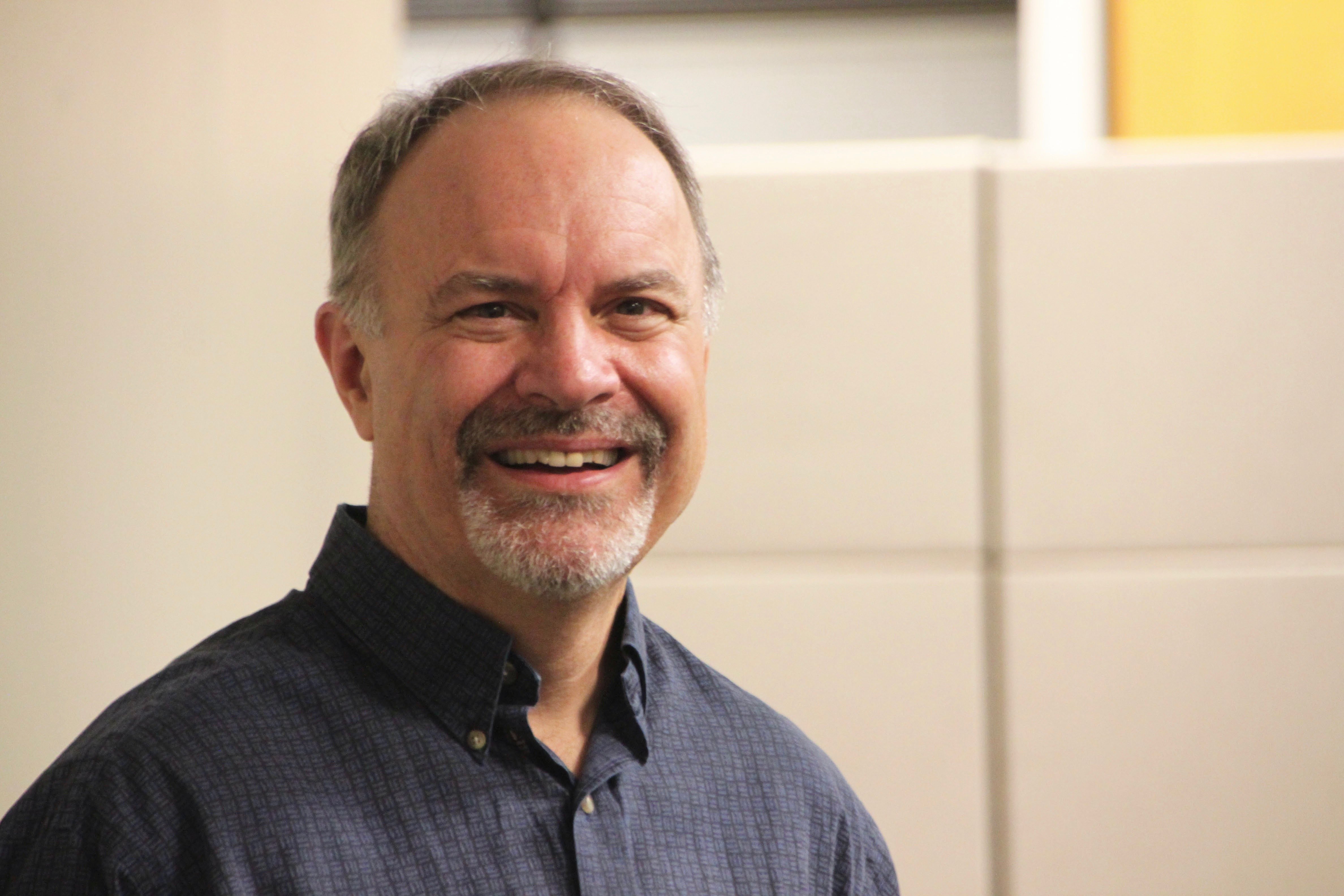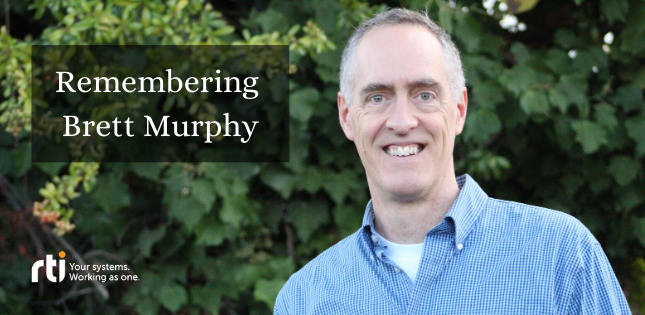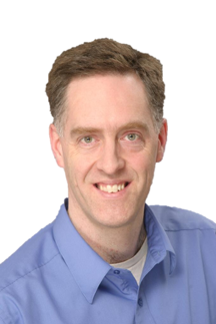 RTI lost an original team member this week. Brett contributed to RTI in so many ways, from building our early vision for DDS (before the standard known as NDDS) to his latest role developing our medical, IA, and power markets. He was one of RTI's first employees, starting when we were still in the garage. We will always remember Brett as a dedicated, passionate, team player.
Brett contributed to the industry and RTI in many unique ways. Over the years, he mentored dozens of employees, contributed to key consortia efforts, and led initiative after initiative. Brett held positions at RTI ranging from sales, to marketing to managing our business development efforts. Brett earned many accolades at RTI, including several Team Awards and an Excellence Award, our highest honor.
He was a true builder, able to pull together people from many backgrounds, technologies from many industries, and views from many perspectives. He was especially active at the Industrial Internet Consortium (IIC), taking many leadership roles. First, he was an early lead in the Testbed group, earning an Individual Largest Contribution Award, the IIC's highest honor. Later, he contributed to the Steering Committee and stepped up to assist in the merger with OpenFog. Brett's disarming smile, friendly demeanor, technical grasp, and business understanding clarified most any situation. He was a leader in every sense of the word, from modeling the way to challenging the status quo. Perhaps most importantly, he never missed a chance to thank and appreciate others. With Brett, you could always see your place in the puzzle, and imagine the possibility of the future.
Brett will never see that future. None of us will. The transformations that he helped instigate will take thousands of people and decades of effort. Thank you, Brett, for being the perfect source of team spirit. We owe you a debt we can only repay by living up to your lead. We will not forget.


Condolences
Condolence messages can be sent to his wife Neena at neenaarora@aol.com.
As a lasting tribute to Brett, we will extend this blog with pictures and written memories. Please email your input to Hannah@rti.com.
The IIC remembrance blog can be seen here.


Celebrating Brett
On May 14, 2020, Brett's family, his co-workers at RTI and other friends and colleagues joined together to hold a virtual memorial service to celebrate Brett and honor his life (view recording of service here, password: RTIJava232!).
Following is a message shared by Stan Schneider at the service:
Brett Murphy lost his long battle with cancer last week.
Brett was a great friend and coworker for many years. I met him before there was an RTI; he was one of my consulting customers while I was a PhD student. When RTI could hire, he was an easy choice…our second full-time hire, still in the garage. He left us for 10 years and worked at several other companies, but then returned to his home at RTI. He served so many roles, from our first salesperson to product manager to business development. Brett had a disarming smile and manner that everyone liked. He was a great friend and amazing colleague. He was always a real team player. He's a huge part of the culture we call 1RTI.
But now he's gone.
The day I found out, I needed to think. So, I went running in the woods. It was my first run in the mountains of the season. There was still snow in spots, melting into puddles and springs. Everything was fresh and clean and new. Spring promised a future.
I came to a stream crossing the trail. I stepped over it, but then went back. It struck me: the water running was never the same, but never different. Time passes, water passes, life passes. The world goes on.
I don't know why, but I threw a stick in the stream & said, "This is for you, Brett". I thought that maybe if I watched it float away, I could let go of Brett.
But it got stuck in an eddy under a little waterfall. It stayed there, bobbing up and down, dipping underwater now and then, but hanging on. It rolled and flipped and struggled. I looked away for a second, just a second. When I looked back, the stick was gone.
I should have had more time with that stick.
I thought I had more time.
But it has to be enough. I was grateful that it hung on a bit longer so I could be more ready to lose it. It went through a lot to give me that grace. I can't even thank it. It's gone.
I don't know how to thank you, Brett, for all you've done for me. I met you before I finished my PhD. Before RTI. When RTI could hire, you were on top of my list. We took on the world together like the water would never run out.
Oh, there are many memories. Singing by the campfire on the beach. Spitting watermelon seeds. Considering acquiring a little company from the Netherlands. Walking around Barcelona, drinking in a pub in Ireland, hanging out in Hawaii. Trying to take over the world like Pinky and the Brain. Building teams and cultures and success and struggles. Doing what we knew was right.
It was hard when I lost you the first time, but you came back. It felt so right.
It's harder this time…
The stream seems to never change. But we're only looking at a snapshot in time and space. That water will run down the hill and join a bigger stream, then a river, then a lake or an ocean. Plants and animals will build on it and create something beautiful and precious and lasting. That one little stream gives life to so many things! It will become part of an ecosystem.
The ecosystem that is RTI
The ecosystem that is me
The ecosystem that is us all
The ecosystem that is life
The ecosystem that is Spring
It's so fresh! And clean! And new! It may only last a moment. But as it flows and ebbs and struggles, it carries us into the future.
Brett is a part of me, a part of us, a part of then, a part of now. He nourishes us all. He yet inspires fresh perspective, clean motives, and new growth.
He promises a Spring that he will never see. That we will never see.
Brett, not everyone gets to be part of something bigger than themselves. We all owe much of that to you. Building something special takes talent and teamwork and attitude. But when it happens, it's something to remember and cherish.
I will remember.
I will cherish.
Goodbye, Brett


Thoughts from Brett's Friends and Teammates
One of my favorite parts of working with Brett was the impromptu "Jam Sessions" we'd get into over video chat. As I was learning more about DDS, I'd get these ideas that I thought were so exciting; Brett was my top-tier studio musician, ready to riff on the ideas, gently guiding them toward greener pastures and away from the techno-swamps -- and never making me feel like the original idea was flawed. Great fun. We just freestyle jazzed the idea and it either transformed or it played-out. I will miss the maestro.
-Neil Puthuff, Software Integration Engineer, RTI, South Orange County CA


Brett started in his second stint not too long before I joined RTI. We both had to figure out this new Market Development role. Brett was an invaluable mentor for me. He knew the history and the culture of RTI, he knew the product, and had great advice on how to affect change and get people on your side. I will miss the wealth of knowledge and experience that Brett provided, and the help. He was a good friend and I hope to live up to his example.
-Bob Leigh, Marketing Development, RTI, Toronto, ON, Canada


I enjoyed working with Brett for the 5 years I am with RTI. He was a great mentor & coach. Always helping to understand the IIot world, the technologies and the RTI way. Even when his energy was fading, he always stayed positive. He was one of those who clearly made a difference. Turn towards the sun and shadows will fall behind you.
-Reiner Duwe, Sales Manager EMEA, RTI, Munich/Germany


I got to know Brett through a multi-company project about five years ago. There was no nicer man on the planet. He was always genuine, truly interested in others, and could be counted on to help under any circumstance. The particular project we worked on was one that presented a lot of political and technical challenges that were not easily addressed. The best thing that came out of that work was my being introduced to Brett and getting a chance to work with him for a while. We laughed and commiserated often through the project and developed a professional friendship that carried beyond that work. I am sure my story is not uncommon as Brett was the type of person everyone liked and enjoyed being around. Always cheerful. Always careful to consider others opinions and thoughts in the most constructive way. Always thinking about how to make our world a better place – in big ways and in the small.
I know he was extremely proud of his family. He spoke often of his girls and how well they were doing in school. And while he cherished his kids, Neena I know he was also looking forward to the next chapter of his life in an empty nest with you.
I am so sorry for your loss and know that my thoughts are with you all at this hour. May you find some peace in the months to come.
-Jim White, CTO, IOTech and EdgeX Foundry co-founder & TSC Vice Chairman


Brett was a guiding light– a beacon in the turbulent waters of life.
I met him in 1996, and over time, came to know him as a trusted advisor, mentor, and a great friend. Always ready to help, always there with a smile, he was someone you could always count on.
We all lost someone special, but his legacy lives on with each one of us. He will be missed dearly.
-Rajive Joshi, Ph.D.; FSCAE; RTI Principal Solution Architect; IIC Connectivity Chair; IIC Automotive Chair


I got the opportunity to work closely with Brett when we were recruiting for his Market Development position back in 2018. We faced challenges along the way but he always had a smile on his face and would remain upbeat. Brett was truly one of a kind, he was a treasured colleague that everyone enjoyed working with. The loss of Brett is felt by many. May the memories of his wonderful personality and many contributions be celebrated by all.
-Avni Shah, Global Talent Acquisition Manager, RTI, Sunnyvale, CA


Brett was one of the good guys. The world needs more people like Brett. I wish we had more time with him but I'm grateful to have known him. He helped make us better. Here are a few random memories that I feel fortunate I have, they make me smile so I'll share with you.
I am so happy that he was able to make it out to the Sunnyvale Headquarters in January of this year. I feel blessed and fortunate that I got in one more hug from Brett. Every time he stopped by the office, he made a point to check in with me to say hi and ask how my family was doing. You knew he genuinely cared.
In the early 2000s, I was getting ready for Thanksgiving with the family. I happen to have a brother-in-law named Brett Murray. Brett Murphy got my Thanksgiving potluck email instead of my brother-in-law Brett Murray. I was so embarrassed. I know it sounds so silly now, but he responded nicely to my mistake, that I still remember it this day and my whole family still knows the story. He just had a special way of handling situations.
Another fond memory is the very last minute NDDS t-shirt design change. Brett decided to put the following on the back of a t-shirt song to the tune of Row, Row, Row Your Boat: "Real-time Networking, over plan IP! Ndds the way to go, makes your job easy". (I'll give Lori Fraleigh credit for still remembering the words to his song.) I remember him hitting send to the printers, pausing and then frantically working on figuring out how to undo. Brett was very resourceful, that shirt was printed. This was instead. 20 years later that t-shirt is still second on my t-shirt pile, has been and will always be my Brett t-shirt.
He had a lot of titles and roles during his years at RTI. Why? Because he had many talents, he knew how to use them, was always willing to help out, and was always a team player. Thank you Brett!
There are so many more memories that I will forever cherish. I will miss you Brett.
-Cat Mekler, Vice President Operations, RTI, Sunnyvale, CA


Please give our deepest condolences to his family. We will keep him in our thoughts and his family in our prayers.
-Linda Ray, Office Manager for the leased Austin Office Brett worked out of


I was lucky enough to work with Brett both at MathWorks and here at RTI. He was a kind man, generous with his time and happy to share his knowledge, experience and ideas. I personally learnt a lot from him and I know he'll be greatly missed by all of us at RTI. Deepest condolences to his family.
It's his amazing smile and gentle voice that I'll always remember.
-Nicola Masters, Senior Account Manager UK and Scandinavia, RTI


Brett was a great professional and an even better person. I had worked with Brett in the past, but it was in several events that I had the pleasure of listening to him explaining complex topics in his calmed and clear style. I learned from him that you could convey the most complex concepts using examples and that listening to people's problems. That was his "trick" to understand them and get them to understand you. He had a special capacity to connect with people and to connect people with each other. I was fortunate to have the opportunity to learn from him and share great experiences. He always had a smile, an anecdote, a memory of his family to share with you, making you feel part of something bigger.
- Sara Granados, Principal Field Application Engineer, RTI, Granada, Spain


I am grateful to have first met Brett in 1985 when we were dorm mates at Stanford. Brett was a dear friend to many of us through the years, he possessed a rare combination of qualities - smart but humble, steady but could cut loose, quiet by nature but with an unrestrained laugh.
Brett was so humble, I will never forget the time he was listed in the Stanford Daily newspaper as winning the award as one of the top Aeronautical Engineering students in all of Stanford, and the guys in our group of friends were blown away that it was "our Brett" that had won. He had never mentioned it to any of us.
Brett was a blast to have on college road trips, whether to Tahoe in summer or Santa Barbara on Halloween, he could always be counted on to amp up the fun and to help keep the group together.
In retrospect, in college, Brett was way ahead of most of us in his own quiet way - he was already head over heels for his future wife Neena, he already knew what was important (stable family, good friends, meaningful work) and what was not (material possessions, money).
I am not surprised to hear Brett was a pleasure to work with at RTI and IIC. I always enjoyed meeting up with Brett over the years in Menlo Park, Boston and Austin as we followed our career paths. In our last couple gatherings of college friends, post-diagnosis, he was quite happy to be working at RTI.
Rest in peace Brett.
- Mike Burns, dorm mate/good friend from Stanford


I knew who Brett was before joining RTI in 2015 from my time at Wind River, but I got to know him a lot better during my first few months at RTI, as he was doing half of my job (in his spare time) when I hired in. He was always great, super generous with his time and knowledge and we really clicked, but I think that Brett really clicked with most. Just a super person and great to work with. I was really happy that I got to have dinner with him the last time I saw him. It probably didn't mean a lot to him, but it meant a lot to me.
- Rob Proctor, Lead Field Application Engineer, RTI


I had the chance of working with Brett at some events in Austin and he was the person that you would like to work with, as professional as well as personal. I feel fortunate to have been able to meet and work with him. I will never forget his words before a joint presentation 3 years ago 'you are the expert on this subject, so don't get nervous'. And of course, his unforgettable smile, independently of the situation.
- Angel Martinez, Senior Software Engineer, RTI, Granada, Spain


Many of us at MathWorks feel the loss too. He worked there for 6 years, 2005 - 2011. I managed the Coder products, and he the V&V ones, so we spent a lot of time together. He made lastly V&V contributions for sure, but more than that, he taught me a lot about developing a new organization, managing across teams, and growing careers. I believe this was because Brett cared a lot about people and was a genuine, kind person. You learn about people's core values like this, by traveling the world together at the various events, meetings, and late dinners that I had the pleasure to enjoy with Brett.

I was fortunate to have worked with Brett just a few months ago, and even as his health was failing, he still retained his quick wit and dry humor, that was well liked and respected by many of us at MathWorks.
- Tom Erkkinen


Brett was a dear friend. You've described him well. Brett and I joined MathWorks just two months apart. We discovered that we lived in the same town and that our children attended same school, becoming friends. As Tom notes, Brett invested in people and built deep relationships. His smile and demeanor were always welcoming and his perspective and insights were well-informed.

I am grateful to have known Brett and will miss him.
- Sudhir Sharma


Brett worked for me during the time he was at MathWorks. I learned a lot from him as his manager and he had a strong influence in helping to build up our Product Marketing staff model in many ways. His calm demeanor helped him build deep relationships and he will be missed in the community.
- Paul Barnard


What a great loss this is – for his family, for his RTI family and for humankind. Brett made us all feel important, made everyone feel their voice mattered. For Marketing not only was he the SME who would always say "yes" to our requests but he was also referred to as Uncle Brett within the team. He would go out after CKO to the late night after parties with the younger members of the team and make sure that everyone stayed together, had a good time and had an Uber ride home. Even when his health failed, he never let on, still saying "yes," still showing up, still helping. He was truly selfless. He has touched the lives of so many. He set the bar for what we all strive to become.
- Barbara Onzo, VP Marketing, RTI


Brett Murphy – Life of Gratitude
Master of biz, technology wiz
Builder of dreams, steerer of teams
Giver of praise, Avoider of stage
An exceptional human being
Deliverer of witticisms, Source of enthusiasm
Donor of time, Bringer of smiles
Mentor to many, Distiller of complexity
A great guy to work with
Living with gratitude, dispeller of attitude
Lover of family, Maker of friends
Lender of an ear, Drinker of beer
A joy to be near
Builder of vision, Driver of union
Diffuser of tension, Instigator of transformation
Lover of nature, Conveyor of calm
May all those who loved Brett find comfort in our memories of this exceptional man
- Kathy Walsh, Vice President of Marketing, IIC


It is with great sadness that I just learned about this news. I had worked for Brett for the first several years while he was at MathWorks. Brett was always a kind and compassionate person. Collaboration and consensus always mixed in with honesty and integrity were the traits of Brett that I will always remember. He always worked to make me and his team members feel wanted and part of the big picture. I lost touch with Brett over the last several years, and that was my mistake and my loss. My condolences to Neena and the rest of Brett's family.
- Steven Kolak


My name is Nord Samuelson, a good friend of Brett's from Hanover High School. I just wanted to let everyone know how sad I am and so many of his classmates are to hear this news. Brett was known in high school for his brilliance, his integrity, and for being the consummate teammate. We attended a small high school in New Hampshire that became way more successful than anyone thought we would be in cross country and track and field because of amazing teammates like Brett. He was always out there working hard and looking for ways to help encourage the team to be better.
It certainly sounds like that carried into his professional life with RTI, always looking to help move the team forward and finding ways to help make everyone better. Thank you for sharing these posts, they help in lot in celebrating such a wonderful person and teammate.
Best wishes,
- Nord Samuelson, Hanover High School, Class of 1983


I wanted to write and say that our thoughts are with Brett's family. I met Brett when I was the CEO of SGIP (Smart Grid Interoperability Panel) and our team enjoyed working with him on OpenFMB. He was smart, a collaborator, and thoughtful individual. He was all about getting things done and was measured to push through things even when frustrations were high.
We are saddened by the news.
- Sharon Allan, Chief Strategy Officer, Smart Electric Power Alliance

A short list of Brett's many written contributions

IIC
IIC Industrial Internet Reference Architecture
IIC Industrial Internet Connectivity Framework
IIC Advancing the Industrial Internet of Things
IIC and Industrie 4.0 Architecture Technical Alignment & Interoperability
IIC Distributed Energy Resources Testbed
IIC Use Case: Energy Peak Shaving
IIC Edge Computing Advantage white paper


RTI Blogs
Digital Transformation Revisited
Charting the IIoT Use Case Evolution
Two Approaches to Integrate DDS and OPC UA
Getting Real Results with the IIC Microgrid Testbed
Industrie 4.0 and IIC Bury the Hatchet
How IIoT Can Make Smart Cities Even Smarter
Is the IoT beginning its Slide into the Trough of Disillusionment
Fog Computing: IT Compute Stacks meet Open Architecture Control
Industrial Internet Connectivity Document Evaluates Core Standards
The First Smart Healthcare Testbed at the Industrial Internet Consortium
25 Partners, the IIoT, and a Smart Grid Demo at Distributech 2016
The Industrial Internet Consortium Turns 1 This Week!
2nd Version of the Industrial Internet Reference Architecture is Our with Layered Databus


Articles
Embedded Computing Design: How fog computing is driving Industrial IoT systems evolution


Webinars
The Next Imperative in Medical Systems
Precise, Predictive, and Connected: DDS and OPC-UA
IoT and the Edge Panel Discussion


Podcast
Top IIoT Use Cases Enabled by DDS

About the author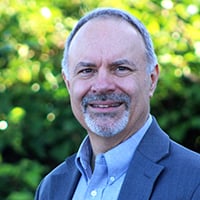 Stan Schneider is CEO of Real-Time Innovations (RTI), the largest Industrial IoT connectivity vendor. RTI has an extensive footprint in Energy, Medical, Automotive, Transportation, Defense, and Industrial Control.

Stan serves as the Vice Chair of the Industrial Internet Consortium (IIC). He also serves on the advisory board for IoT Solutions World Congress. Stan holds a PhD in EE/CS from Stanford University.
Subscribe to the RTI Blog