25 Partners, the IIoT, and a Smart Grid Demo at Distributech 2016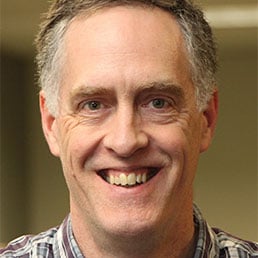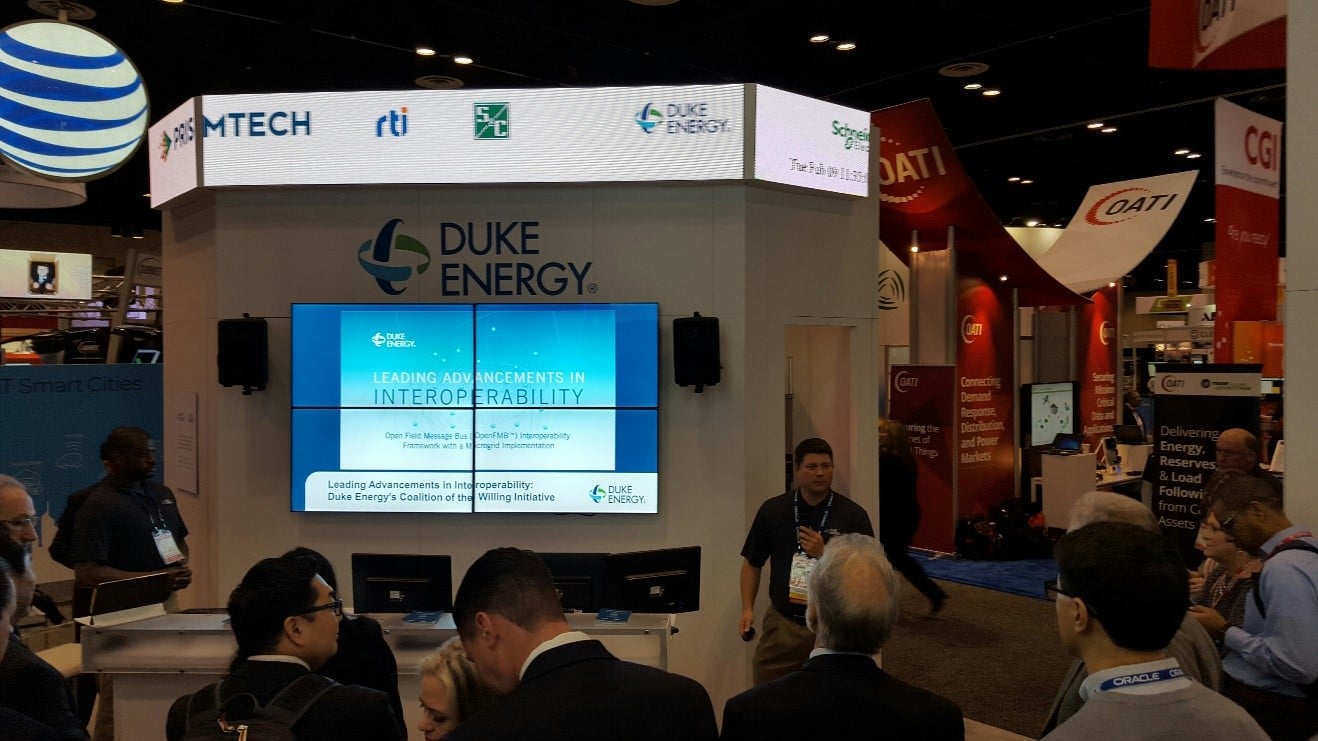 At DistribuTECH 2016, the second week of March in Orlando FL, Duke Energy and 25 partners demonstrated a distributed microgrid application scattered across 12 booths on the show floor. As the culmination of Duke's Coalition of the Willing Phase II (COW II) project, it demonstrated near-real-time microgrid use cases like optimization, islanding and grid resynchronization. Each booth was connected via wireless networks and running a part of the overall microgrid demonstration, all based on the new OpenFMB (Open Field Message Bus) distributed device interoperability framework using open Industrial IoT protocols. DDS was one of 3 IoT publish-subscribe protocols utilized in the simulated demo and underpinned the SCADA control messages between OpenFMB nodes.
OpenFMB is both a project at the SGIP (the Smart Grid Interoperability Panel – a consortium of utilities and vendors dedicated to accelerating the development of a smart power grid) and an emerging standard from NAESB (North American Energy Standards Board) for edge device communication and control. The OpenFMB project team at SGIP spent several months focused on challenging microgrid use cases that require low-latency peer-to-peer communication and control across edge devices in the power grid. Duke Energy's Stuart Laval and Hitachi Consulting's Stuart McCafferty (yes, we have nicknames to tell them apart on the weekly calls) chaired the OpenFMB project team. The team delivered an initial demonstration of the framework at SGIP's annual meeting in New Orleans in late 2015. This initial demo used DDS for real-time data communications between all the devices and controllers. The result was a proof of concept of interoperability between microgrid devices executing near-real-time use cases.
In parallel, Duke Energy and a team of 25 vendors partnered as the Coalition of the Willing II team, to develop a live operational system at Duke's Mt Holly microgrid testbed. Mt Holly includes real equipment such as a 100-kW photo-voltaic solar system with smart inverter capabilities, a 250-kW battery energy storage system, a 10-kW photo-voltaic solar carport, operations room and more. All based on OpenFMB, this testbed was completed recently and showcases both edge device interoperability and the real-time communications and control needed for microgrid applications. The microgrid in Mount Holly is able to switch to an islanded mode in under 50ms. OpenFMB provides an open data model based on existing standards, and IIoT protocols, including DDS (of course!), MQTT, and AMQP. You can learn more about the Coalition of the Willing (COW) and Mt Holly by watching Duke's video (above) or going to their coalition website.
At the DistribuTECH event this year, Duke Energy and a bunch of the COW II partners demonstrated a simulation of the Mt Holly microgrid testbed. Duke showed eight demonstrations, 30 minutes each, over the three days of the conference and presented to over 1,000 attendees. DDS was one of the main publish-subscribe middleware technologies for communicating SCADA data between a variety of devices in different booths, and DDS held its own on the noisy (for the network that is) show floor. (For more detail on the demo and for a blow-by-blow on how our team members debugged the DDS data communications check out this previous blog post.) I would say this demo was the talk of the show, proving that OpenFMB (and DDS and IIoT protocols) can drive previously difficult-at-best edge control use cases for the Smart Grid.
If you'd like to learn more, be sure to check out the replay of our recent webinar "How to Architect Microgrids for the Industrial Internet of Things"
Subscribe to the RTI Blog