Use, Build, Teach and Research at No Cost
RTI is committed to supporting research and education for real-time distributed systems. If your university has a classroom or non-commercial research lab project that requires complex communications across distributed systems, you may be eligible for a free license to RTI Connext®, the world's leading implementation of the Data Distribution Service (DDS™) standard for real-time systems.

To be eligible for the program, you must be affiliated with a nonprofit university. Programs that would qualify are undergraduate or graduate-level courses or individual student projects, and clearly-defined non-commercial research projects that receive minimal or no commercial funding. Apply for a university license today.
We offer professors and researchers:
Full-year license to Connext Secure – unabridged research version
Annual renewal option for longer-term projects
Ability to get hands-on experience with DDS, building a marketable skill set for future employment
Access to an online community to get support, share information and access additional resources
Opportunity to publish work in the RTI community, at selected conferences and on the RTI website.
Why are We Doing This?
University research is in the DNA of RTI. We were founded by robotics researchers from Stanford University, and we remain deeply committed to supporting universities around the world in their advanced research and teaching of complex, distributed systems that operate on real-time data exchange.
It's not just a one-way relationship. University projects help RTI to continuously improve our products through valuable feedback on ease-of-use, practical utility and new feature suggestions. We invite you to join our global community of universities who use Connext in their labs and in their classrooms.
For questions about the RTI University Program, please contact us at up@rti.com.
---
University Program Snapshots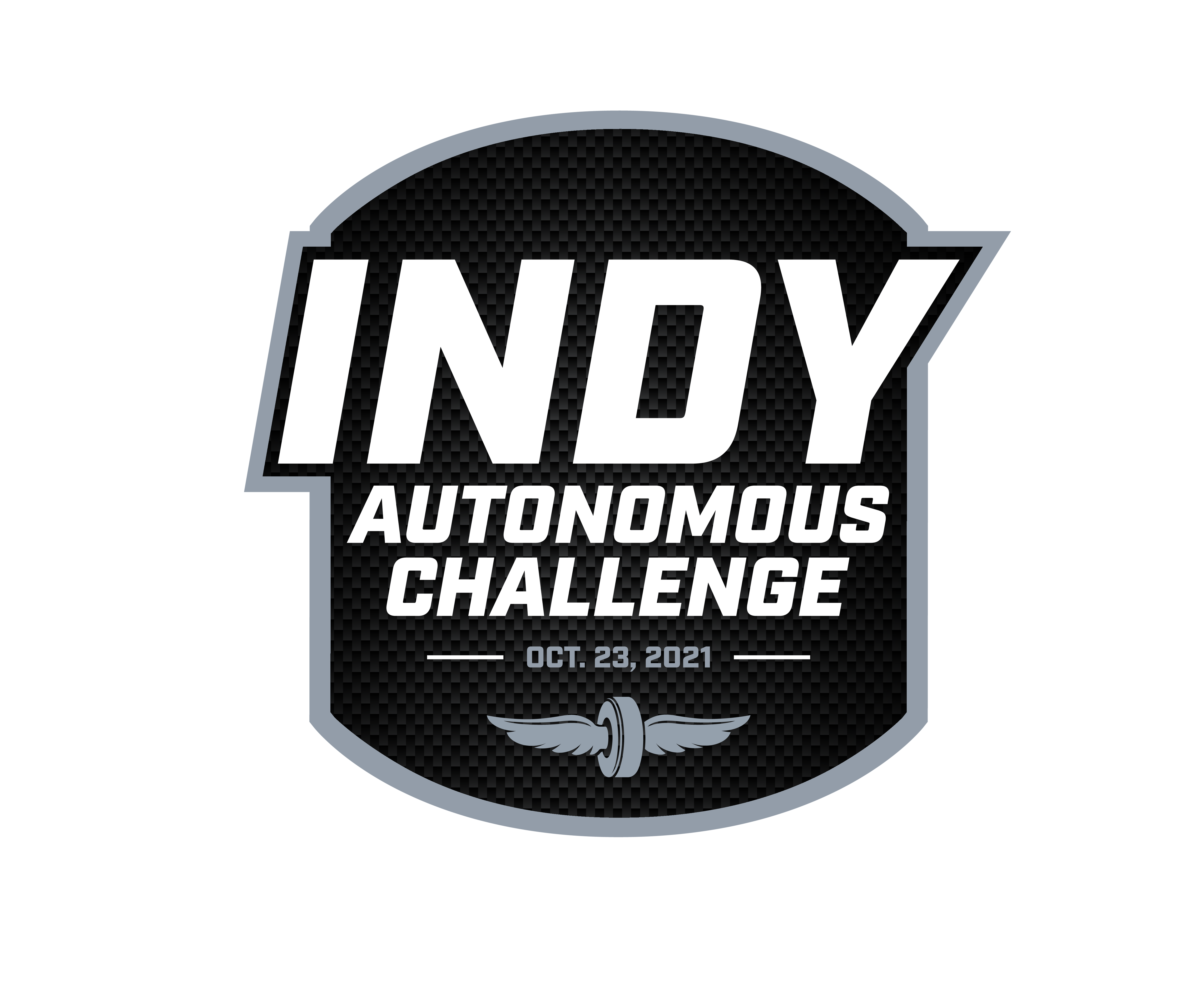 The Indy Autonomous Challenge
This two-year, $1.5 million competition will be the first head-to-head, high-speed autonomous race, involving 500 students from around the world. RTI is proud to provide each team with Connext®, our commercial-leading open software framework to design, simulate and run their cars. Connext provides an efficient path from prototyping to production with intelligent connectivity and extreme scalability across platforms (including ROS2 and AUTOSAR). And with car speeds expected to top 200 MPH, students and their advisors can breathe easier knowing that Connext brings peak performance that is certifiable to the highest ISO-26262 standards for safety. We wish every student a fun and winning experience.

Team members, please visit the RTI Indy Challenge page for additional resources.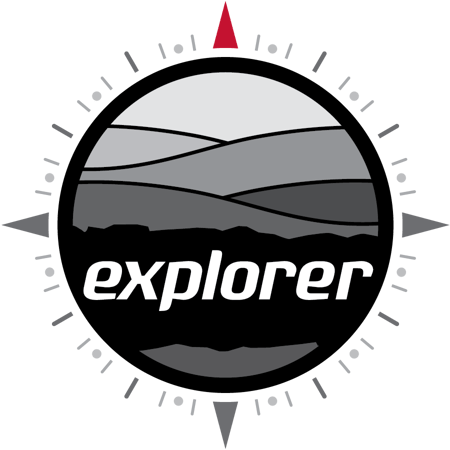 Carnegie Mellon University
DARPA SubT Challenge
Carnegie Mellon University is taking part in the DARPA Subterranean Challenge, which seeks novel approaches to rapidly map, navigate, and search underground environments during time-sensitive combat operations or disaster response scenarios. The team is using RTI Connext as the connectivity framework to make coordinated, time-critical decisions in uncertain underground environments. This work will be applicable for future applications of situational awareness, search and rescue, remote scouting and forensics/data analysis. www.subt-explorer.com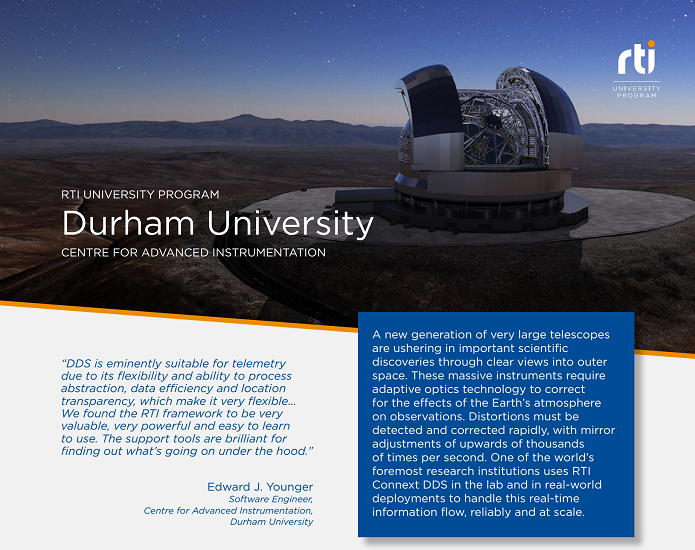 Durham University
Centre for Advanced Instrumentation
A new generation of very large telescopes are ushering in important scientific discoveries through clear views into outer space. These massive instruments require adaptive optics technology to correct for the effects of Earth's atmosphere on observations. Distortions must be detected and corrected rapidly, with mirror adjustment of upwards of thousands of times per second. One of the world's foremost research institution uses RTI Connext in the Lab and in real-time information flow, reliably and at scale.
Download the Case Study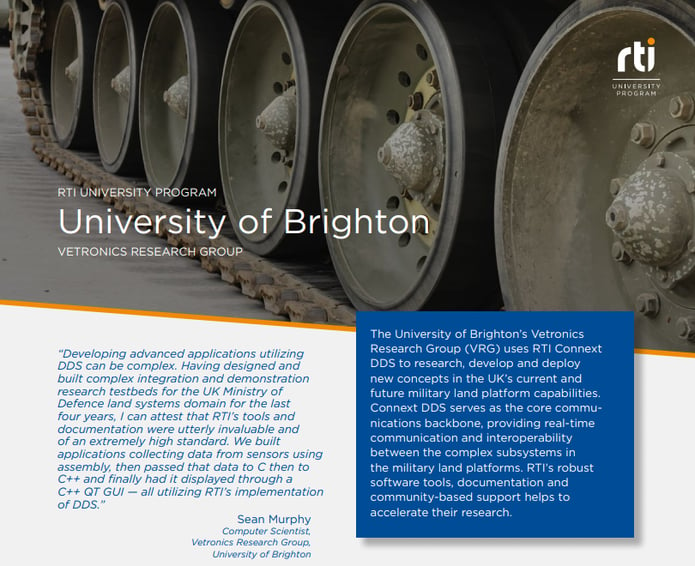 University of Brighton
The University of Brighton's Vetronics Research Group (VRG) uses RTI Connext to research, develop and deploy new concepts in the UK's current and future military land platform capabilities. Connext serves as the core communications backbone, providing real-time communication and interoperability between the complex subsystems in the military land platforms. The full paper is available directly from the IEEE library.
Working with Leading Universities around the World
RTI is proud that Connext enables advanced research across the world, through the pioneering work of universities including: