RTI offers the connectivity framework, tools, and support to help developers get started, accelerate code delivery, stay challenged and excel. Getting Started resources bring you up to speed quickly, and advanced tools plus an active developer community keep you stimulated and learning. Based on the DDS standard and the simple principles of publish/subscribe, Connext is a powerful and feature-rich platform to build and expand your connected systems.
We invite you to join the world's largest technical community for DDS software. Try RTI software for free and start building today.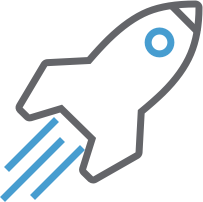 Getting Started with Connext
A comprehensive selection of videos, documentation, community forums and RTI support services will get you up and running quickly. From Windows to Linux to C++ to Java, we have a wide range of on-demand resources to support you from the earliest days. From your first Hello World to your first use case, RTI delivers the tools and support to help you become productive quickly.
Learn More
Developer Resources
Complimentary access to a wide range of on-demand tools including podcasts, webcasts, documentation as well as an experienced technical community give developers the support to troubleshoot and deploy complex systems.
RTI Labs
Users who take advantage of RTI Labs have the opportunity to leverage these projects to optimize their distributed and autonomous systems with advanced technical capabilities and influence the RTI product roadmap.