Connectivity in Software-Defined Vehicles
Across the world, OEMs are investing heavily in the race to launch electric, connected and autonomous vehicles. Yet despite their efforts, the market is not progressing as quickly as expected. As manufacturers are learning, simply adding in-house capacity does not necessarily accelerate progress. Instead, a complete architectural revolution is required, centered on the concept of the software-defined vehicle (SDV).
This software-driven approach must perform in a way that guarantees performance, scalability, safety and data-centric communications. Transitioning to a software-defined vehicle is massively complex, requiring a combination of modern architectures and a guaranteed interoperability with legacy technologies to fulfill the need for high-performing connected domains.
In the scope of modern architectures, the software-defined vehicle transition has given rise to next generation electrical/electronic (next gen E/E) zonal architectures. This shift helps to consolidate vehicle computing capabilities for optimized cost, power distribution, security, flexibility and weight.

RTI Connext Drive® provides the data-centric software framework to efficiently manage this complexity. It integrates new and evolving technologies to seamlessly support individual solutions from zonal architecture to high performance computing and all the way to the cloud.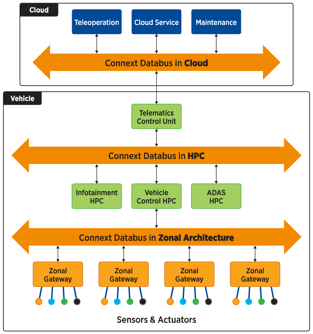 ---
RTI is active in many of the leading consortia working to solve critical problems in the software-defined era, including: