For automakers building the vehicles of tomorrow, the race to market is already on. And from now on, every decision - from design to prototype to production - needs to be the right one. After all, the agility to move at top speed is vital in the fast-paced world of autonomous and electric vehicle development, at every stage of the project.

The simple truth is this: choosing the right connectivity software at the beginning can help automakers glide gracefully over the finish line at the end. Choosing the wrong one, however, can steer a team miles off course.
"Baidu is developing solutions for autonomous valet parking, fully autonomous mini-buses and more, based on Apollo, a leading global autonomous vehicle technology platform. The reason we decided to work with RTI's technology as the connectivity framework was for the superior reliability, a critical factor in the development of autonomous driving. With Connext, we can guarantee the utilization of bandwidth with TCP + UDP, ensure flexibility through multiple QoS strategies and apply standards-based security and safety. We are looking forward to accelerating innovation in autonomous driving together with RTI."

-Dounan Wei, Commercialization Manager

Baidu Intelligent Vehicle Business Unit
Exclusively for automakers aiming for a graceful go-to-market experience, we are pleased to announce RTI Connext Drive®: The first automotive-grade, safety-certified, data-centric communications framework for next-generation vehicles.


Watch our latest Connext Drive video

Automotive Standards and Partners
RTI Connext Drive is built on Data Distribution Service™ (DDS), the proven connectivity standard recommended by AUTOSAR Adaptive and ROS2 for autonomous vehicles. Connext Drive is the first – and only – software that can integrate DDS, ROS 2, AUTOSAR Classic and AUTOSAR Adaptive. This allows automotive companies to work with the standard (or standards) that best meets their needs at different points in the development cycle. Connext Drive includes a software framework and native Software Development Kit (SDK) for developing and integrating autonomous drive applications.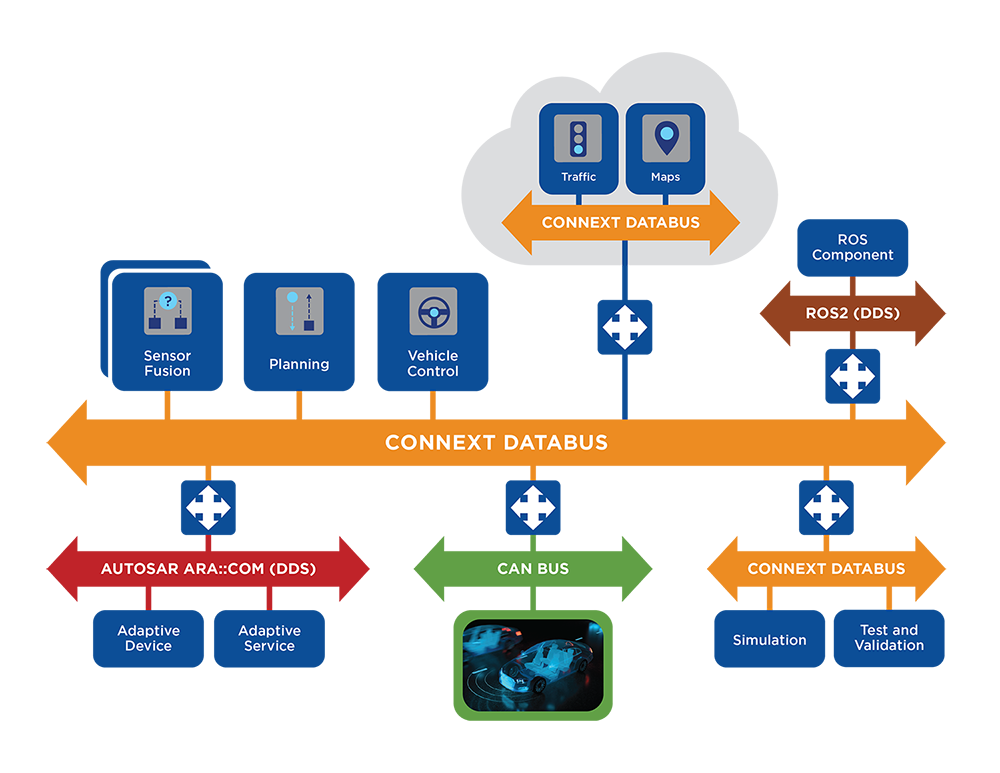 A sample autonomous vehicle system architecture, using the Connext Databus to integrate all components and frameworks. Connext Drive is the first and only framework to bridge all automotive ecosystems.
From research to production, Connext Drive offers automakers the software they need to operate in diverse real-time environments, interoperate with other systems within the vehicle, connect to off-vehicle systems and build in automotive-grade security.
RTI is partnering with many of the leading automotive technology providers to provide interoperable solutions, providing automotive customers with the ability to use the software and platforms of choice.
"The integration of BlackBerry QNX's safety-certified operating system with RTI's data-centric connectivity framework provides a solid foundation on which to base software development for connected and autonomous vehicles. Partnerships like this enable our customers to architect and realize next generation distributed systems."

- Grant Courville, Vice President, Products and Strategy

BlackBerry QNX


Going the Distance with RTI Connext Drive
Connext Drive is flexible to build for a future of unknowns through its standard-based architecture that can future-proof autonomous vehicle development. It uses DDS, the data-centric framework that has been proven in thousands of real-world deployments. Connext Drive delivers years of experience in enabling mission-critical, autonomous systems across industries, as a simple-to-access package for automakers. Connext Drive is ready to solve challenges - even the ones not yet thought of, or planned.
Watch how RTI is helping Voyage (now Cruise) empower communities with autonomous vehicles

Through the Connext Drive licenses, automakers receive automatic access to product updates, such as new reference architectures and data models, development and integration guides and optional ISO 26262 ASIL D safety-certified libraries. These resources can significantly reduce the risk of deploying autonomous vehicles in safety-critical situations.
"We specialize in providing vehicle-agnostic driverless software for urban environments. Our target applications include autonomous transportation around hotels, theme parks, commercial offices, retirement communities and more. We selected RTI's connectivity software because it provides the high performance we require, while giving us the flexibility we need to customize our technology per application. With RTI's technical expertise, 15 years of proven industry experience and market-leading technology, we're able to deliver safe, autonomous solutions across the Asia-Pacific region."

- Derrick Loh, CEO

Moovita
Watch the RTI Connext Drive Demo

Ready to go the distance? RTI Connext Drive is the only standards-based solution specifically built for both the current and future development of intelligent, autonomous vehicles. For more information about Connext Drive, contact us at info@rti.com.
---