Charting the IIoT Use Case Evolution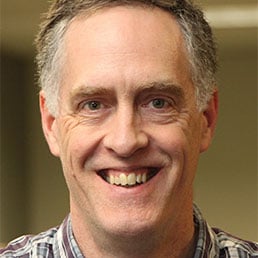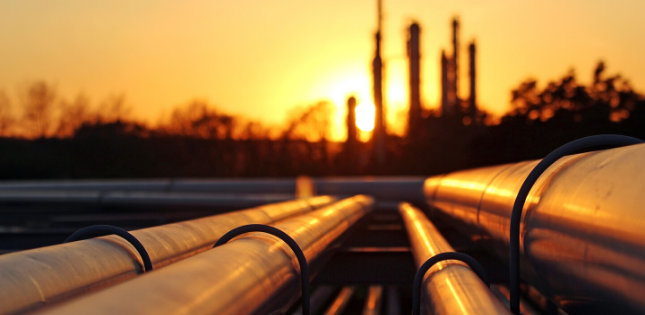 For the past several years, the Industrial Internet of Things (IIoT) has been ranked among the top game-changers in industry. This week at the IoT Solutions World Congress event in Barcelona for example, new case studies across healthcare, transportation, energy and manufacturing are set to be unveiled that illustrate the course of this evolution.
Yet in the past, the majority of IIoT system applications have tended to be focused around relatively simple use cases and value propositions. The killer IIoT application-of-the-moment seems to be predictive maintenance. With the help of additional sensors, connectivity and backend machine learning analytics, organizations are instrumenting their valuable "edge" assets to enable predictive maintenance, extending asset life and reducing maintenance costs. Much like email for the early Internet, predictive maintenance and asset monitoring use cases in general will drive the adoption and expansion of the IIoT.
And like we have seen with the Internet, over time there will be a continuing evolution of IIoT system applications to address more capable (and more valuable) use cases and value propositions.
Advancing Levels of IIoT Use Cases
In the following diagram, you can see three different "levels" of IIoT use cases: Asset Monitoring, Process Optimization and System Autonomy. The capability for IIoT systems to address more advanced levels of use cases is enabled by increasing data interconnectivity (this is where RTI and DDS come in) and AI (analytics).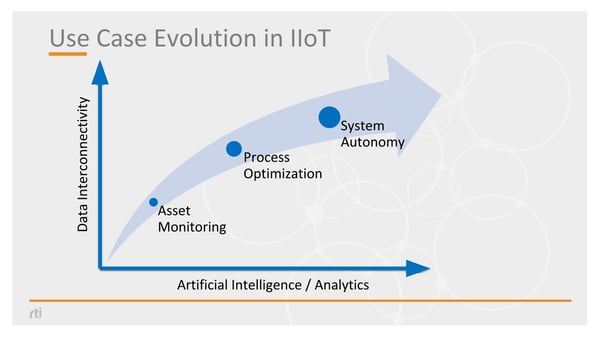 IIoT Use Case Evolution with increasing data interconnectivity and analytics
Asset monitoring includes the use cases captured under the heading of asset performance management (including predictive maintenance, tracking, etc). Data is collected from sensors placed on assets and transmitted to a back-end server for analysis. In general, this category of use case does not have peer-to-peer data connectivity.
Process optimization involves increasing the number of sensors and machines across a process. Here, the systems are beginning to use more real-time decision making to optimize entire processes utilizing multiple assets. For example, for a gas pipeline, beyond simply instrumenting the turbines in a pipeline pumping station, you gain additional visibility into the state of the valves, flow meters and other process elements to optimize the gas pressurization and pumping process. Implementing a system like this requires more data, more analytics at the edge and more peer-to-peer data connectivity. The complexity and the value have correspondingly increased.
System autonomy is at the highest level of use cases. This removes humans from the loop and uses artificial intelligence (AI) to manage more and more of the system. Continuing with our energy use case examples, an offshore wind farm has some obviously valuable assets to monitor and protect. Instrumenting all the elements in the wind farm and providing visibility across the entire power generation process offers a variety of opportunities to optimize power generation. Automating the entire system brings even more value. This requires peer-to-peer connectivity between the turbines and controllers, the addition of a wind farm process control layer to optimize and automate farm operations and bi-directional control with a backend control center that is managing multiple wind farms to optimize power generation to match market pricing and conditions.
Predictive maintenance of each turbine remains an important use case in this autonomous system, but it's a side application for a single use case – a relatively simple one. Large scale system autonomy is where the real value of IIoT lies – and it's where we are heading.
DDS for IIoT Data Interconnectivity
Data Distribution Service (DDS) is the connectivity framework for real-time information flow in distributed systems. It started in the Autonomy realm back in 2005 with use cases from the U.S. Navy. Since then, we've seen more and more commercial IIoT applications, and DDS has been tailored and used in many optimization use cases. DDS is very useful for large optimization-focused systems that need secure, high-performance, scalable data connectivity. For example, GE Healthcare's next-generation patient monitoring system helps a hospital integrate, visualize and optimize the process of delivering healthcare. While DDS can be used for relatively simple asset monitoring use cases, it is used more widely in organizations building out autonomy and optimization systems.
The future of the IIoT is large-scale, highly performant, secure and resilient autonomous systems. Advanced analytics and a ubiquitous data connectivity fabric are key enablers. DDS is the proven data connectivity framework for integrating the analytics and software that power these autonomous systems. To view a summary of RTI's library of use cases, please visit https://www.rti.com/industries.
About the author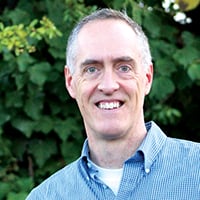 Brett Murphy is senior director of market development, Industrial Internet of Things (IIoT) with RTI, where he is responsible for RTI's efforts with industry consortia and strategic partners. For over 20 years, Brett has worked on controls analysis, hardware-in-the-loop test systems, robotics, real-time software development, and systems engineering in the aerospace and embedded software industries. In the distant past, Brett received a BS and MS in Aerospace Engineering from Stanford University.
Subscribe to the RTI Blog