Future of Automotive Industry

We're working with our customers to share with you their stories and insights, to offer you a rare glimpse into the future of systems from some of the world's most exciting and innovative industries and development teams. Enjoy!

By Constantin Brueckner, Hardware-in-the-Loop Functional Test, AUDI AG
Your car is probably the most compute-intensive thing that you own. It will have at least 40-50 Electronic Control Units (ECUs) for a recent economy vehicle and well over 100 for a top of the range car. In the past, each of these ECUs had one dedicated function to perform. This evolved over time and most of the ECUs now perform more than only one single function or group of functions. Despite this evolution of ECU use, there is still an increasing need to reduce the number of ECUs and the cabling between them with the ultimate aim of increasing fuel economy and reducing CO2 emission, whilst providing the customer even greater functionality in the car. These additional demands are being met by a shift towards functional integration and communication between ECUs and between the car and its environment. This is one of many more reasons why the future of automotive test is becoming distributed and interconnected. Furthermore our test systems have to evolve as fast as the car functionality to encompass this change. To address these challenges Audi founded a pre-development department for test systems, which currently develops a real-time capable bus system based on RTI DDS for the future test systems.
But first, let us have a look in more detail at the shift towards 'functional integration' and explain it with following examples:
A simple former "air bag computer" fired the air bags at the time of a crash. This now becomes an integral element of the complex safety system with more safety functions to avoid great injury to the passengers in case of a crash. The new, so called, 'safety computer' has an automatic crash detection capability ("Audi pre-sense") and it has to perform, for example, fully automated braking support, deploy the air bags, pre-tension the seat belts, close the windows and roof and move seats into an upright position.
Dedicated ECUs for radio, navigation and rear seat entertainment are evolving into a "main entertainment unit."
Dedicated ECUs for body electronics like head light, interior light, and air conditioning, are combined into one "body control module" and enriched with new capabilities such as bending light, LED head light, parking assist, air condition and rain-sensing wipers.
Furthermore there is a new automotive safety assurance standard to comply with that reflects this change to a function-centric system view, ISO26262. Functional Safety is intrinsically end-to-end communication in scope. It has to treat the function of a subsystem as part of the function of the whole system. This means that whilst Functional Safety Standards focus on Electronic and Programmable Systems (E&PS), the end-to-end objectives for the approval process means that in practice functional safety review has to extend to the non-E&PS parts of the system that the E&PS actuates, controls or monitors.
Functional integration and this regulatory change are the issues driving a fundamental shift in how the HIL (Hardware-in-the-Loop) tool chain of automotive test departments has to be developed.
In the past, we would have to determine one HIL vendor before we set up a new HIL test bench to ensure that every particular subsystem can seamlessly work together with each other. Today we are moving from this all-in-one solution with monolithic HIL test benches provided by one single vendor towards heterogeneous and distributed test benches, which consist of several hardware modules from different HIL vendors, connected via the real-time capable HIL-Bus.
Why? Because no single HIL vendor has this previously mentioned all-in-one-solution, which meets all our test demands regarding distributed functions and highly integrated ECUs. As a result, we must choose the best-in-class solution for each sub-system and use those to develop a new test platform in which we have a high degree of confidence. The challenge is in how we go about integrating this set of HIL platforms from all of these different vendors in order to produce a new generation test bench for next generation cars and functions.

The communication in cars has already moved from dedicated wire-based communication to a data-oriented bus communication using for example CAN bus or FlexRay. We have now transferred this bus-based approach from our cars to our next generation HIL architecture. We call this new approach 'HIL-Bus based.'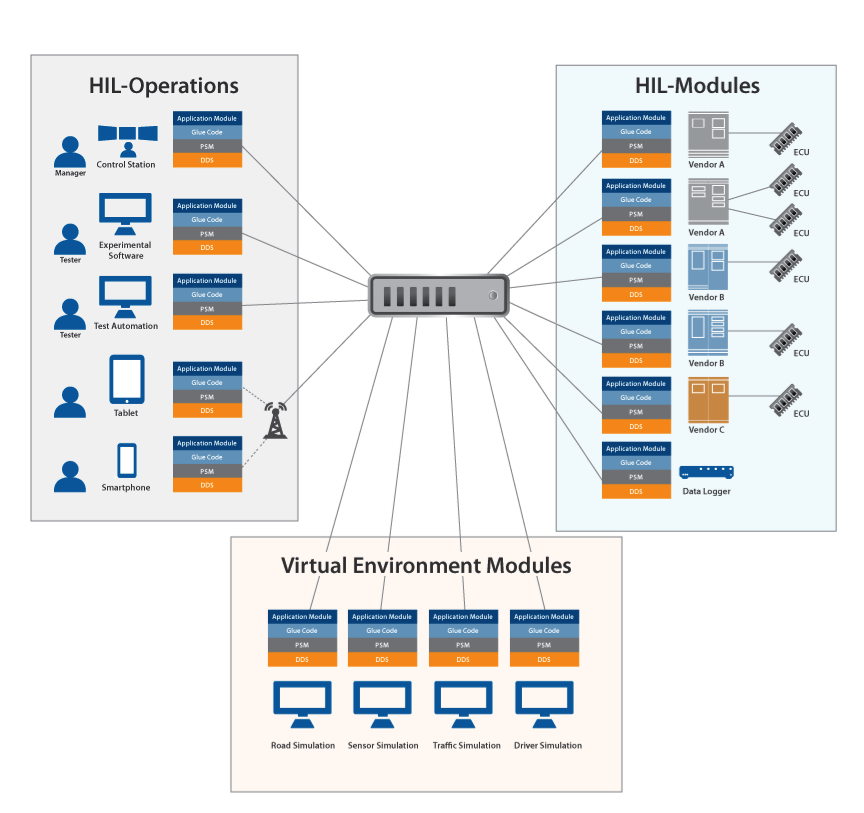 To realize this bus-based approach for HIL-test-benches we need a data-centric bus representation mechanism to be the conduit of state information.
For the technical realization Audi decided to use RTI Connext DDS with integration points for HIL vendor systems.
RTI not only provided us a market leading implementation of DDS with their Connext DDS product, but their OCS (Open Community Source) license model gave us the ideal commercial framework to work within to develop an open market ecosystem for the HIL-Bus concept. OCS enables our HIL-Bus partners to have free access to RTI Connext DDS for their development and deployment. It thus removes a major inhibitor to adoption across the industry. It allows partners to focus resources on integration and quality.
Additionally we drive and focus on open international standards like the ASAM XIL-API to seamlessly integrate test automation software for 24/7 automated and deterministic tests and experimental software tools for manual testing.
Today we are working with multiple HIL system vendors to evolve this ecosystem and to instantiate the HIL-Bus as the ideal method for end-to-end functional system test.
For more information on HIL-Bus testing, we suggest this joint Audi/RTI article by Bettina Swynnerton of RTI and myself that was published in ATZ Elektronic in July 2014.
To learn more about ASAM XIL-API visit the ASAM website www.asam.net.
Learn More:
Autonomous Vehicle Production »
Connectivity in Autonomous Systems »
Subscribe to the RTI Blog