DDS Proof Points for Autonomous Cars

While implementation details for autonomous cars are still tightly guarded design secrets, deployment examples in adjacent markets provide a wealth of information about DDS and its ability to solve the most challenging connectivity problems.
The following use cases have one or more connectivity issues in common with autonomous cars. Autonomous car requirements span three main areas: performance, safety, and integration. Systems must ensure performance to successfully connect components, optimize safety at every level of a fully autonomous system, and make it easier to reliably integrate complex software from diverse components.
Performance: Revised Approach to Automotive System Testing
Familiar names such as Audi and Volkswagen are among the carmakers that have already introduced RTI Connext DDS to enable high-performance connectivity for testing and enhancing today's smart cars.
Audi replaced a proprietary fiber network and test rig with a DDS databus, for a more flexible way to connect multiple simulation vendors' systems. RTI middleware enables a modular test environment with the speed to handle data coming from all of the electronic systems in a vehicle during simulated. Additional details can be found here: A New Architecture for Hardware-in-the-Loop Test via ATZ Elektronik
At Volkswagen, autonomous vehicle algorithms are part of the company's efforts to evolve driver assistance and integrated safety. The system combines radars, laser range finders, and video to assist safe operation. VW uses RTI Connext DDS to help drivers avoid obstacles, detect lane departures, track eye activity, and safely negotiate turns. The DDS protocol connects all of the required components to create a single, intelligent machine with driver-assistance features and integrated. Read more...
Volkswagen has also used DDS technology in an electric vehicle capable of autonomously driving to and from a recharging station after dropping off
Resilience and Safety: Unmanned Aircraft
Engineers of aeronautic and defense systems have long relied on RTI's award-winning infrastructure technology to develop unmanned aircraft as well as unmanned vehicles for deployments on land and under water.
DDS aligns with many open architecture initiatives including the Future Airborne Capability Environment, UAS Control Segment Architecture, and Open Mission Systems. Connext DDS Cert also helps developers of Unmanned Air Systems prepare for integration into the National Air Space. Connext DDS Cert accommodates communication requirements while minimizing the amount of custom code that must be certified.
Stringent safety requirements within this industry segment closely resemble automotive compliance specifications. The certification process depends on close collaboration between technology vendors and solution designers – and in the case of autonomous cars, RTI has already established working relationships with vehicle manufacturers. These joint efforts and investments will ensure the required certifications and safety levels the automotive industry requires.
System Integration: Healthcare
Advanced device connectivity is changing medical practices, lowering costs, and improving patient outcomes. Current medical applications of DDS demonstrate how it can help integrate complex distributed subsystems and devices in a manner that ensures the required performance. For example, RTI Connext DDS provides precise, distributed control for the subsystems within leading-edge computed tomography (CT) imagers. In hospital infrastructures, RTI's DDS implementations are also in use to connect a myriad of technologies for patient monitoring and diagnostics that power modern hospital equipment.
If you're interested in discovering how you can use Connext DDS in autonomous car design to gain an undeniable competitive edge, download our latest white paper.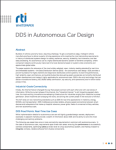 Subscribe to the RTI Blog