A Noteworthy and Newsworthy 2014
2014 was an especially busy year here at RTI. We continued our dedication to innovation in the Industrial Internet of Things (IIoT), celebrated wins with some great new customers, hosted events all over the world, and more. A lot more, really!
To cap off the year I wanted to share with you some of the great things that happened over the past 12 months and so - drumroll, please! - here are some of the most noteworthy and newsworthy things that happened this year at RTI:
London Connext Conference
This October at the packed London Connext Conference, I heard more than 20 customers share how they used our products in building solutions to their hard problems. Coding tips, illustrative guidance, professional peer conversations and live demos during the event cemented relationships between established and budding DDS experts. It was inspiring and exciting, and I can't wait for next year's conference!
To see what all of the excitement was about, head on over to community.rti.com for an agenda summary and selected presentations.
RTI In the News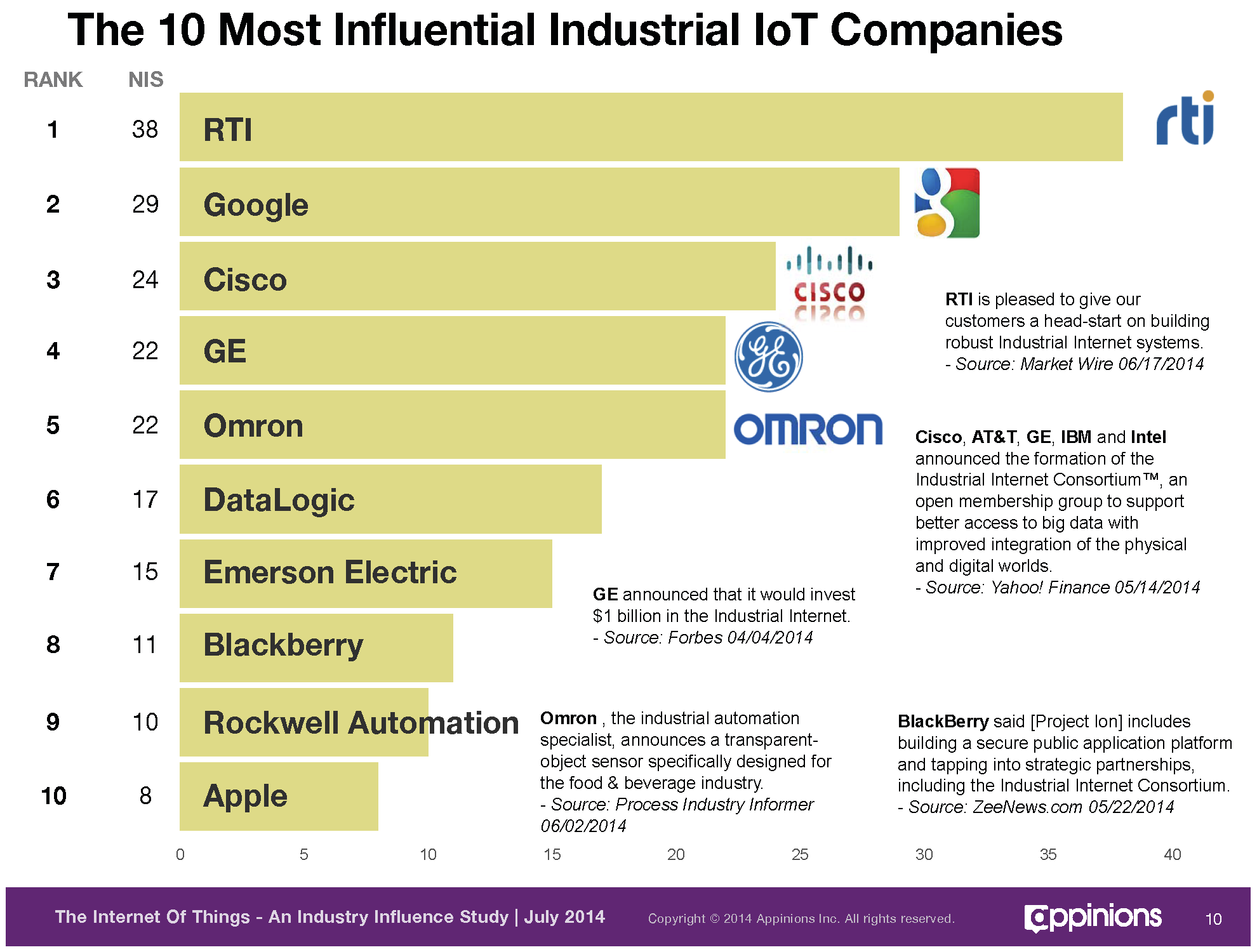 Forbes Reports RTI as the #1 Influencer for The Industrial Internet of Things
For years, we've worked with our customers and partners to develop leading solutions for massive and complex problems in the healthcare, energy and technology markets. In recent months, we've seen big rewards for our hard work.
In July 2014, Forbes published a study conducted by The Data Journalism Group at Appinions that identified the top influential companies for the Industrial Internet of Things. RTI was rated number 1. Check out the Forbes article and the Appinions IoT Influence Study (Industrial IoT rankings).
Obviously, we're thrilled to be recognized alongside companies such as GE, Cisco, Google and Apple for our leadership and progress in the market.

CIO Review Names RTI as One of Top 50 IoT Companies
In December, CIO Review named RTI a most promising Internet of Things company, emphasizing the performance, reliability and security of Connext DDS as a real-time communications platform for smart integrated systems. (link to pdf - http://www.rti.com/docs/CIOReview-2014.pdf )
The Industrial Internet Consortium
In April, RTI joined the Industrial Internet Consortium (IIC), which has since grown to100+ industry-leading companies. Its goal is to accelerate the development of connected industrial applications and to provide a common blueprint for the IIC.
RTI CEO, Stan Schneider, was elected to the IIC steering committee for a 1-year term as the representative for small industry. The IIC offers real market opportunities for motivated and innovative smaller businesses to work closely with leading companies and government and advance the future of the industry.
Working With Our Customers (who are doing amazing things!)
In 2014 we announced several important customers:
GE Healthcare is using the RTI Connext DDS platform in smart systems of connected medical devices in hospitals and to enable faster integration of large medical instruments.
LocalGrid Technologies is using Connext DDS and Connext DDS Secure to deliver high performance scalability to the electric grid. LocalGrid is modernizing the electric grid to support distributed generation of renewable energy. Bob Leigh, CEO of LocalGrid, says "The LocalGrid DataFabric™ grid architecture enables [distributed generation] by securely supporting field deployment of analytics and control applications."
The U.S. Army and General Dynamics Advanced Information Systems selected RTI technology to be integrated into a prototype next generation open architecture (OA) for Unmanned Aircraft Systems (UAS) Ground Control Stations.
The European Space Agency built an advanced telerobotics development platform on RTI Connext DDS. We are thankful to work with companies who are leaders in their markets and we're excited for the projects we have in progress.
The MEVION S250, the world's most advanced compact proton beam radiotherapy system, was recently used - for the first time - to treat a cancer patient. It uses Connext DDS for data distribution and control systems.
Our Top SlideShare Content
Top Content can mean many things - most clicks, views, likes, shares, etc. These 2 SlideShares rocked in 2014 and we know this because of you - our users - told us (and the numbers back you up)!
Understanding the Internet of Things Protocols
Comparison of MQTT and DDS as M2M Protocols for the Internet of Things
New Releases
2014 saw the release of Connext DDS 5.1 and Connext DDS Secure, two major launches with usability enhancements, new capabilities and an eye towards future customer development needs.
Connext DDS Secure. The OMG DDS Security standard was approved in April and the new RTI Connext DDS Secure package - the world's first complete DDS security solution - is available as a preview release. Read more about Connext DDS Secure
Connext DDS 5.1. Focusing on greatly increased usability, scalability and performance, Connext DDS 5.1 has been available since February 11. Improvements abound, with over 60 new features and enhancements, as well as support for over 20 new platforms.
VS2013 Connext DDS Downloads. Current customers can download Connext DDS Professional libraries for Microsoft Visual Studio 2013 on both 32-bit and 64-bit Intel architectures. Get the VS2013 files now
Performance Test Update. Connext DDS 5.1 contains powerful new auto-tuning capabilities that dynamically balance latency and throughput as system conditions such as update rates and network capacity change. With the " -enableAutoThrottle" and "-enableTurboMode" command line options, you can see how these new features perform on your hardware and network. Try out Performance Test now
DDS Toolkit for Labview. Our DDS Toolkit for LabVIEW is completely free from the NI LabVIEW Tools Network. Sara Granados, an RTI software engineer, explains just how easy it is to use, and how valuable it can be.
Connext DDS Micro and Connext DDS Cert.
The Blog
In our top blog post of 2014, Alex Campos, Senior Software Engineer at RTI, explained how to Create a P2P Application with Fewer than 35 Lines of C++11 Code. Other popular posts included:
Looking Ahead
This year has been chock full of product advancements, leading customer announcements and top accolades. We are well-positioned for 2015 as we ramp up our efforts with our employees, partners, the IIC, the OMG and our customers. Together we're all creating a more intelligent IIoT that promises to continue to positively impact the world.
Subscribe to the RTI Blog