Sneak Peek: Internet of Things World Conference in SF!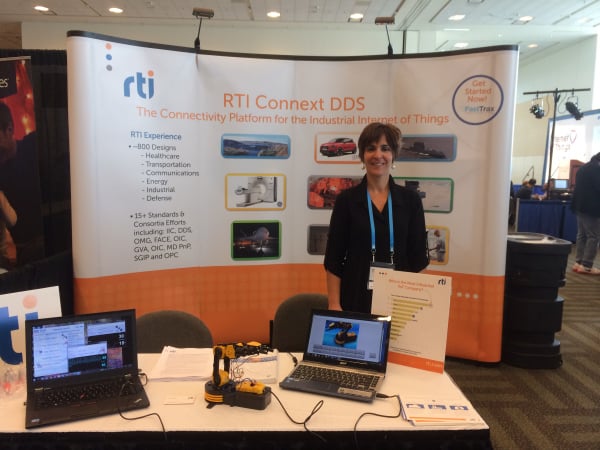 Today is the opening day at Internet of Things World Conference in San Francisco. RTI is excited to bring to the event two live product demonstrations. Both will be shown in the RTI booth at the conference expo by RTI product manager Burcu Alaybeyi.
Here is the sneak peek of what you will see.
The first demo features Open Integrated Clinical Environment (Open ICE). In this environment, medical devices such as pulse oximeters, ECGs, infusion pumps, etc., from different vendors can publish data to a logical data bus (RTI Connext DDS) by conforming to a common data model. The demo includes a supervisory application that conforms to the same data model, which allows the sample application to subscribe to topics that the medical devices publish to.
DDS makes it much easier to develop medical device interfaces and medical supervisory applications, and Open ICE is an excellent example of medical device interoperability enabled by RTI Connext DDS. You can see a full demo of the PCA Safety use case here: https://vimeo.com/77127942. References and more info on the Open ICE initiative and medical device interoperability are available at mdpnp.org and openice.info.
The second demo shows robot arm control using DDS as data bus. This is a demonstration of how different SDKs, APIs and interfaces can be utilized to write RTI Connext DDS applications. In this demo, we use an RTI DDS LabVIEW VI to publish what the user wants to do with the robot arm. In this scenario a Python DDS application subscribes to data that is published by the LabVIEW VI and controls the robot via USB.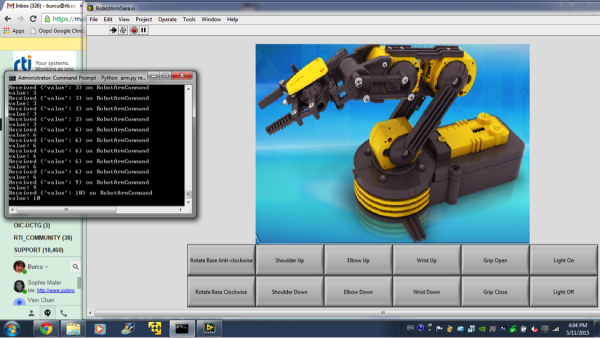 Come see our exciting demonstrations during the conference. You can find us at Booth 215. See you there!
Subscribe to the RTI Blog