Here's Why RTI is Frost & Sullivan's Top Healthcare Leader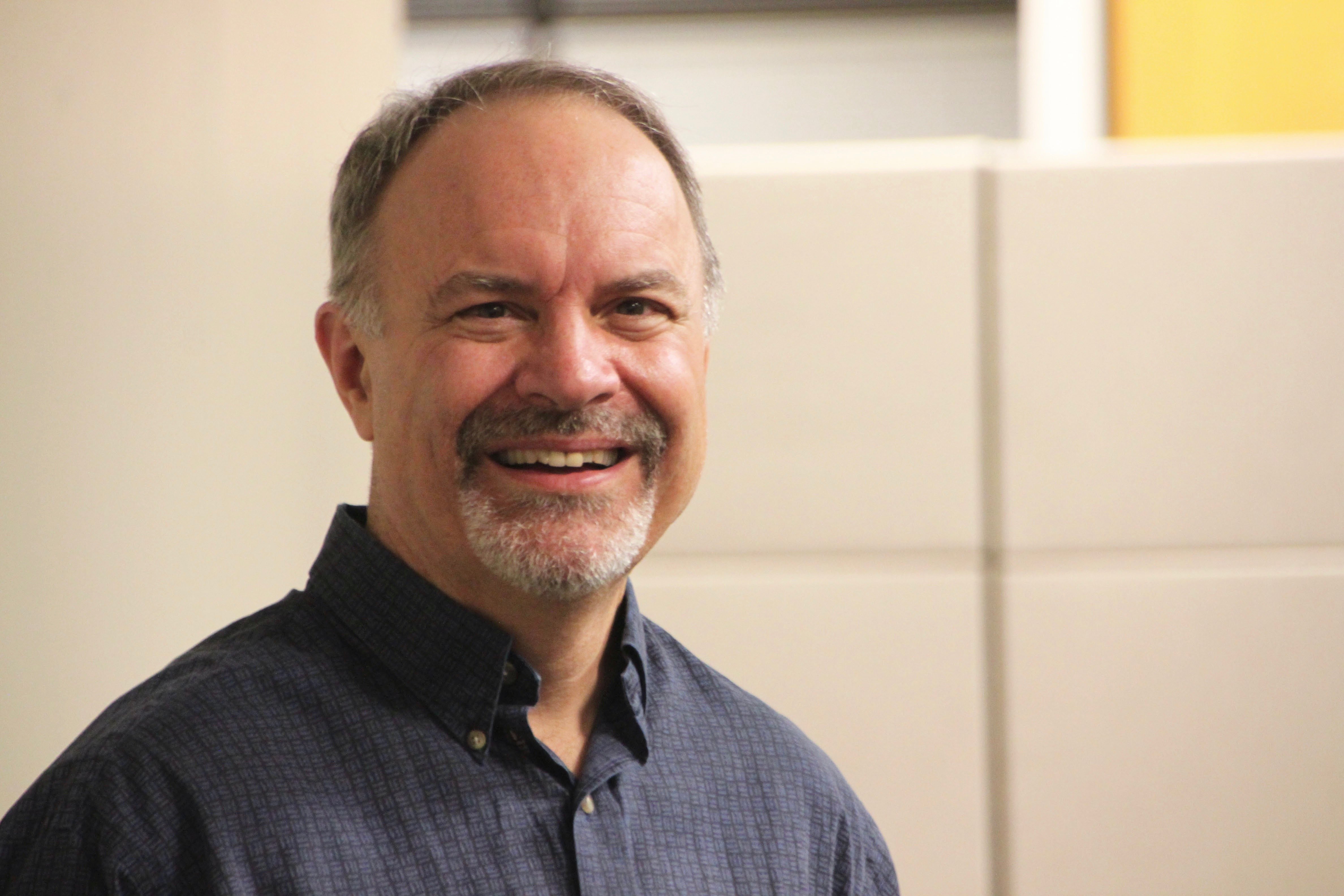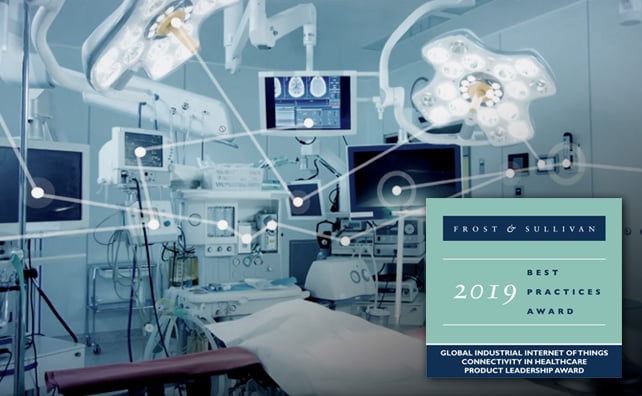 Today, RTI received a major award from Frost and Sullivan (F&S). F&S is one of the largest analyst firms, with over 1,800 analysts around the world. Those analysts lead an interesting life, digging into the newest and best in markets, products, and companies every day all day. The tech world, in particular, is fast-moving and immense. Choosing a few companies and products to highlight cannot be easy.
But that is what analysts do. The Best Practices Awards are essentially Frost & Sullivan's highest praise. They go through a rigorous process to make the choice. RTI is humbled and honored to be named this year's recipient. Frost & Sullivan's recognition of RTI's product leadership means that we are truly changing healthcare.
So, why should we change healthcare?
I find healthcare professionals truly inspiring. They really care. They work incredible hours under extreme pressure with a singular goal: help people live better. RTI touches many industries, but healthcare is perhaps our most inspiring.
It can also be the most frustrating. Even a short time with clinicians will reveal the tough reality: they play a high-stakes game with complex technology, vague information and dynamic situations. Reality is not like TV's Dr. House: doctors cannot just intuitively diagnose and be heroes. Clinical reality is full of nuisance alarms blaring on all sides, scared patients and their families, insane workloads, and the constant fear of having to be perfect or, quite literally, kill someone.
Unfortunately, care teams are not always perfect. In fact, the Institute of Medicine ranks hospital error as the third leading cause of death in the United States (US)—right behind heart disease and cancer. The next time you go for a doctor's visit, count the number of times they ask you your name and birth date. Everyone you see will do it over and over. Why? That is one of the thousands of checklist processes to catch mistakes. And those mistakes lead to about 300,000 fatal errors every year. That is enough to fill a thousand jumbo jets.
The stories tear your heart out: Infants that will never see their homes. School children lost to grieving parents. Grandparents whose wisdom will never again enlighten their families. And many because of a simple oversight like not turning on a machine or getting busy with one patient and not knowing another needs you…now. These mistakes kill, and that is horrible; they leave a hole in the family that can never be filled. Even worse, the care team takes each one personally. Mistakes devastate those same caring, hardworking professionals who took an oath to save lives.
It no longer has to be this way. Hospitals can have thousands of patients and 200,000 devices. The maze of checklists and backups and processes will never really work; this problem is just too complex to solve with humans. It's time for technology to join the care team. RTI's technology helps devices work together, find the data they need on time, add intelligent 24x7x365 oversight and check for unexpected conditions. RTI's solutions help care teams focus on what they do best: understanding, interacting and making the tough Dr. House-like decisions. Spend three minutes watching our connected devices video to see how.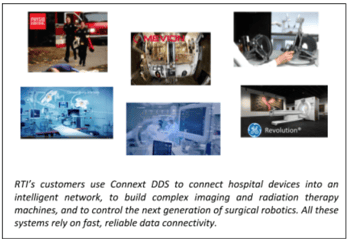 Of course, catching errors is not the only opportunity to improve healthcare, nor the only use of connectivity. RTI's top three areas are connected devices, "big" systems like imaging and radiation therapy, and surgical robotics.
If you want a glimpse of the potential, take a look at what the new GE Revolution CT can do. This system can generate accurate three-dimensional (3-D) images of most any part of your body. Those images help diagnose conditions, guide reconstructive body parts, and even help surgeons build 3-D printed models of infant hearts so they can understand how to repair problems.
This situation is also a connectivity challenge. A CT works by spinning a "gantry" that weighs almost as much as your car at extremely high speed, generating a perfect X-ray beam that sweeps around the patient, moving the patient precisely through that beam, synchronizing the spin with your heartbeat, and snapping a full 360-degree image so fast that it freezes all the motion. Dr. House would be amazed at the results. But it is not easy; a CT needs dozens of processors working together as one system with millisecond-fast, never-miss connectivity.
Speaking of TV doctors, in one of my favorite Star Trek episodes, Dr. McCoy travels back in time to the 20th century and sees our era of "cutting and sewing people like garments" the way we look at leeches and bloodletting. The coming new generation of innovative surgical systems is a huge step towards the Enterprise sickbay. Soon, wide-open procedures will be obsolete. New robots can snake through your body through a tiny incision or a natural opening to locate and fix issues. They can move with micro precision, following those amazing CT-generated 3-D images. They carry tiny cameras, lasers and samplers right to the site, do their work, and leave with nary a trace. Surgeons can operate remotely, command movements with (literally) unhuman precision, and control it all with a 3-D virtual-reality interface. Surgery is becoming less like cutting and sewing clothes and more like a precise, lifesaving video game—lowering costs and making once-risky procedures safe.
Shockingly, if you have a heart attack in the US outside of a hospital, your chances of survival is only about 8%, even in a city when someone sees the event. Why? Emergency medicine is all about time. It takes time for the EMTs to respond to 911, it takes time to figure out how to treat you, and it takes time to communicate your situation to the hospital on arrival at the emergency room (ER). In this situation, every second counts, and these steps can add up to many minutes.
A smart, distributed emergency system can fix this. Instead of just giving you a shock like today's AEDs (automated external defibrillators), future smart field devices can make quick diagnoses, access remote medical records and doctors, and even make treatment recommendations. When the ambulance arrives, first responders will have systems that can coordinate with hospitals and traffic conditions to recommend where to take you. In transit, they will communicate with the ER and ensure the hospital team is ready with an imaging system or operating room on arrival. Shaving off these seconds can raise the survival rate from 8% to 80%. Since there are nearly 400,000 cardiac events a year, this alone can save almost 300,000 lives every year.
All these systems need reliable connectivity but face different challenges. The connected device challenge is coordinating many devices in a complex environment. Imaging systems require sub-millisecond coordination and real-time response. Robotics need fast video dataflow and precise delivery. And future emergency systems need geographically-distributed mobile networking.
RTI's data-centric approach can address these varied challenges because we connect things in a very new way. Instead of sending messages to other devices or finding and connecting remote software objects, RTI Connext DDS creates a virtual shared "data space." Each device or algorithm can then put the data it has into the space or get exactly what it needs out of the space without dealing with the huge system complexity. That is the magic of data centricity: everything can work together as one system.
It is also the magic of RTI the company. In their award, Frost and Sullivan said, "With a remarkable can-do attitude, the company faces even the most pressing challenges in the industry…" We received the Product Leadership Award. But everyone at RTI knows that product leadership comes from a culture and a team that "works together as one," just like our software. Our software forms the trusted core of our customer's complex systems by putting data in the center. We, at RTI, must also commit to being the trusted core partner our customers need. As CEO, I am honored to write this blog, but the award is not for me. It is for the dedicated engineers, services, operations, product management, marketing, and sales people who put our customers in the center. #1RTI
Read the full Best Practices Award write up from Frost & Sullivan here.
Subscribe to the RTI Blog