RTI Academy Gets an Upgrade for 2022!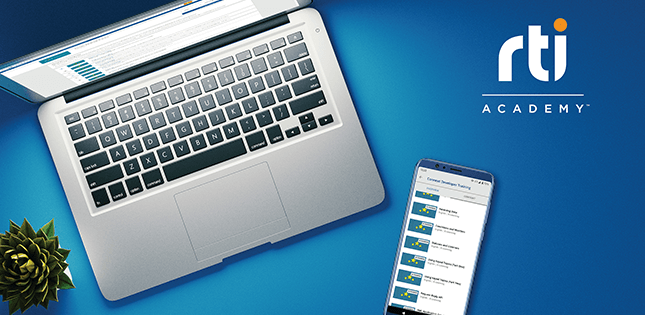 Training anytime and anywhere just got even better…
Learning is not a one-time event. In fact, we believe that online learning is key to the success of RTI customers, and that is why we haven't stopped working on RTI Academy™ since the launch. So let's cover the new improvements to RTI Academy, one by one!
First, a new web page! Our one-stop learning destination www.rti.com/rti-academy now has a Course Catalog that covers in detail what's offered to you in RTI Academy, a fantastic set of images for you to see how RTI Academy has evolved, and a helpful summary table offering a quick snapshot of the courses, their duration and key takeaways.
Second, content! Content is king, after all. That is why we have added over 40 hours of very well-crafted content on the following topics: Connext® Developer Training, Understanding Connext® Micro, Writing a Connext Chat Application using Connector and Python. We even added a Connext® 6.1 Product Update. Want to know more about the new content? You can now check out our brand-new Course Catalog here.
And third, badges! Now you can earn badges and share them easily to manage your learning goals. For example, I just passed the tests available in the Fundamentals of RTI Connext and earned my badge…check it out!
As a reminder, RTI Academy is available at no additional charge to all licensed developers under projects with an active support plan. Each developer has access to content associated with the relevant support plan tier for their project. The tiers are designated as Basic, Essential or Premium. Your support plan now gives you access to a comprehensive portfolio of training options, including:
RTI Academy: On-demand training from anywhere, anytime.
Live training: Live, interactive training delivered by an RTI expert who can tailor the material to your system and project needs.
Xcelerators: Live, focused training on specific Connext products and capabilities.
So if you are already a user of RTI Academy, I encourage you to log in and explore the new content. And if you are not, don't worry…you still have time. Simply use your customer login to enter the RTI Academy site or contact your Account Team representative to find out how to get started!




About the author
Juanjo Martin is Services Director for RTI Professional Services. He joined the Engineering Department of RTI in 2012, where he started working in the support team and developed some features and improvements in several products. Later, he joined the Professional Services team to help RTI customers optimize their systems. After traveling to help customers around the world for a few years, he now manages the EMEA and APAC Professional Services teams.
Subscribe to the RTI Blog