What's it really like to be an Intern at RTI?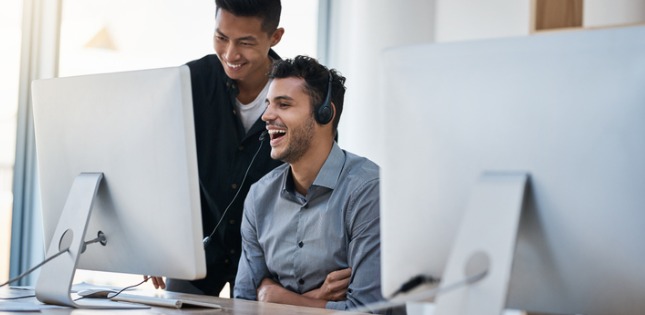 First of all, I can tell you this important fact: As an engineering intern at RTI, you won't be stuck on coffee duty or sitting around making art sculptures out of paper clips. When you arrive, you are expected to dive right in and work just like any other employee. You are encouraged to participate in meetings and contribute on projects that will have real-world impact, while working with some amazingly talented people. For me, it was a tremendous opportunity to experience what it's really like to be in a dynamic team environment. And this is my story!
Let me introduce myself: I'm Salva Corts, and I'm a 22-year Computer Science student from Granada, Spain. I attended the University of Granada and the University of British Columbia in Vancouver, Canada, and have just finished my degree. Since Artificial Intelligence and Distributed Systems have been my main areas of interest for a while now, RTI was immediately a great match for me,
Step 1: The Interview
The interviewing process to become a RTI intern is fairly simple: You can apply for an internship position via Linkedin, Glassdoor or through someone you know at RTI. If you're selected, you will have a three-hour onsite interview. There you will be asked to solve a couple of technical exercises, get to know some of your potential future colleagues and enjoy a nice breakfast with them.
Since RTI is an American company, the interview will be in English no matter where you're applying to work. , So I say don't be shy - take it as an opportunity to test not only your technical skills, but your English skills as well!
A few weeks after the interview, RTI will contact you to communicate their decision. If you are selected, then congratulations are certainly in order. Because, a great adventure is waiting for you!
Step 2: The First Day at Headquarters
Your first day will be your official welcome to the company, and some of the differences that makes RTI outstanding among the rest of companies in the area start to become evident.
Take my advice: Don't eat breakfast or bring lunch! As this is your first day, you will have a delicious breakfast with all the office members, then, you will have some tapas and lunch with your future team and key members of your department - in my case engineering, of course.
Like any other employee at RTI, you can take advantage of perks such as flexible working hours, a good paycheck compared to other intern positions in the area, foosball, table tennis and even free drinks and appetizers so you can have a break with your team and make new friends.
You will spend the first few weeks training and learning about main RTI products while getting to know the team you'll be working with. It's a particularly good time to forge a close working relationship with your mentor, who is the person in charge of advising and managing you to get the most out of the internship experience, both professionally and personally.
Once your mentor considers you to be ready, you'll be assigned a project where, typically, you will implement a new feature of a product. In my case, I worked on implementing a new feature for a tool that measures the performance of the product given different configurations of the system.
Another difference at RTI compared with other companies is that you get credit for everything you do! Your mentor will take care of telling everyone about your achievements. In fact, there is a program called Hero Rewards that encourages employees to reward each other when they achieve something outstanding or help in something. Trust me, a hero reward feels pretty amazing, especially after a week spent trying to figure out how to solve a bug you did not expect.
Step 3: The Work/Life Balance
During your internship you'll not only work, but you'll also experience a different approach to the concept of work/life balance than at more traditional companies. RTI prides itself on organizing fun events and activities that encourage socializing among employees. In my case, I had the chance to enjoy bbqs and laser tag competitions during my internship. I even had a chance to learn all about project management using Legos!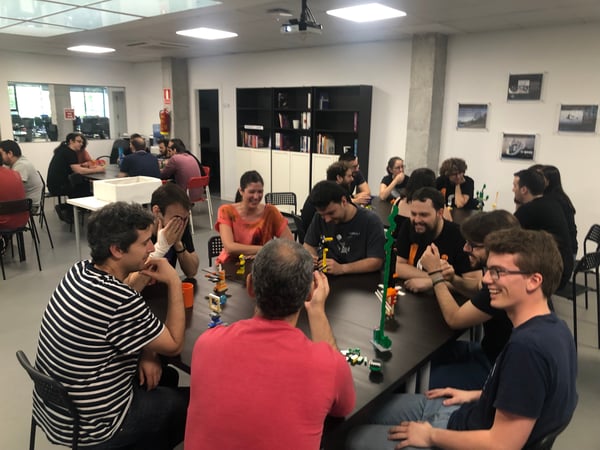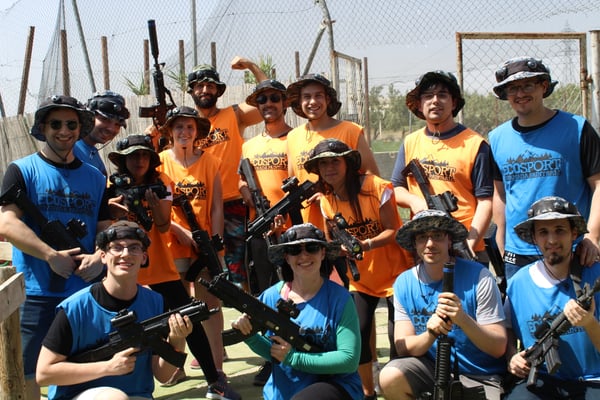 You will also be able to attend Lunch & Learn events where you will get insight into new technologies, sales trends and many other topics, while enjoying a delicious catered lunch.
When your internship finally draws to a close, you will present your project and findings at the engineering meeting, where your colleagues from the United States and Spain will learn about what you've been doing and give you valuable feedback about both your project and your internship. I know it maybe sounds scary, but this is the moment where you will realize how truly kind the people at RTI are. I was able to really enjoy the moment as a sort of literary colophon that gracefully summarized my work and experience as an intern.
Step 4: The Gateway to a New Career
Making the transformation from intern to full-time employee is always the ultimate goal for ambitious young professionals. The intern program at RTI can provide that all-important gateway to a full-time position. In fact, I've since learned that many key people at RTI were interns to start with.
And it's a great honor to be able to say that I am now another example of this phenomenon, because I received my formal offer from RTI to become a full-time employee right before finishing my internship. I've joined the Micro team, where I will be working on a certified version of RTI's main product for avionics, automotive and military systems.
When joining RTI as a full-time employee, you earn another perk that makes a huge difference compared to the competition. Since RTI employees are highly distributed throughout the world, RTI organizes a free trip for all employees to visit the company headquarters in Sunnyvale, California, so that all employees can meet each other, work together and socialize for two weeks out of each year. Having that opportunity to meet face-to-face with those who work with you every day is really valuable..
All in all, having an internship at RTI is a great opportunity to start your career in a company where you can learn and have fun at the same time. It's a privilege to immerse yourself in different technologies while working on exciting and innovative projects that have real-world impact. And on a personal note, I'm really enjoying being on the team here at RTI, because it's like being part of a big worldwide family that looks after you and cares about what you have to say.
In conclusion, if you're thinking of applying for an internship at RTI, my advice is simple: Go for it!
Click here to view the RTI Careers page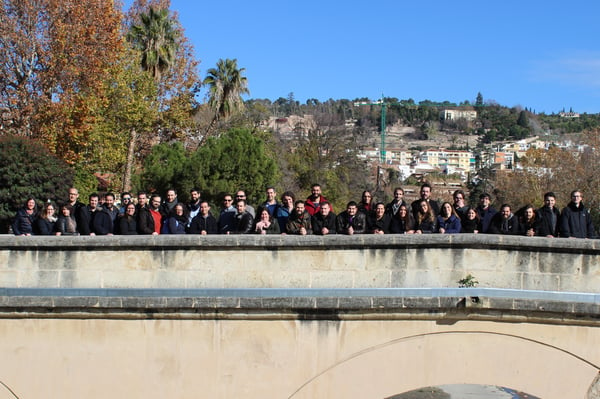 About the author: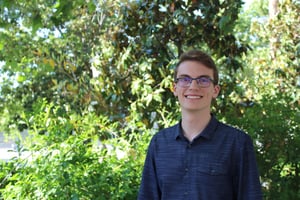 Salva Corts attended the University of Granada and the University of British Columbia in Vancouver. During college, Artificial Intelligence and Distributed Systems were his main areas of interest. Now Salva works full-time for RTI as a Software Engineer.
Subscribe to the RTI Blog