Connext 7.1: Making Systems More Observable, Secure and Easy to Validate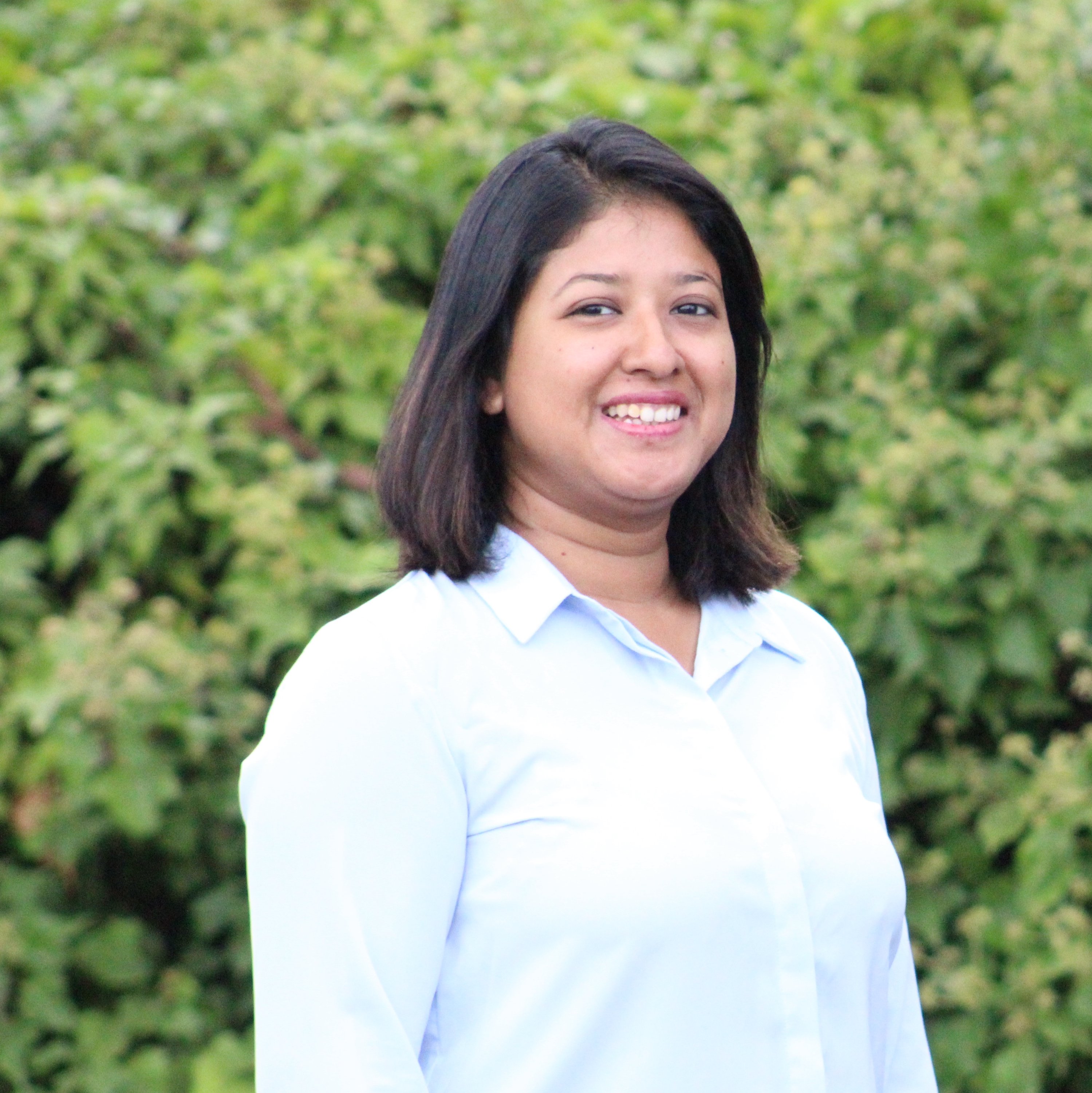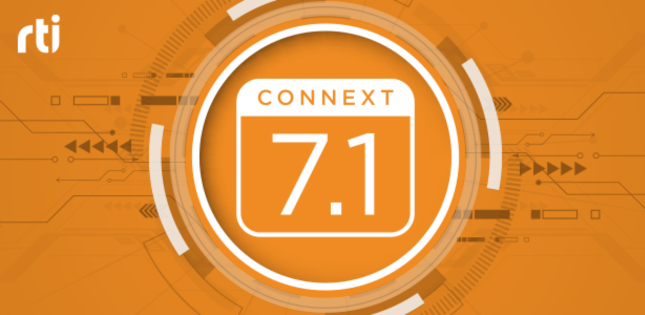 What is the key driver of continuous system innovation? For distributed systems, it's the much-needed ability to gain a truly holistic, centralized view of the system architecture and changes to the network. This capability gives developers the crucial overview they need to work smarter, while enabling systems to run at peak efficiency. Helping customers get there is our job.
For this reason, we're pleased to present RTI Connext® 7.1, the latest feature release of our popular software framework for autonomous systems. Connext 7.1 introduces a number of important new features and capabilities, chief among which is the Connext® Observability Framework. Our new observability capability is designed to maximize the performance of mission-critical systems, providing a software-based solution for today's most difficult data connectivity challenges.
Observability and other newly-released features and capabilities in Connext 7.1 highlight the benefits of visualizing the collection, storage and changing of Connext logs and metrics, improved data protection, increased developer productivity and further advances in system resilience. By introducing Connext 7.1, we're continuing our commitment to investing in the future of Connext and helping customers meet evolving needs, from development to operation.
Eager to try it out? If you're a current RTI customer, You can download Connext 7.1 from the RTI Support Portal and explore all of its compelling new features and capabilities today!
In the rest of this blog post, we'll explore each of these new features and capabilities at a high level, taking a look into the major updates and benefits. As with previous Connext releases, you can always find more details in the What's New in Connext 7.1.
Observability
Observability Framework (experimental)
Do you need to monitor a large distributed system or perform Continuous Integration/Continuous Development (CI/CD) monitoring while merging new features? This would involve changing the metrics and logs that are collected by and emitted from Connext applications, at run-time, which has not been easy to do with traditional domain-centric monitoring tools.
Now, customers can utilize the new Connext Observability Framework, introduced as an experimental capability in Connext 7.1, to monitor Connext applications by visualizing, collecting, storing and changing Connext logs and metrics. The framework supports easy integration of metrics and logs with Prometheus® and Grafana® Loki, respectively. It also supports visualization of metrics and logs using reference dashboards in Grafana. The new Connext Observability Framework consists of three components:
RTI Observability Library for instrumenting Connext applications to emit logs and metrics.
RTI Observability Collector Service to collect metrics and logs and forward them to time series databases, specifically Prometheus and Grafana Loki.
Observability Dashboards in Grafana and Grafana Loki to help users get started with monitoring quickly.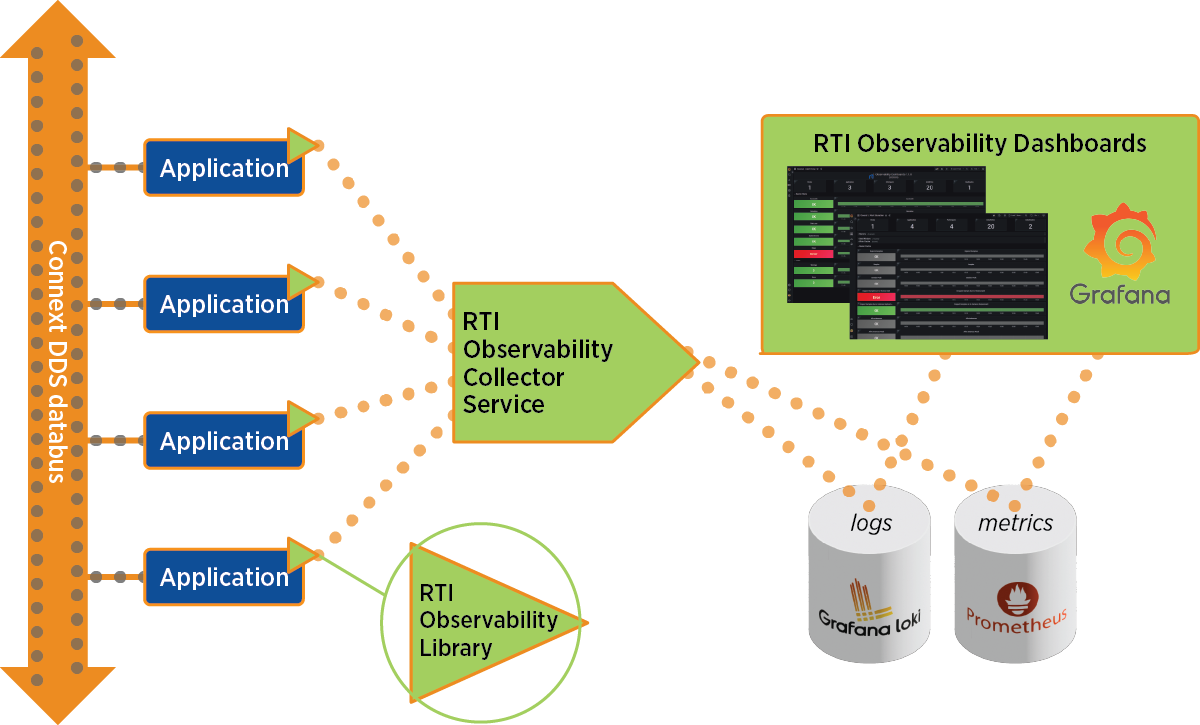 Learn more about the new Observability Framework.
Security
Lightweight Security
This release of the Security Plugins introduces Lightweight Security, a solution that uses a pre-shared key (distributed out-of-band) to protect the information in systems built on the Data Distribution Service (DDSTM) standard. The Lightweight Security library conserves CPU and memory by avoiding DDS-SECURITYTM mechanisms such as authentication and access control.
As a consequence of this, RTI Lightweight Security protects against spoofing, tampering, information disclosure, denial of service and elevation of privilege from actors not holding the pre-shared, user-configurable key. This can also be used in combination with the Security Plugins to deliver Full Security and secure the communication that happens before Domain Participants are authenticated to each other

Learn more about Lightweight Security.
Resilience
Instance State Consistency Despite Network Disruption (Experimental)
As more and more systems are on networks with intermittent connectivity and disruptions, it is important for all the systems to have a consistent view of the state of common objects about which they share data. In Connext, instances are used to represent real world objects. In earlier Connext releases, state of the instances were communicated by piggybacking on samples exchanged between applications for that particular instance. In this release, Connext provides a new, experimental QoS setting – "instance_state_recovery_kind" – that enables applications to update the instance state when another application is rediscovered, without having to receive samples for the instance.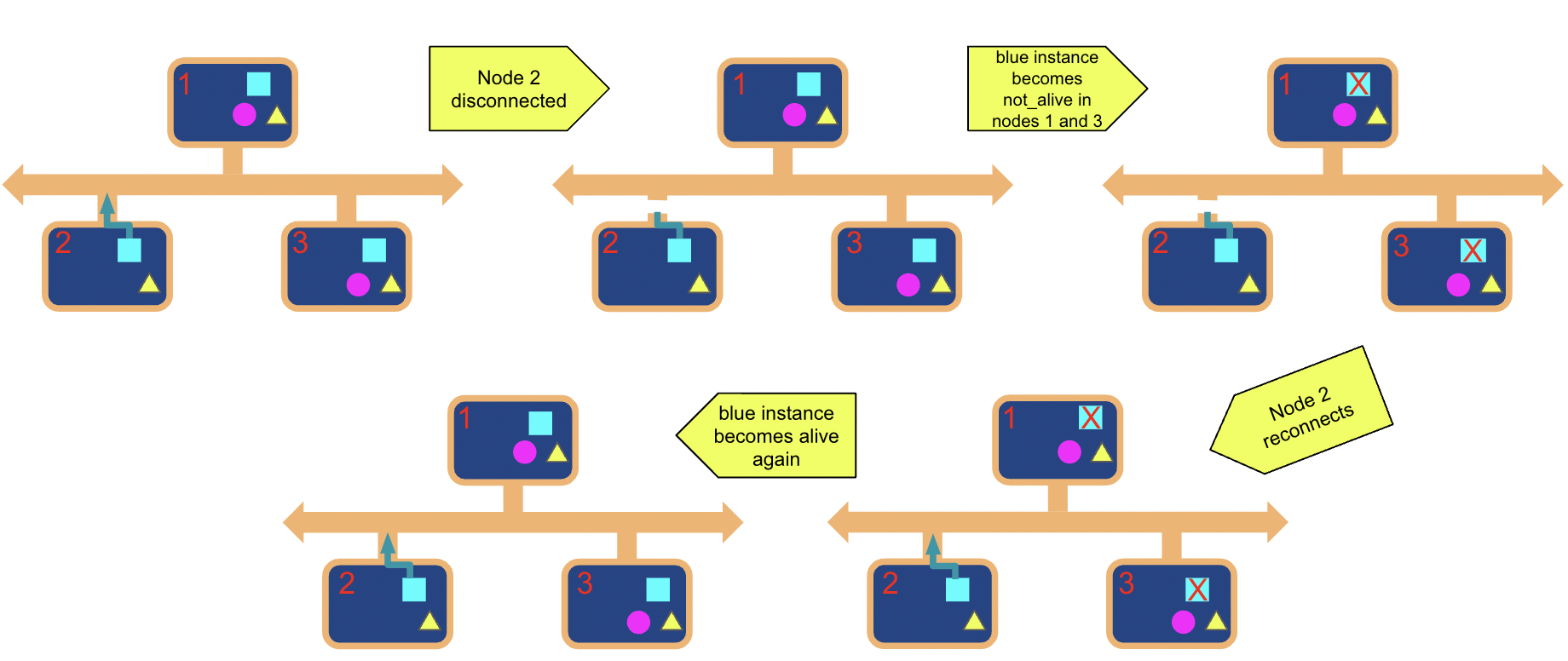 Everything happens without any intervention from you, other than setting the QoS, which makes the Connext application more resilient to network disruptions and ensures instance state consistency.
Learn more about Instance State Consistency.
Developer Productivity
System Testing and Validation with Graphical Data Publishing in Administration Console
Graphical Data Publishing further enhances our Administration Console tool, enabling it now to publish sample data, providing various use cases for more effective application debugging. Now, creating reproducers for specific scenarios with the necessary sample set for debugging becomes much simpler. In addition, you can quickly generate test scenarios and prototypes without the need for full software development.
To get started, simply open the Administration Console and select the desired Topic whose samples need to be published, along with the desired Quality of Service (QoS). Administration Console requires the Topic's type-code definition to create the Publisher and DataWriter for sample transmission. Once the Publisher and DataWriter for your chosen Topic have been created in Administration Console, you can utilize Python code to fill in the sample's contents. This sample can then be cached or transmitted to available DataReaders.
Learn more about Graphical Data Publishing.

Configure Routing Service in System Designer
System Designer's latest update brings further valuable improvements to usability and ease of development: the addition of Routing Service configuration. This feature not only saves time, but also helps prevent the creation of invalid configuration files due to undefined types, making your development experience smoother and more efficient.
Developers can experience the benefits of new views, designed to enable users to define every element of a Routing Service configuration file with ease. By utilizing System Designer's drop-down menus, it is possible to minimize errors and ensure greater accuracy in your configurations.
Learn more about configuring Routing Service in System Designer.
By now, we hope you are eager to get your hands on the latest and greatest from RTI. Let's get you started! Learn more about the new features and capabilities with the following resources:
Connext is the connectivity framework for your safety- and mission-critical systems and RTI is proud to be your partner for the journey.
About the author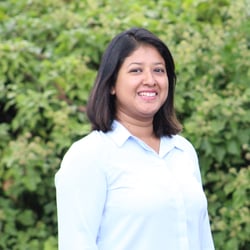 Juhi Ranjan is the Group Product Manager at RTI, responsible for aligning market needs with RTI's flagship products. She is responsible for all aspects of the product strategy for Connext Professional and Connext Anywhere, from conception to launch. Additionally, she oversees a team of product managers at RTI who are responsible for driving product initiatives.
Subscribe to the RTI Blog