Here's What You Missed: 2018 Connext Conferences Recap!
First, thank you to everyone who attended either the Munich Connext Conference or the Boston Connext Conferences this year! They were truly incredible days filled with lots of learning, networking and real-world use cases from customers.
What is a Connext Conference?
If you haven't heard of the Connext Conference and are wondering what it is, here are the details: the Connext Conference is a two-day event where users, developers and industry partners come together to learn the latest in technical information and developer experiences in building Industrial IoT systems. Besides presentations from users discussing their real-world DDS implementations, the conference also features the latest news about Connext DDS, hands-on workshops, and interactive demos led by RTI customers and partners.
But most importantly, the Connext Conference is a two-way street. For us at RTI, we love the opportunity to talk to our customers face-to-face. It's a chance to learn about their use cases and how they apply Connext DDS to solve the challenges they face, as well as to gather feedback to improve our products. For our users, the Connext Conference provides a chance to learn from other developers and to hear how our technology is used across a wide range of applications.
What Did I Miss?
In Munich we had presentations that spanned a range of topics including how Connext DDS is used in the world's largest telescope, the future of self-driving cars, how to integrate security solutions, and how underwater robots are being used to revolutionize the oil and gas drilling process. Plus, did I mention the evening reception in a historic 300-year-old beer garden? All of the RTI and customer presentations are posted in the Community forum and you can check out the photos from the event here.

Not to be outdone, the Boston event started with a bang. Literally! There was a lightning and thunder storm the evening before the conference that shook the entire venue! However, that did not deter our power DDS users from attending the first ever East Coast Connext Conference – we kicked off day one with a packed house. For this conference we had a whole new line-up of customer presentations focused on how Connext DDS is currently used in developing and implementing healthcare Industrial IoT applications, radars, complex distributed robotic architectures and live 3D virtual training and simulation applications. All of the presentations from this event are posted in the forum as well.
When's the Next Connext Conference?
There's still time to get in on the action in 2018! The Silicon Valley Connext Conference will be held October 22 -23, 2018 at The Computer History Museum in Mountain View, CA.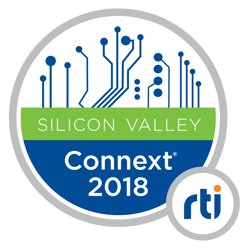 Subscribe here to receive conference updates!

Hope to see you there!
Subscribe to the RTI Blog