Autonomous Vehicles: Providing Safety, Resilience and Security with RTI Connext DDS
RTI Connext® DDS software accelerates the design and development of autonomous systems by providing an efficient path from prototyping to production and safety certification. That's why large automotive manufacturers are turning to RTI to help them simplify designs and keep pace in this market.
Connext DDS is the only middleware technology offering microsecond latency, ISO 26262 safety certification, fine-grained security and proven operational readiness for revenue-critical, multi-billion dollar product lines.
Autonomous Vehicles: Designing a Robot On Wheels
A fully autonomous car is essentially a self-driving robot with some of the most demanding safety requirements in any industry. Technology is advancing rapidly, and investment is accelerating. To develop a successful autonomous drive program you need the right middleware to support these demanding requirements.
RTI Connext DDS Advantages for Autonomous Vehicles
RTI Connext DDS addresses many critical requirements of ADAS and Autonomous Vehicles applications including:
Quality of Service – a core feature of Connext DDS, delivers guaranteed latency and control over data flow and network bandwidth.
Decoupling – middleware handles communication details, allowing applications to focus on the processing of data.
Common data model – applications and systems share data using a common and well-defined data model across all components.
Data-centric architecture – decoupling integration logic from system components with a data-centric architecture simplifies collaboration of global teams and suppliers.
Scalability – Connext DDS can be efficiently used for many thousands of applications with hundreds of development teams worldwide.
Real-world experience – Connext DDS has been developed with years of experience supporting customers with demanding industrial applications.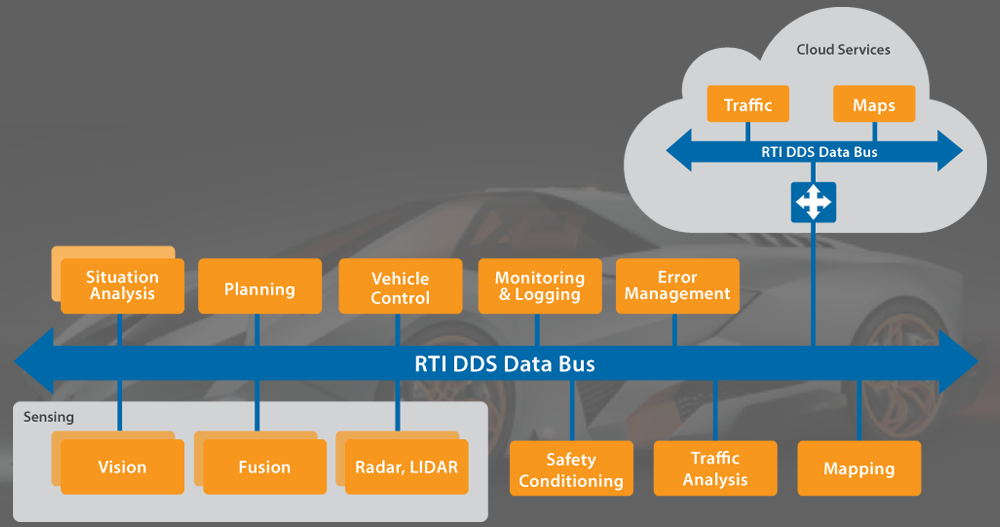 To learn more about the use of RTI Connext DDS in Autonomous Vehicles, check out our whitepaper titled The Secret Sauce of Autonomous Cars. If you and your development team would like to learn how to use data-centric design to simplify your integration project, read our whitepaper, Data-Centric Middleware.
Did you know?
RTI Connext DDS can integrate with CAN bus and many other automotive technologies, including high bandwidth sensors such as Lidar and radar.
Connext DDS is ideally suited to support sensor fusion technologies and Time-Sensitive Networking (TSN).
Connext DDS integrates with a number of tools such as MATLAB, Simulink, and UML and supports many real-time operating systems (RTOS).
RTI was named an AUTOSAR Development Partner.