Wi-Tronix Proves RTI Messaging Middleware Reliable for High-Value Asset Tracking
SANTA CLARA, CA—September 10, 2007—Real-Time Innovations (RTI), The Real-Time Middleware Experts, and Wi-Tronix, a leading integrator and provider of mobile-asset management solutions, announced today that RTI's messaging middleware underlies Wi-Tronix's successfully deployed Wi-Tracker and Wi-Downloader wireless asset-monitoring solutions.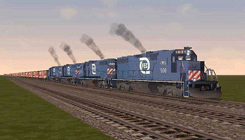 Wi-Tronix products wirelessly monitor high-value mobile assets such as locomotives, industrial and mining equipment, and marine vessels. Wi-Tronix products answer key business questions about mobile assets: Where are they? What are they doing? How efficiently are they being used? Wi-Tronix customers have realized significant savings through improved fleet utilization and more efficient operation of their mobile assets. Wi-Tronix's systems provide valuable information on all types of mobile assets, ranging from newly delivered to those with more than four decades of service. Wi-Tronix rail customers include BNSF Railway, Canadian National Railway and the Florida East Coast Railway.
"We chose RTI because of its ability to handle the unique connectivity needs of both onboard and remote applications," said Mike Heilmann, executive vice president at Wi-Tronix. He added, "RTI's middleware combines flexibility and reliability, supporting our need to exchange data with mobile assets as they travel across North America."
RTI's middleware is used by Wi-Tronix for onboard and off-board communications. With RTI's publish-subscribe architecture, back-office client applications can simply subscribe to any needed onboard data. The wireless system also subscribes to configuration updates published from the back office. RTI middleware must adapt to a dynamic wireless environment - a real challenge in this case.
Wi-Tronix advanced wireless technology connects mobile assets to tracking and monitoring systems throughout the world. Wi-Tronix systems provide business-critical information to monitor each mobile asset's utilization, duty cycle and fuel consumption. Additionally, Wi-Tronix monitors the performance and efficiency of crucial subsystems such as engine controllers, vehicle controllers, remote control systems, digital video recorders and black-box data recorders. Wi-Tronix's systems connect over a wide variety of wireless packet-data links, including General Packet Radio Service (GPRS), 1xRTT cellular and 802.11a/b/g Wireless Local Area Networks (WLANs).
Stan Schneider, chief executive officer at RTI, commented, "Wi-Tronix is delivering reliable wireless connectivity under harsh real-world conditions: weather, tunnels, interference and more. We are pleased that RTI middleware proved equal to the challenge."
About RTI
Real-Time Innovations (RTI) works in partnership with its customers to develop and integrate the world's most demanding real-time applications. RTI takes the risk out of distributed application development and system integration by providing deep expertise in real-time communications coupled with the highest performance messaging middleware. The company's software and services have been leveraged in a broad range of industries including defense, intelligence, simulation, industrial control, transportation, finance, medical and communications. Founded in 1991, RTI is privately held and headquartered in Santa Clara, CA. For more information, please visit www.rti.com.
RTI, Real-Time Innovations, RTI Data Distribution Service, Connext and 1RTI are registered trademarks or trademarks of Real-Time Innovations, Inc. All other trademarks are property of their respective companies.
Posted on September 10, 2007
About RTI
Real-Time Innovations (RTI) is the largest software framework provider for smart machines and real-world systems. The company's RTI Connext® product enables intelligent architecture by sharing information in real time, making large applications work together as one.
Media Contacts
For all media inquiries, please contact: press@rti.com
Cameron Smead
Public Relations Senior Manager, RTI
Karbo Communications for RTI (U.S.)
(650) 270-1097
Agentur Lorenzoni GmbH for RTI (EMEA)
T:+49 8122 55917-0
Real-Time Innovations
232 E Java Drive
Sunnyvale, CA 94089
USA
+1 (408) 990-7400
info@rti.com