Still River Systems Selects RTI software for Single-Room Proton Therapy System
RTI middleware facilitates dramatic reduction in size and cost of proton therapy systems
SUNNYVALE, Calif.—March 9, 2010—Real-Time Innovations (RTI), The Real-Time Middleware Experts, today announced that Still River Systems has selected RTI Data Distribution Service software for the Monarch250™ PBRT System. The Monarch250 is Still River's proton beam radiotherapy (PBRT) system that is under development for use by physicians and their patients at cancer centers around the world.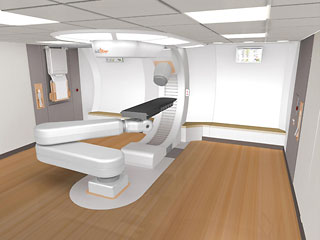 Rendering of the inside of the Monarch250 treatment room
Conventional cancer treatment uses high-energy x-rays. These affect tissue along the x-ray beam path, damaging the DNA of cancerous cells as well as non-cancerous ones. In contrast, the proton therapy systems have been shown to tailor high-energy doses to attack cancerous tumors while minimizing damage to adjacent tissue. Other PBRT systems cost $100 million or more and can require the space of a football field. Still River will provide a cost-efficient PBRT system that fits in a single radiation therapy bunker room once the Monarch250 is cleared by FDA.
Still River uses RTI Data Distribution Service as the coordinating data-bus between the Monarch250's programmable logic controllers (PLCs) used for motion control, and the rest of the system, which includes monitoring, delivery and display technology.
"Still River chose RTI for data distribution and system control because RTI provides a fully featured solution that complies with the Data Distribution Service standard," said Stanley Rosenthal, VP of Clinical Systems at Still River Systems. "Medical devices must deliver reliability and safety. RTI facilitated this by providing a quality product and consultants who helped design and verify our proper and optimized use of RTI middleware."
"RTI software is used in a variety of mission-critical applications, including medical devices," said Stan Schneider, CEO of RTI. "We are delighted that Still River is using RTI software in a system that will directly improve the lives of people suffering from cancer."
About RTI Data Distribution Service
RTI Data Distribution Service provides a messaging and integration infrastructure for demanding, mission-critical distributed applications. It combines deterministic performance, low latency, high throughput and fault tolerance into a fast, scalable architecture for real-time systems. By enabling loosely coupled integration, the solution significantly reduces long-term software maintenance costs. Individual subsystems may be modified, added or upgraded without impacting existing software.
RTI Data Distribution Service complies with the Object Management Group (OMG) Data Distribution Service for Real-Time Systems (DDS) specification, the leading standard for real-time application integration. RTI also natively supports the Real-Time Publish-Subscribe (RTPS) wire protocol for peer-to-peer interoperability with other RTPS-compliant DDS implementations. RTI is the world's leading supplier of DDS-related software and services.
About RTI
Real-Time Innovations (RTI) provides high-performance messaging and integration infrastructure for distributed real-time applications. RTI is the leader in the rapidly growing market for Data Distribution Service (DDS) compliant middleware. A broad range of industries leverage the company's software and design expertise, including defense, intelligence, simulation, industrial control, power generation, transportation, finance, medical, and communications. Founded in 1991, RTI is privately held and headquartered in Sunnyvale, CA. For more information, please visit www.rti.com.
About Still River Systems
Still River Systems, Inc., based in Littleton, Massachusetts, is dedicated to providing physicians, and their patients, access to high quality, cost-effective proton therapy solutions. Still River Systems is developing the Monarch250, an affordable, precise and compact proton therapy systems for cancer treatment. The Monarch250 has not been cleared by the US Food and Drug Administration for distribution or clinical use. For more information on Still River Systems and the Monarch250 Proton Therapy System, please call 978-540-1500 or visit https://www.stillriversystems.com/.
Learn More:
Autonomous Vehicle Production »
RTI, Real-Time Innovations, RTI Data Distribution Service, Connext and 1RTI are registered trademarks or trademarks of Real-Time Innovations, Inc. All other trademarks are property of their respective companies.
Posted on March 9, 2010
About RTI
Real-Time Innovations (RTI) is the largest software framework provider for smart machines and real-world systems. The company's RTI Connext® product enables intelligent architecture by sharing information in real time, making large applications work together as one.
Media Contacts
For all media inquiries, please contact: press@rti.com
Cameron Smead
Public Relations Senior Manager, RTI
Karbo Communications for RTI (U.S.)
(650) 270-1097
Agentur Lorenzoni GmbH for RTI (EMEA)
T:+49 8122 55917-0
Real-Time Innovations
232 E Java Drive
Sunnyvale, CA 94089
USA
+1 (408) 990-7400
info@rti.com