RTI is proud to sponsor MIT-PITT-RIT-Waterloo, the only student-led team at the 2022 Indy Autonomous Challenge. Meet the team, and listen to how RTI Connext helped push their performance.

The Story
On October 23, 2021, history was made in autonomous driving. RTI is proud to be part of an elite group of automotive and technology collaborators in supporting this first-of-a-kind event. We congratulate all of the university teams on their efforts, and Technische Universität München (TUM) for placing first, in this historic race.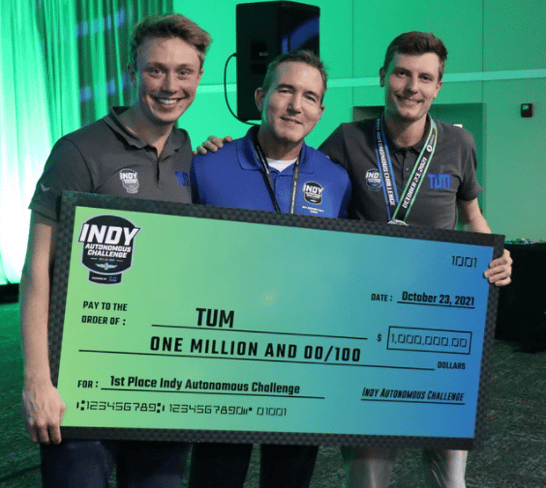 RTI's Neil Puthuff with members of the winning TUM team.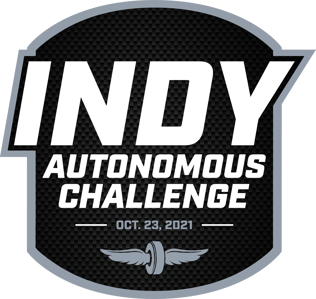 The initial phase of the Indy Autonomous Challenge (IAC) was an 18-month, $1.5 million prize competition among universities to program modified Dallara IL-15 race cars and compete in the world's first autonomous head-to-head race around the famed Indianapolis Motor Speedway. As the software sponsor for the IAC, RTI provided the connectivity software to program, simulate, build, test, run and race the cars throughout all stages of the competition.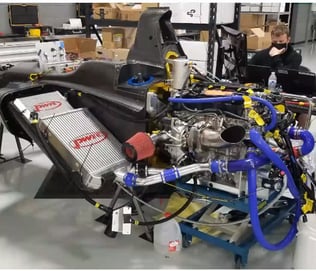 In every respect, the IAC was unprecedented. It was the first high-speed car race on the famed Indianapolis racetrack with no human driver in the vehicle, which was driven entirely by software. Each team had to find the smartest and fastest way to out-race and out-maneuver their fellow innovators.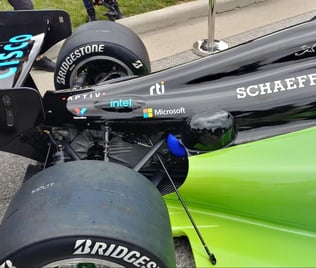 Built on proven technology used in over 1,000 deployed systems, RTI Connext® is designed to optimize performance in autonomous vehicle environments. For the IAC challenge, it was used by the teams from the Phase I simulation race to the programming of the physical car.
"Connext makes ROS 2 real."
– IAC team member, May 2021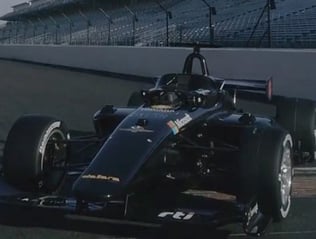 RTI Connext excels at moving ROS 2 systems into production environments; it nearly eliminates communication delays with up to a 98-percent reduction in latency. In a race where every microsecond counts, that's the kind of performance that matters.
This challenge was a win-win for the university teams and the industry at large who benefitted from the innovative approaches to how autonomous vehicles run. And it made for some great spectating! The challenge was held in 2 phases: racing in a simulator, followed by operation in the real vehicle.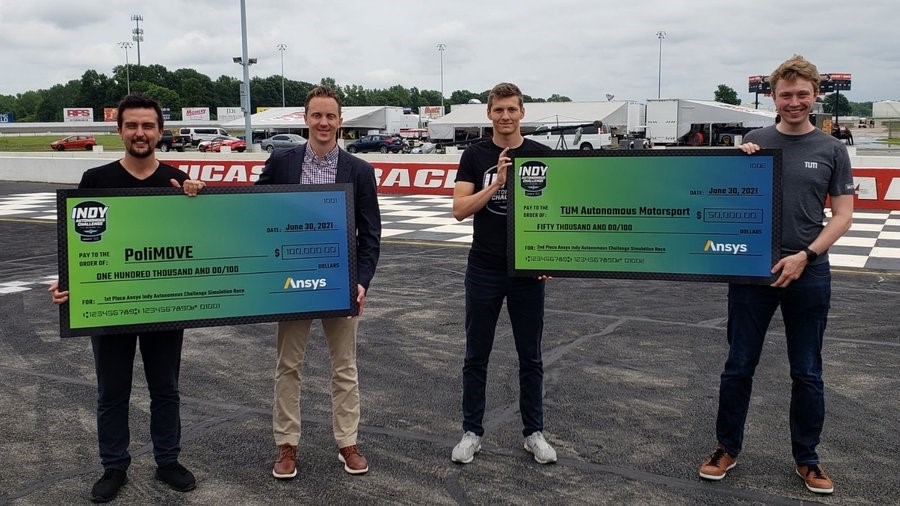 Simulation Phase (January - June 2021)
This phase of the challenge was run entirely on automotive simulators provided by Ansys, hosted in cloud-based resources provided by Microsoft Azure, with overall system connectivity provided by RTI Connext. Despite the cloud-based simulators being located in the central U.S. and the teams located around the world, RTI Connext was used to maintain reliable communications to teams located on four different continents for their everyday development use and for the simulated racing challenges.
The simulation phase was staged as a series of challenges of increasing difficulty: Fastest Lap, Safe Overtaking, 2-team Head-to-Head, and a final 5-car race over 10 laps. Of the original 25+ teams entered in the challenge, many were eliminated or joined forces with other teams during this phase, resulting in a total of 9 teams reaching the vehicle phase of the challenge.

Vehicle Phase (June 2021 - January 2022)
Things started to really heat up in the summer of 2021 as the teams were receiving their Dallara race cars, now designated as "AV-21" models to reflect their status as a purpose-built autonomous racing vehicle. While the simulation phase of the challenge was difficult, the teams now faced a whole new set of challenges in getting their software to run in real-time on a fast-moving vehicle, with a much larger set of sensors. Their software had to do more work in less time, and there were only a few months to go until race day in October.
To limit the scope of their efforts, the vehicles were delivered to the teams with some software pre-installed: ROS 2 software drivers for the various sensors and actuators, and a reduced implementation of the Autoware framework, which also runs on the ROS 2 robotics framework.


System Latency
Latency – the time it takes to send data through the system – is a twofold problem:
Data that arrives late will directly reduce the responsiveness of the system, making it sluggish to react to new events. This is critically important in a fast-moving autonomous racecar.
The more CPU time spent moving data around means less CPU time is available to do anything else, such as driving the vehicle.
The layered software architecture of ROS 2 provided many conveniences for researchers, but at the cost of unwanted latency. This latency quickly became a concern for the teams, who needed every CPU cycle they could get. Reducing this latency became a high-priority issue, and RTI was there to help.
Because ROS 2 itself is layered on top of the Data Distribution Service (DDS™) framework, system latency can be dramatically reduced by simply bypassing ROS 2 with a direct implementation in Connext, while using the same ROS 2 data types. This results in ROS 2-compatible applications that are smaller, faster, and can work in places that ROS 2 cannot: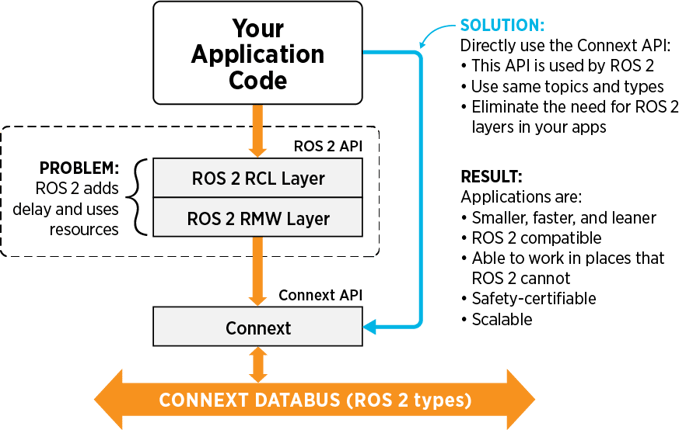 As shown in a RTI Blog on ROS2 optimization, this approach can remove more than 90% of the latency while maintaining full interoperability with ROS 2:


Data Size in Bytes
Implementation
64
256
1k
4k
16k
60k
1M
4M
8M
ROS 2 & RMW(Z)
231
235
238
231
248
264
506
744
3122
Connext
9
9
9
10
11
19
--
--
--
Connext + Zero Copy
--
--
--
--
--
--
54
54
54
Latency Reduction
96%
96%
96%
96%
96%
93%
89%
93%
98%
One-way latency in microseconds
(From the RTI Blog: "The Indy Autonomous Challenge: Achieving Extreme Performance with ROS 2")

RTI used this approach to optimize critical data path components in the vehicle's perception system. To minimize risk during the tight pre-race schedule, these components were provided to the teams as a drop-in replacement for the ROS 2 parts, resulting in a hybrid Connext / ROS 2 system which "only" reduced the critical path latency by 2x-4x and system resource use by more than 3x (compared to the >10x latency reduction that is possible by completely replacing the ROS 2 data paths with Connext).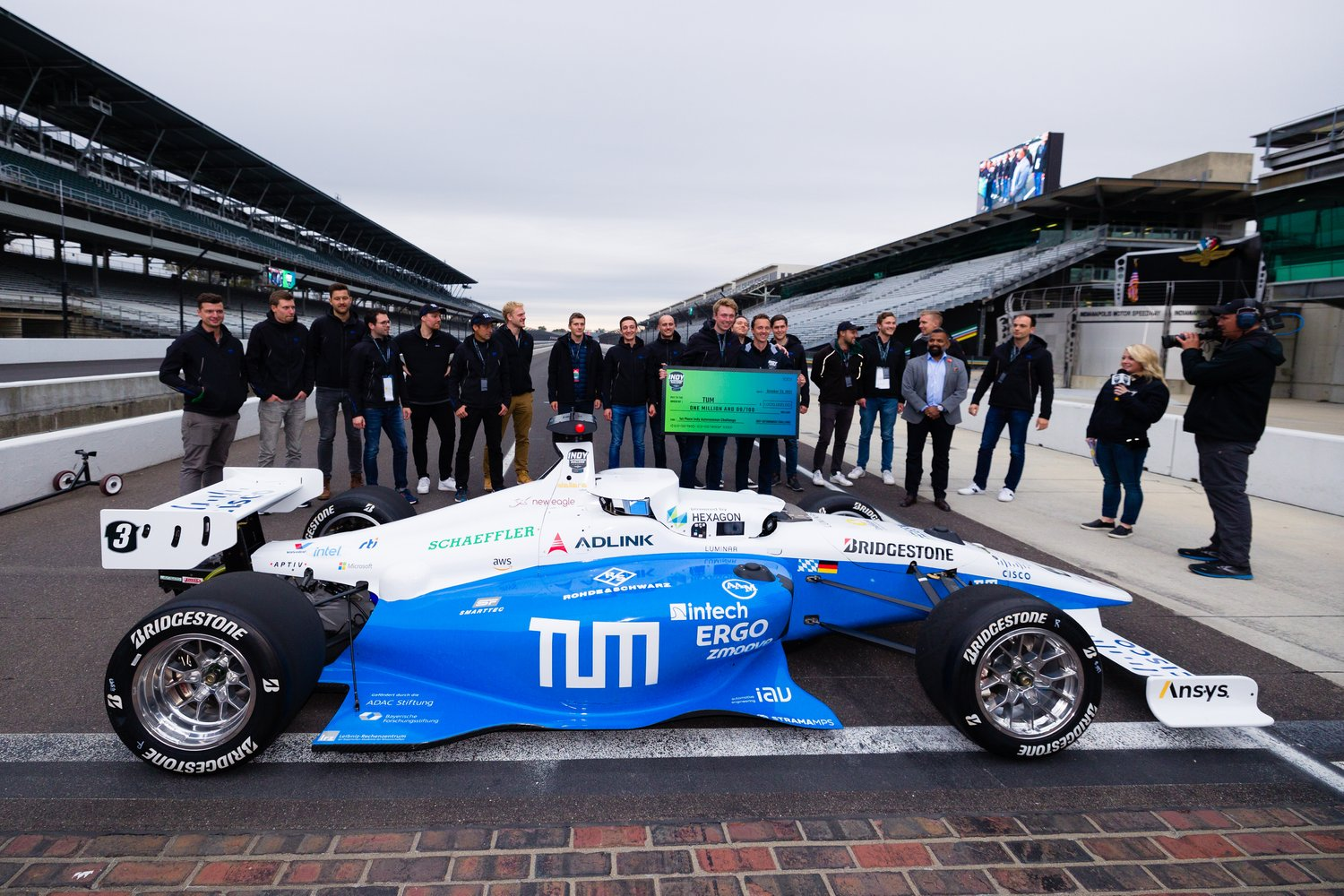 This optimized perception function was a key component in the software used by the winning team, TUM, who posted a flawless performance despite less-than-ideal racing conditions (cold, rainy weather) to secure their victory and take home the $1 million grand prize.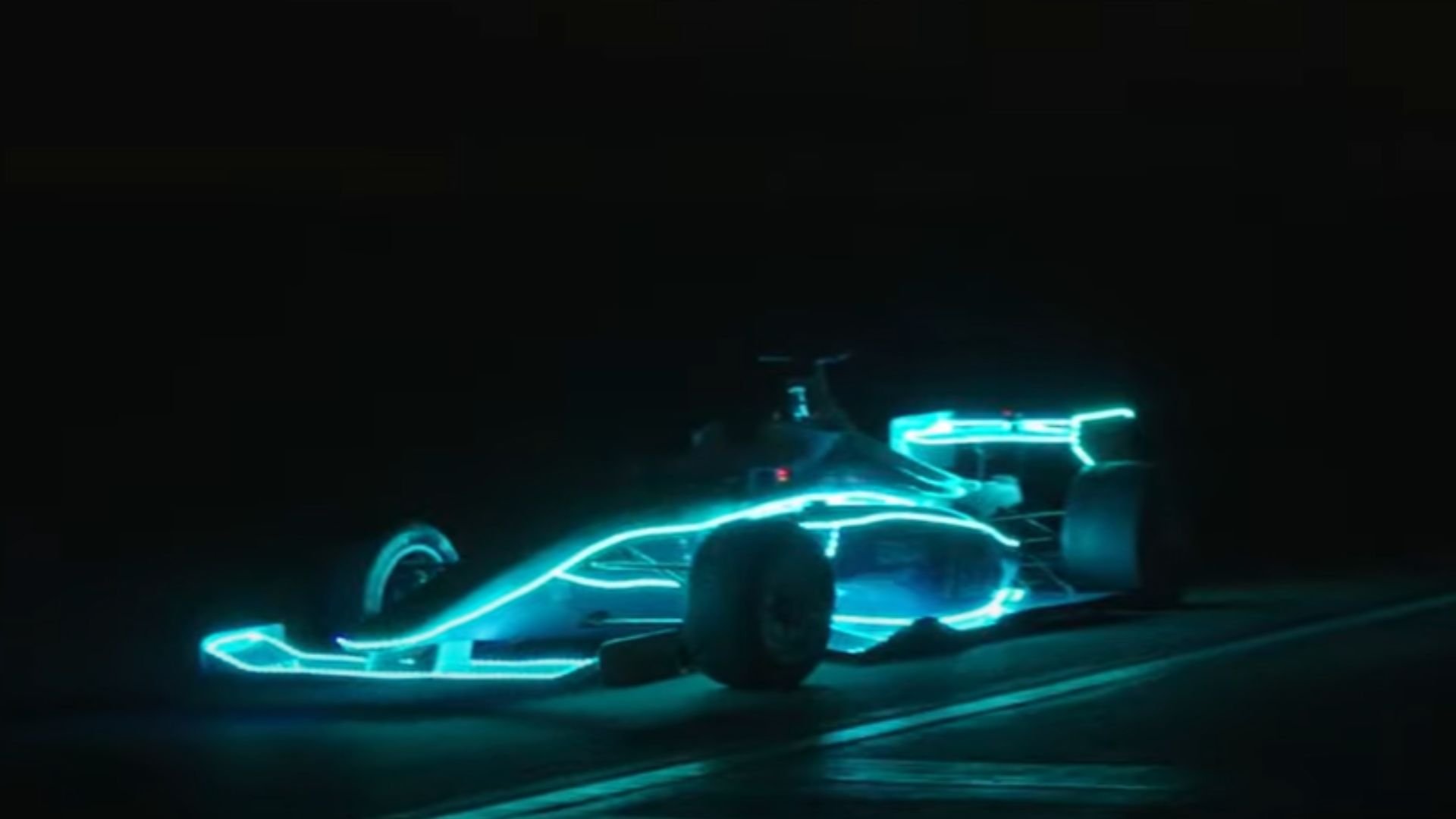 They even had the confidence to run their vehicle at speeds of over 100 MPH in complete darkness, just days before the final racing event in Las Vegas.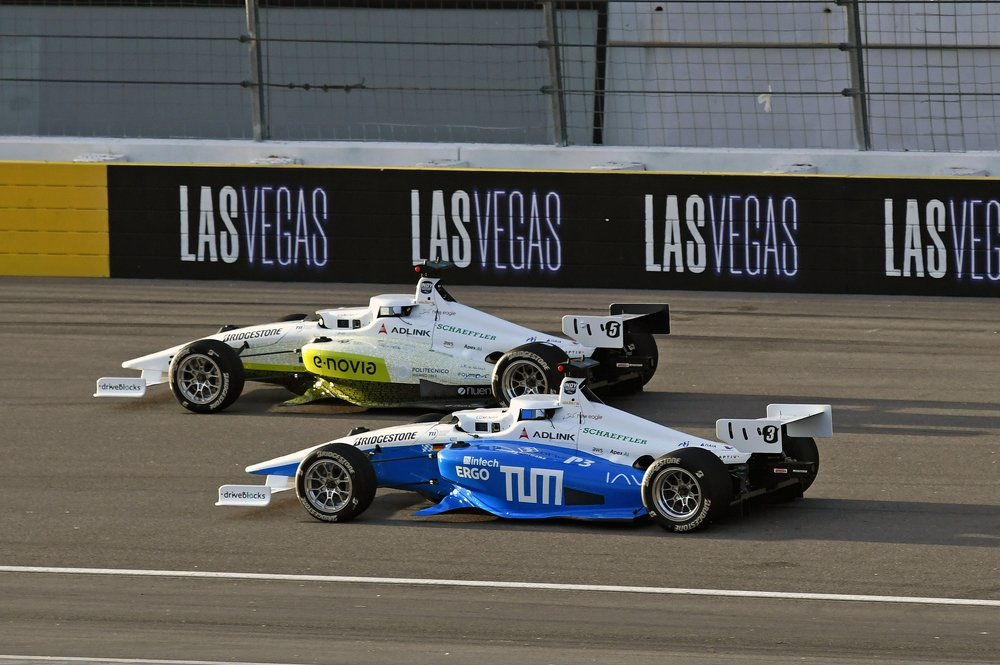 This phase concluded with a head-to-head racing challenge held at the Las Vegas Motor Speedway in January 2022, where the teams were pitted against each other to perform safe passing maneuvers at ever-increasing speeds, reaching a top speed of 173 mph.
RTI congratulates PoliMOVE in winning this head-to-head match with a top speed of 173 mph. RTI would like to congratulate teams PoliMOVE and TUM on their extraordinary achievements! Stay tuned for more exciting developments and ongoing IAC activities as the story continues to unfold.
For more information on RTI in automotive, please visit www.rti.com/drive.