RTI Launcher Application | We love our new Launcher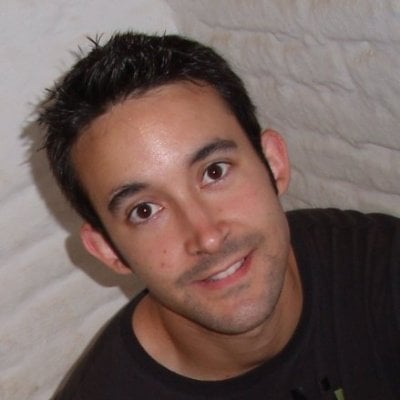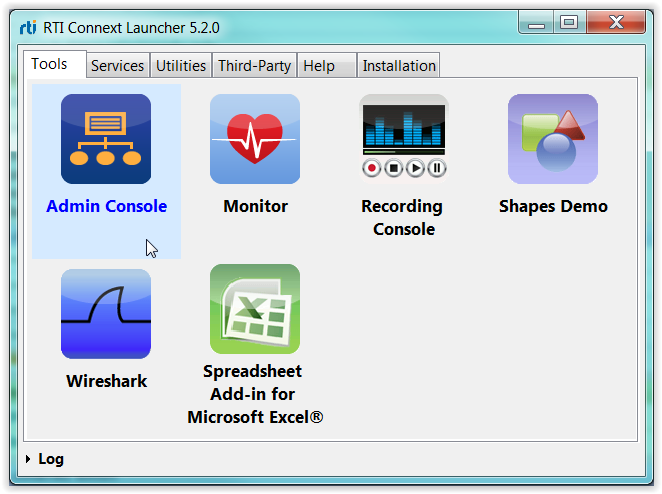 For the new RTI Connext DDS release, we have re-implemented the RTI Launcher application. We love it! We love the new native OS look and feel, we love the new functionality, and we're confident you'll love it, too.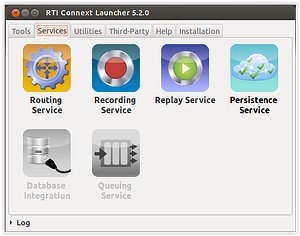 Of course, the basic idea is the same: providing you with an easy way to quickly access all the RTI products. The UI design hasn't changed much, so the transition should easy for existing users. As usual, there are three main panels with our tools, infrastructure services and utilities. Every tool has a context menu, which shows related docs and information: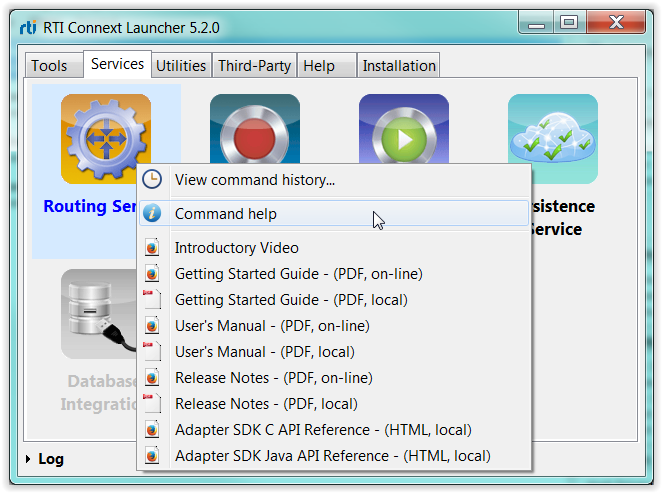 You can also open a window to show the command-line help for the service/utility – and what's more, you can now access the history of commands that you launched in the current session for that specific product:

This may turn out handy for you at some point because it reminds you of the exact parameters you used for the call. You can also copy the contents for later reference.
Apart from the usual tabs for our tools, services and utilities, we've incorporated a new tab for third-party products, as part of our pilot project for an RTI marketplace: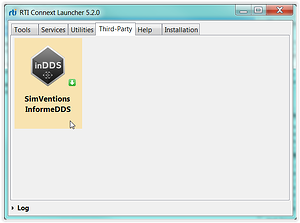 This tab contains products and tools from our partners. These products are usually not installed by default, but worry not! You can easily download and install them by clicking on the green download arrow (or if you right-click to show the context menu, you'll find a menu item to do that as well).
Another cool thing about our tabs is that there is an optional new tab (you just have to enable it) where you can put your stuff that you want to keep handy. I have to confess, I use (and love) Eclipse for development, so why not add it to my Launcher?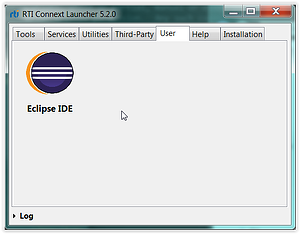 I can even add tool-tips and context menu entries!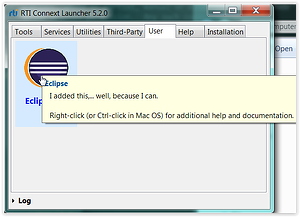 Good stuff. Now I can launch Eclipse from Launcher. Launcher has never been this "launchy"... And all configured via XML!
We've also added a Help tab. This tab contains links for information and documentation about RTI and Connext DDS. Some links are web links (you'll need an Internet connection to access them) and some are links to local PDF documentation.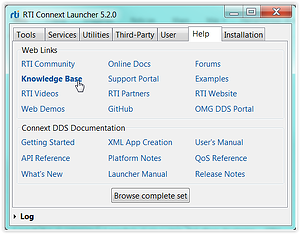 Lastly, I wanted to mention the Installation tab and the RTI Package Installer. There you can select a license file to use for your Connext installation. You can peer through the license contents (in a visual way). Launcher will notify you when your license is invalid or expired. You can also see which Connext products and components you have installed.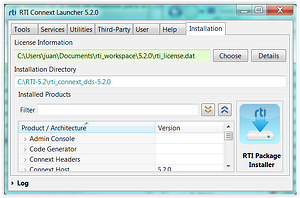 And speaking of installing new (and awesome!) RTI stuff, Launcher has an interface for the new RTI Package Installer application. So if I want to install the new RTI Queuing Service I would just open the RTI Package Installer dialog and click the "+" button next to the package file for that product. (To open the RTI Package Installer, click the icon on the Installation tab or the Utilities tab.)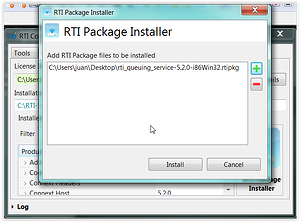 Then just click install and Launcher will call the Package Installer tool for you with all the files specified in the dialog. The new component will then be installed. Some components are shown by Launcher in panels and they will be ready to use after the installation.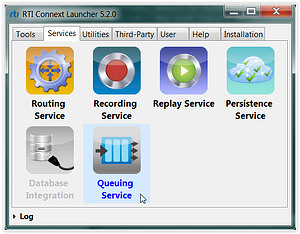 We think the new Launcher is a great addition to Connext PRO! Go try it! We're sure you'll love it as much as we do!
Learn More:
Autonomous Vehicle Production »
Connectivity in Autonomous Systems »
Subscribe to the RTI Blog