RTI's Customer Success Initiative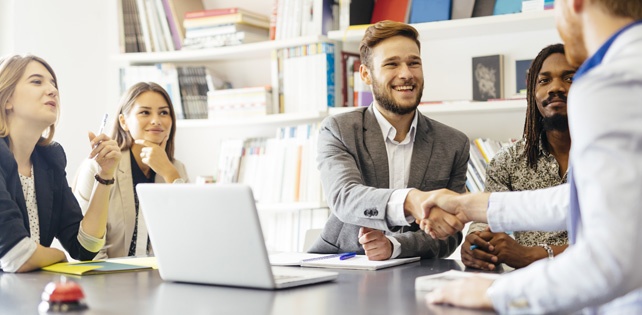 RTI Services – Culture and Growth
I've worked at RTI for over 15 years, the last eight of which have been spent managing the Services team. Helping our customers succeed with RTI technology is our number one priority. However, our customer base has grown significantly and the Industrial IoT market has evolved, requiring a new direction and focus for RTI Professional Services.
Over the past 18 months, we have doubled the size of our team and set sail on an aggressive plan to train our new hires – all while continuing to work closely with our expanding customer base. During this time, we shifted to a more proactive customer engagement strategy and looked for the most effective ways to efficiently scale our capabilities, and roll out new services offerings – all with the goal of accelerating our customers' success.
Defining Customer Success
There are a plethora of Customer Success (CS) definitions online – but we've adopted CS as an initiative that:
Delivers on the promise that was made when each customer decided to leverage our technology – to unlock real business value
Focuses on maximizing the value each customer generates from our technology
Reducing the Consumption Gap
What is the largest obstacle development teams face in realizing the full value of any technology? Poor adoption. In fact, in an enterprise software study, 69% of executives surveyed indicated that the #1 driver of value realization was "effective user adoption." Studies show that 50% of software functionality paid for and licensed is not actually used, and 30% of software maintenance contract cancellations are attributable to lack of effective adoption.
Why isn't half of the licensed software utilized? Depending on the project's defined use cases, it may be as simple as the functionality wasn't required, but oftentimes it's because feature(s) are too complex to use effectively. So, what are we doing to help our customers adopt our technology more efficiently? We're reducing the consumption gap.
The term "consumption gap" was initially used in J.B. Wood's book Complexity Avalanche: Overcoming the Threat to Technology Adoption. He describes the consumption gap as follows:
The difference between the value a product could provide to the customer and the value it actually does provide.
After working on hundreds of projects over the years, we've concluded that the best way to reduce the consumption gap is to work closely with our customers to ensure they possess the product knowledge necessary to architect scalable/performant/secure distributed systems. We achieve this by executing what we call an Architecture Study engagement.
We also train their development teams on essential product knowledge so that their application designs can fully benefit from the rich feature set that RTI Connext provides. I'm often asked, "What topics do you most often cover in your training classes?" and "Why do you recommend training, as we've used similar technologies in the past?" In reality, I understand that our customers are excellent engineers. However, they are under immense pressure to deliver sophisticated solutions yesterday, so time is of the essence. They simply don't have time to climb the learning curve on their own, nor do they have the time for re-design and additional testing. Learning this way can be expensive, so it's important that customers realize that they don't have to invent or reinvent everything themselves, nor do they have to make all of the mistakes. Our training survey data indicates that our onsite training (aka QuickStart training) helps customers traverse the learning curve rapidly with the guidance that ensures developers design it right the first time – saving time, saving money and realizing real business value.
Our QuickStart training agenda is often tailored to individual project requirements, but in general we frequently focus on the following technical areas:
Threading - harmonizing application threading with Connext's threading model
Configuring and managing memory both at startup and during runtime
Understanding best when to apply wait-sets versus callbacks
QoS management and configuration
Data-model design/review
Properly configuring for asymmetric discovery use cases
Most effectively using our graphical and command line tools
The Customer Success Engagement Lifecycle
Recall we established that our key CS goals were to deliver on the promise – and to maximize customer value, and do so proactively. We've learned over the years that each project is really a journey, and the sooner we can reduce the consumption gap the better. We've also realized that many of our customers aren't aware of the value that RTI can bring to their entire project. So we've set out to help address that by introducing our new Customer Onboarding offering as the first phase of our new CS Initiative.
Onboarding is our proactive investment (no cost) into your success with RTI. We're so convinced of the value of our onboarding, based on early customer feedback, that we're offering this not only to our license customers, but also to those that haven't yet decided, and are embarking on a technology evaluation. We've also enhanced our Customer Success Engagement Lifecycle progression, which is time tested to yield project success, to now begin with onboarding.
You'll hear much more about our onboarding in a subsequent blog post, but realize that it's much more than just getting you up and running. It's about accelerating your time-to-value and helping you establish the basis for the full value of RTI technology.
Conclusion
Our CS Initiative will leverage our experience to provide customers with even more value moving forward. We recognize that your project is a journey and our focus is getting you there successfully with RTI technology. Our team takes this journey all the time – it's what we do! Our deep expertise has been gained from many years of experience with many of the top industry experts on our team. We have over 350 years of combined engineering and distributed systems experience, and over 130 years of combined OMG DDS experience.
A few years ago, while having dinner with a customer, we were discussing our mutual interest in the history and challenge of summiting Mount Everest. He then stopped, looked at me and said – "Mark, the people on your team are like the Sherpas who live on the mountain and help teams summit. They know where to go, and more importantly where not to go." We know the journey - it's what we do.
I've worked for other companies prior to joining RTI, but I've never worked with a more dedicated team of professionals who are hyper-focused on helping customers succeed. Simply put – if you choose RTI, and we hope that you do – we won't let you fail.
Please don't hesitate to contact us regarding our new Customer Onboarding.
Subscribe to the RTI Blog