Our 2017 Top 5 Resources for System Engineers and Architects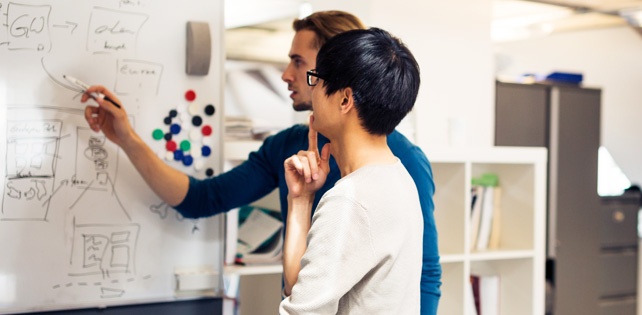 With only 24 days left in 2017, we're busy making lists and checking them twice – grocery lists, wish lists for Santa and Top Resources lists. If you're an IIoT System Engineer or Architect (or someone who takes part in a lot of integration activities), this list is for you! Let's count down . . .
#5 - Top 3 Episodes of The Connext Podcast
Episode 3: Requirements, Communication Protocols and the IIoT
Learn about the IIoT and how your choice in communication protocols allows you to meet even the most challenging system requirements. Click here for additional episode notes (timestamps, related content, etc.).
Episode 1: ROS and Securing Robotic Systems
In this episode of The Connext Podcast, you'll learn all about the transition from ROS 1 to ROS 2, the challenges in securing robotic systems, and Vince's PhD thesis (it's going to be a challenge!).
Episode 12: It's All About the TECHNICAL Details - Connecting the Pieces in the IIoT
RTI Connext DDS 5.3 is loaded with new features to help you build amazing systems. In Episode 12, we've interviewed Fernando Crespo, Product Architect at RTI, to discuss all of the details behind the new features available in 5.3. If you're curious whether or not 5.3 could be a part of your system solution, then this episode is for you. Click here for the notes.
#4 - Getting Started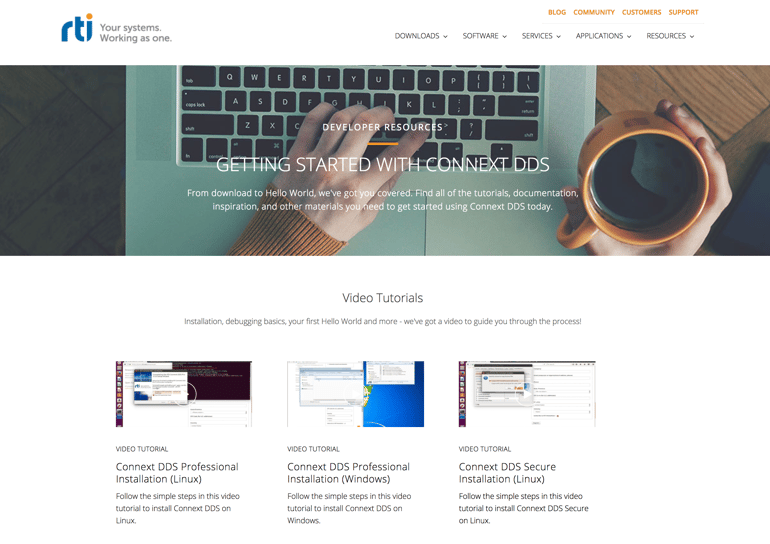 If you're like me, when you learn about a new technology you want to start playing with it right away. With Getting Started, you can get up and running with Connext DDS by simply following along with our video tutorials. Whether you're looking for help installing Connext DDS for Linux or Windows, or running a simple Hello World in Java or C++, we've got you covered. We even have videos showing how to do basic debugging using our tools (have you tried Admin Console? It's amazing!). What are you waiting for? Get started!
#3 - Cybersecurity Spotlight: Looking under the Hood at Data Breaches and Hardening Techniques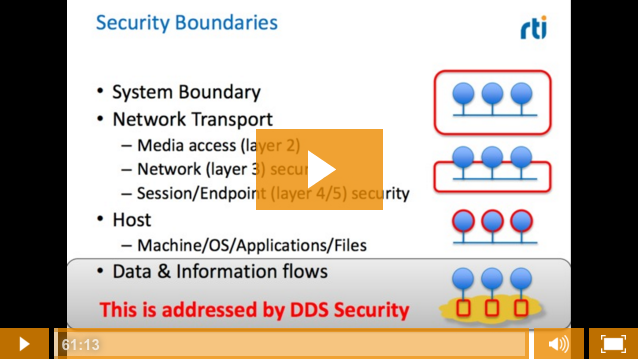 We all know that networked embedded systems and IoT devices provide us with benefits that change the way the we live. Personally, I love that my thermostat app allows me to turn the heat or AC on when I'm heading back home! It's a little thing, but it makes me happy. However, as anyone who reads ArsTechnica (or Reddit or CNN) can tell you, purpose-built attacks and data breaches on these types of connected systems are becoming commonplace. In this on-demand webinar, you'll listen in on a discussion amongst cybersecurity experts as they characterize common data breach and attack techniques. They also dive into tools, processes and approaches to close vulnerabilities and harden the software environments. Watch it now!
#2 - ISO 26262 Compliance Using Approved Software Components for Road Vehicles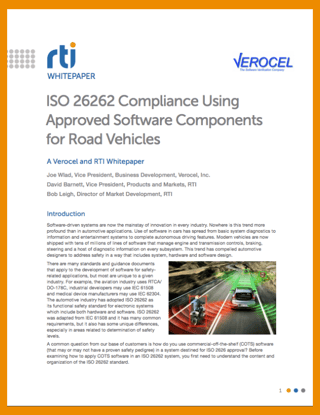 The trends we're currently seeng in the autonomous vehicle market include an increasing emphasis on software, integrating software components at various levels of safety, and regulatory compliance with the ISO 26262 standard. RTI co-authored this whitepaper with Verocel to explain this standard (including how it applies to COTS software), and detail the documentation and evidence you'd need to achieve ISO 26262 compliance. If you're working on autonomous vehicles, or are simply curious about what it takes to bring these systems to market, this whitepaper is for you! Download the Whitepaper now!
BONUS: Here's an on-demand webinar on this topic for you, too!
#1 - RTI Labs: System Designer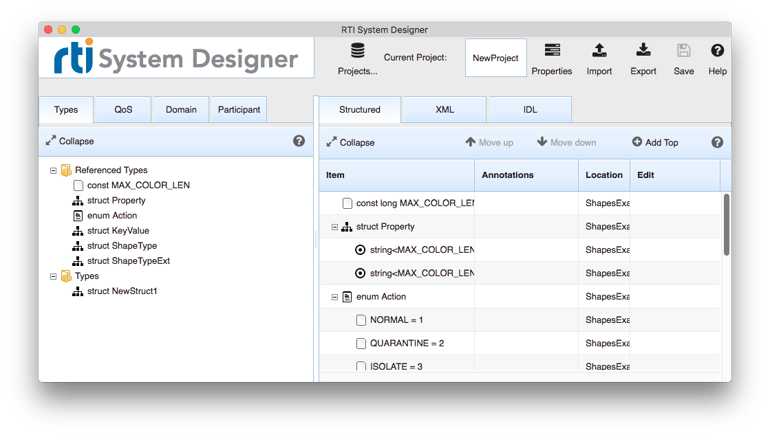 What if I told you that you could graphically design and configure your DDS system? Pretty awesome concept, right? Well, it's now a reality with RTI System Designer!
You can use System Designer as a User Interface to XML-Based Application Creation, a technology that allows users to specify all the aspects of a DDS system in XML format including:
The data types that will be used to communicate information in the system
The topics that will be used in the domain, associating each topic with a data type
The DomainParticipant that can potentially be used, giving each a participant name
The DataWriters and DataReaders present within each DomainParticipant, each associated with its corresponding Topic
To learn more (and try it for yourself!), head on over to RTI Labs.
Subscribe to the RTI Blog