My First Year as an Application Engineer at RTI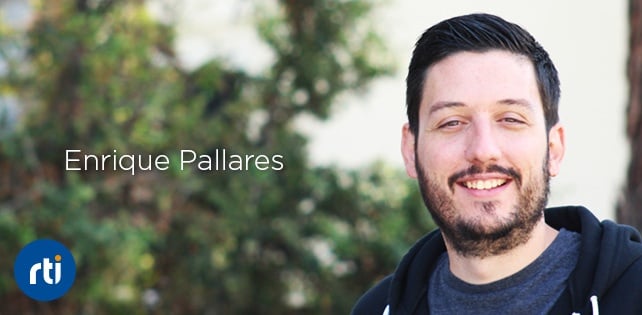 Now and then I get asked, "What do you do for a living?" to which I reply, "I'm an Application Engineer." Like clockwork I get the standard response, "Ahem…(5-second pause) and what exactly is that? Do you build mobile apps?"
Having Application Engineer as a job title might not sound like the easiest job to describe, and it's definitely not. My purpose for this post is to answer all of the questions that this position's title may generate by telling my story: the first 12 months as an Application Engineer at RTI.


What does an Application Engineer do?
If you try to find a definition online, you will get a wide variety of skills and descriptions that will probably confuse you even more. If you ask me, I would simply say: we help our customers succeed at developing their projects. As simple as that.
In the process of doing that, do we go crazy technically? Sure we do. Not only does the job require strong technical knowledge of our software, but also great programming and debugging skills. However, you could have all of the technical skills in the world, from my point of view, but the hardest and most important part of my job is understanding and addressing customer challenges.
Becoming a part of this team has definitely been the most challenging and most rewarding thing I have ever done. This is my story:


First year as an RTIer
It has been over a year since I first started at RTI and things are starting to feel normal now. When you are new, it's easy to get overwhelmed in the best and truest way possible. It's unbelievable how the company culture ensures that everyone is a priority and explicitly treats them in that regard.
I remember when I was interviewing for this position and I asked everyone involved in the process, "What is your favorite part about working here?"
Everyone unanimously answered, the people. The message was clear. RTI wasn't just a place where developers build software and the sales team sells it. It's much more than that. It's a place where people genuinely enjoy doing their jobs and everyone appreciates each other.
We have two main offices – our headquarters in Silicon Valley and a Spanish office in Granada, where I am based, and it is growing every day!. RTI is truly a distributed company where a lot of colleagues work from their home office; starting from the East Coast of the US, United Kingdom, Germany or other cities of the south of Spain.
As you can imagine, being a distributed company can be hard to maintain that "family feeling" when you don't see your colleagues on a daily basis. This is one of the reasons why each year we get to travel to our HQ in California for what we call CKO or Company Kick Off. CKO is a week long gathering where as an entirety, the company will share our focus for the year and, most importantly, bond. This generates opportunities for shared experiences and memorable times with colleagues. Loads of fun events happen during this week and with each year being different, no one would want to miss it.
All these things combined, help to the general feeling at RTI where everybody could reach anyone for help, advise, or simply to give feedback. Being 9,587.56 km away (distance from Granada to Sunnyvale) does not help in that regard, so as you could imagine, nowadays apps and video conferencing tools are our best friends. I am truly impressed with the level of communication and efficiency the team achieves with the currently available tools. To hear more about how we maintain company culture with teams distributed around the globe, listen to this episode of The Connext Podcast.
The Spain Development Center (SDC) team


Technicalities
At RTI, Application Engineers are part of the Professional Services Team. We call ourselves Services Engineers, and I like that definition. At the end of the day, we are at the service of our customers.
To be more specific, the position is all about:
Designing and re-designing effective applications that use DDS
Analyzing and responding to customer needs and problems
Providing system design recommendations
Generating ideas for software products or improvements
Essentially, this position allows you to pair your logic with creative thinking in order to solve real-world problems using software.


Lifestyle
At the Doha International Airport in Qatar
At this point you might be asking to yourself; how was my first year? Where did I spend most of my time? If I say, 7 countries, 11 cities and 12 different customers/projects, what would you think? That is right! I traveled…a lot!
I spent the first 6 months training and getting comfortable with our customers' applications while being accompanied by one senior member of the team. Then, I was the one who was training new employees and consulting. The most important part in our role is the training, this is where RTI's culture really stands out. You always feel supported and you never feel alone.
I would say that RTI is an engineering company with a complex product where everyone can make an impact. No matter what department you are in or how new you are to the company, your ideas will be taken into consideration.
If my story has piqued your interest and you think your abilities as an engineer fit with RTI, you should definitely come and join us! Check out our open positions, we are hiring!
Subscribe to the RTI Blog