Healthcare IIoT: Ideas are Easy. Execution is Hard.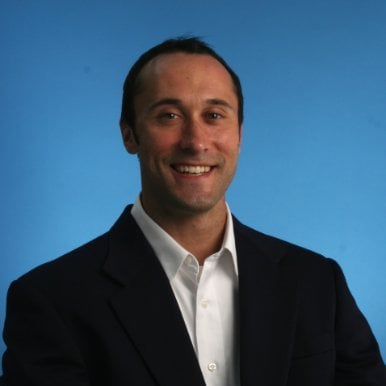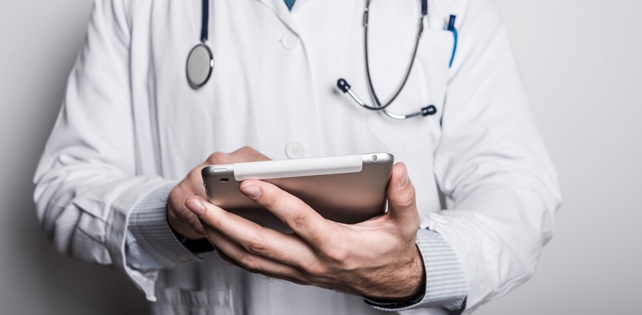 With each passing day, we find a new market or application where the Industrial Internet of Things (IIoT), Artificial Intelligence and Machine Learning are going to redefine life as we know it. I have high hopes for what the IIoT and AI/ML can do for transportation, smart grid, smart home, industrial automation, etc., but I don't believe any of these applications will have as profound of an impact on the human race as the application of IIoT and AI/ML to Healthcare.
We live in a world where medical errors are the third leading cause of death behind cancer and cardiac disease, leading to more than 200K preventable deaths every year. We have an aging population growing at an unprecedented rate: 8.5% of people worldwide (617 million) are aged 65 and over, and this percentage is projected to jump to nearly 17% (1.6 billion) by 2050 leading to an anticipated physician shortage of >50K by 2025. On top of all of this, healthcare costs are increasing across the board, driven largely by the adoption of new technology. I know what you're thinking – What!? Isn't it new technology that drives efficiency? And, in most industries, better, faster, cheaper solutions? Unfortunately, that's not the case in healthcare for a variety of reasons – some political, some technological. For the purpose of this post, I will focus on the technological challenges.
Ideas are Easy
For those of us working at the intersection of technology and healthcare, it's almost common knowledge that the solution to many of the challenges facing our healthcare system today can, in fact, be remedied by applying the principles of an IIoT system and combining it with AI and ML. West Health published a report way back in 2013 showing how a connected healthcare system could provide nearly $30B in industry savings while improving patient outcomes in the process.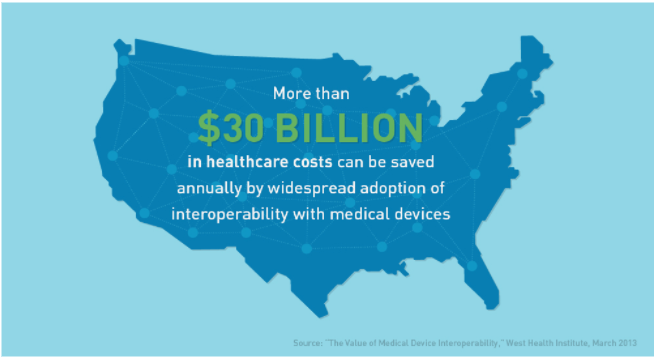 The path was paved. It was clear that we needed a fully networked, interoperable and secure healthcare system that not only captures data, but offers real-time clinical support that autonomously improves overtime. What could be hard about that?
Andrey Ostrovsky, chief medical officer at the Centers for Medicare & Medicaid Services and the Children's Health Insurance Program summarized the main challenge perfectly and why it is so hard:
It's very hard to build software well...It's even harder to build software well when you have multiple end users.

- Andrey Ostrovsky, CMO, Centers for Medicare & Medicaid Services and the Children's Health Insurance Program
Execution is Hard
As early as 2006 we began equipping medical devices with WiFi and Bluetooth, and vastly underestimated the challenge of updating products in an industry that historically refreshes products every 10-15 years. Once connectivity became pervasive in the healthcare space (~2 years ago), it exposed a myriad of additional challenges, including:
Securing not only data at rest, but also data in motion
Scaling a highly reliable, real-time network to contain thousands of nodes
Creating a software architecture that allows easy commissioning and decommissioning of devices
Achieving consensus regarding robust standards that address data models and connectivity.
Even the issue of using consistent terminology and definitions has shown to be a big problem.
Because of these challenges, we have a fragmented ecosystem of vendors who all have a small piece of the total solution and no guidance on how to piece together a complete Healthcare IIoT solution.
Making it Easier
The good news is, we are making progress! Each day more organizations and more people are working on making the Healthcare IIoT dream a reality. Standards and regulatory bodies, such as the Center for Medical Interoperability, Medical Device Plug and Play, the Industrial Internet Consortium, Integrating the Healthcare Enterprise, the Personal Connected Health Alliance and the FDA's Digital Health Group are all helping drive standard data models, connectivity frameworks and security requirements.
Public and private businesses have engaged and begun optimizing their solutions to meet the specific needs of the Healthcare IIoT Market. RTI recently added Interoperable Security, Historical Data Query, IP Mobility and Web Application Interoperability to its already robust Connext DDS connectivity framework that uses a data-centric publish-subscribe model specifically to meet the need of the Healthcare IIoT. The Connext layered databus architecture was designed to be the Connectivity Framework for the Healthcare IIoT. I've included a visual that will help you better understand the layered databus architecture.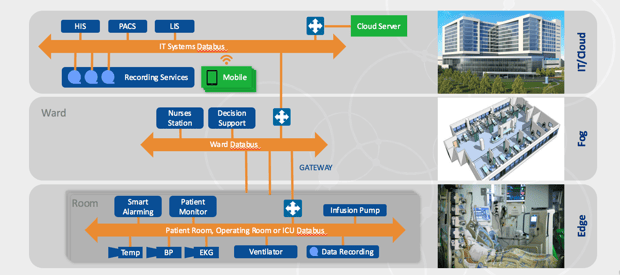 The Time is Now
For technologists working in the IIoT space, the time to act is now. We should all be doing our part to achieve the goal of a fully networked, interoperable and secure healthcare system that not only captures data, but offers real-time clinical support which autonomously improves over time. As I've discussed, it's not going to be easy! We will be met with both business and technical challenges along the way. But we owe it to ourselves as well as our grandparents, our parents, and our kids to ensure our global healthcare system is operating as efficiently as possible with respect to patient outcomes and cost.
Want to Learn More?
I'd like to invite you all to continue this discussion via an online webinar, November 1st at 11am. Click here to register.
References
Subscribe to the RTI Blog