Connext DDS Micro is Huge for Developing Autonomous Vehicles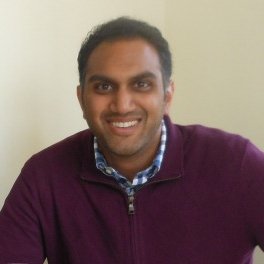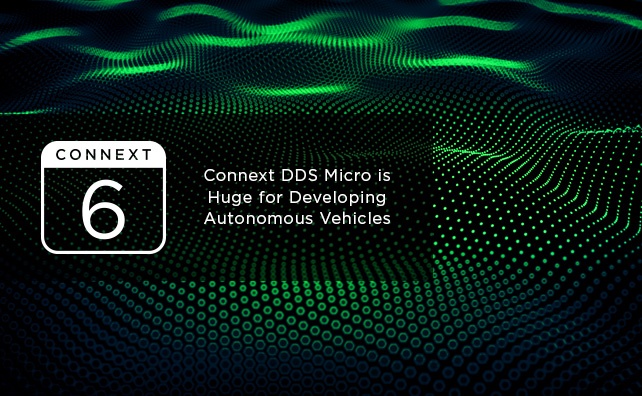 You have already heard how RTI Connext 6 offers the necessary capabilities for architecting highly autonomous systems, but it also streamlines development efforts from research to production. Let's explore Connext 6 a little more to see what it means for development teams.
Recently, Bob Leigh, Director of Autonomous Systems, captured highlights of the features and benefits in his blog, Autonomy Takes the Driver's Seat in Connext 6. Here's a quick recap: we deliver the tools to build functional performance into autonomous vehicles. These capabilities are required to effectively manage complex data flows for powerful sensors, such as LiDAR, camera, radar and others that are critical for the vehicle to build an accurate view of the world at that very moment. Here's an even quicker recap: Connext 6 helps you build this!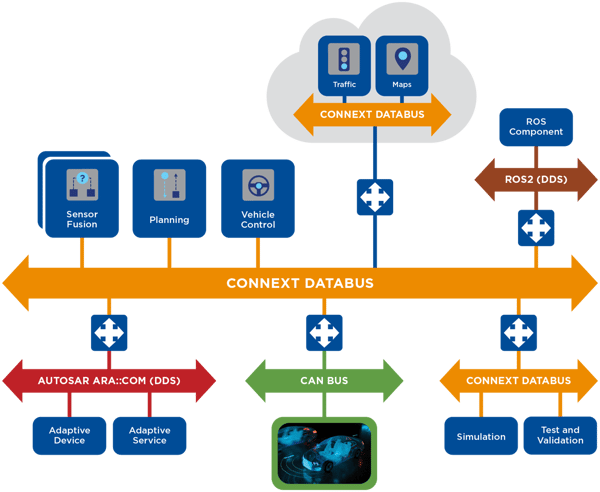 RTI Connext 6 provides the connectivity framework for highly-autonomous systems
However, there is much more to Connext 6 than just the architectural building blocks for autonomy. For any engineering organization to be successful it needs the right tools that will fit their processes. Take XML Application Creation for example – spoiler alert, this is the key topic in this blog. XML App Creation allows developers to literally modify runtime behavior of complex systems without writing or compiling an additional piece of code. If you aren't familiar with XML App Creation, this should be enough to blow your mind. And if you are familiar – you should be trying to high five me right now. Think about that – you do not have to modify your application, recompile, "cp build/* deploy/". . . all you have to do is modify an XML file. I mean, you certainly save program costs, reduce deployment risks and can iterate like you're in the 21st Century - but just not having to recompile should be enough to have you jumping out of your seat.
Now you're probably wondering, what does this have to do with Connext 6? I'm glad you asked.
Connext 6 is all about autonomy and autonomous vehicles. The inherent problem is that the "autonomy" part of the equations demands fast iterations and testing – there is a huge drive to get thousands of training hours on artificial intelligence algorithms developed by research organizations. On the other side, production teams have to strictly adhere to processes and technologies before they put something on the road for safety reasons.
With our latest release, XML App Creation extends to Connext DDS Micro. And not so coincidentally, Connext DDS Micro is developed with safety processes approved for Avionics safety, and provides a pathway for ISO 26262 safety certification.

Connext 6 streamlines development from research to production
Research to Production
Let's break this down. The innovative focus of research organizations precludes capacity to design entire systems for production. To complicate the process, safety-critical systems, such as those in automotive demand a level of rigor which directly conflicts with the charter of already budget-constrained research teams. On the other hand, production teams do not manage non-monetizable efforts, such as software development. To make money, they must put cars on the road. Therefore their constraints are focused on integration and safety.
With Connext 6, research teams can develop algorithms in quick iterations, isolating them from the concerns of the underlying operating system and hardware platforms. Production teams can pick up algorithms coming out of research and work towards integrating them on safety platforms without having to re-write applications, especially the complex connectivity layer. By extending XML Application Creation to Connext DDS Micro, our customers can iterate research-based development across the RTI Connext Product Suite and defer selection of production platforms to the appropriate teams at the appropriate time in the system development life cycle. This might also be a good time to note that RTI's System Designer further eases coordination across development teams by offering a web-based graphical configuration tool – you know, for those who are not particularly enamored with XML.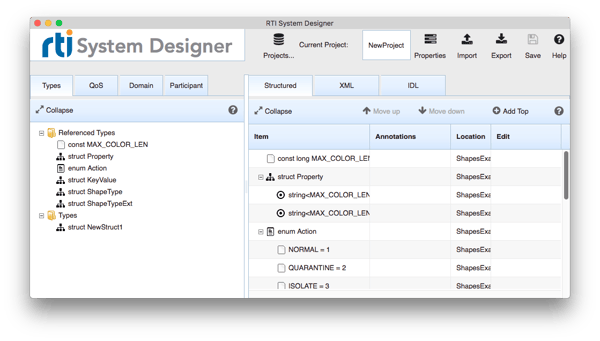 Drive alignment among development teams with System Designer
Extending XML Application Creation to Connext DDS Micro is yet another step towards removing the barriers for safety. File-based configuration of DDS entities and QoS will enable OEMs and system integrators to evolve their systems with fewer and fewer impacts to existing system components. This means our customers can innovate and go into production faster without bearing the large cost burden to mitigate safety concerns.
You're still here? I'm flattered, but you need to do a few things now: take System Designer for a test drive and don't miss the turn off for Connext 6 – estimated time of arrival: Q1 2019!
Subscribe to the RTI Blog