5 Great Dev Resources You Need to Bookmark Right Now!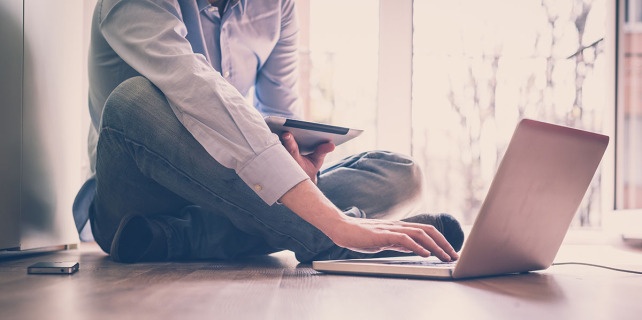 Despite Google being as amazing as it is, sometimes locating the exact thing you need becomes a challenge. In these frustrating moments - which seemingly always occur when you're under a time crunch! - the struggle becomes all too real. If you're looking for technical resources for Connext DDS (or our other products), this post is for you! We've pulled together the only five bookmarks you'll need to be sure you can always find the technical resource you need in a timely fashion. No struggle required.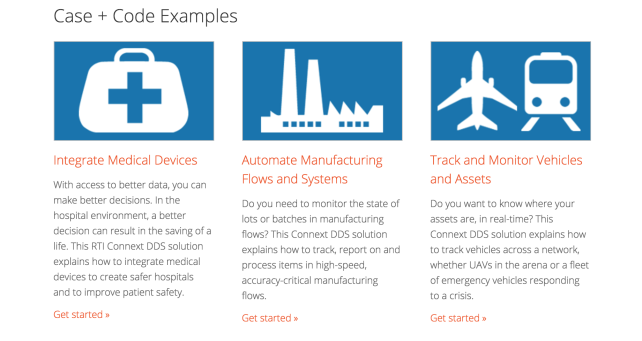 Case + Code is a series of use case-based examples to help take you from the problem that you have to real coding and configuration that can get you started on your solution right away. You'll find the sample code, videos, and step-by-step instructions for each one - for FREE! So whether you're looking to learn how to integrate medical devices, monitor video from security cameras or receive SIGINT data from multiple UAVs, stream video to multiple receivers, or monitor remote IoT devices, we've got a Case+Code for you!
Perhaps the best resource for any developer is our Dev Community - boasting an active forum, an extensive knowledge base, product documentation, and so much more!
Our monthly newsletter will keep you up to date on product news, the latest tutorials and videos we have available, and upcoming events (like this one which we happen to be extremely excited about!). Click here to subscribe to the newsletter.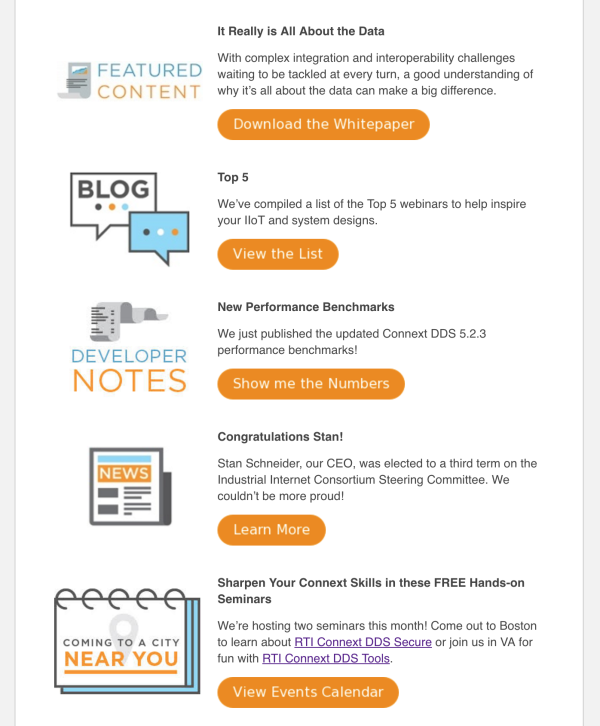 Looking for tutorials? Examples? Information on new products or features? Our Blog has all that covered and more!
Whether you're a seasoned Connext user or just looking to learn a bit more about the various products and how they stack up against your other options, our blog is full of great content. If you're not sure where to start or simply don't want to wade through ALL of the content on the blog, these are some of our users' favs:
If you head on over to the content library, you'll be greeted by tons of great videos, articles, whitepapers, etc., all produced with the goal of helping you become better acquainted with DDS, the use cases, best practices and more. Out of all the various things you can pick from, I'd recommend our whitepapers and on-demand webinar replays. They're free, full of great information, and might contain just the inspo you need to take your project to the next level!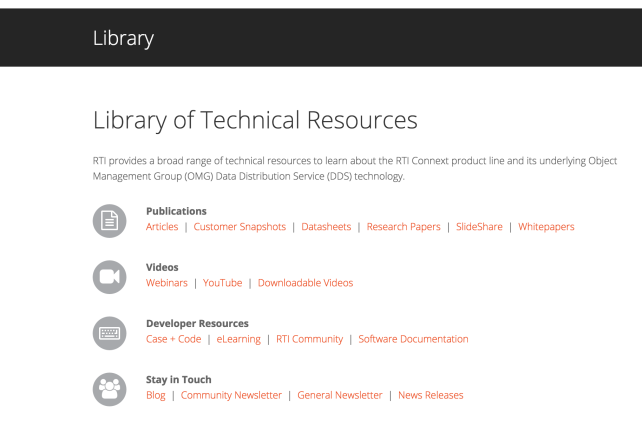 Learn More:
Autonomous Vehicle Production »
Connectivity in Autonomous Systems »
Subscribe to the RTI Blog