My Internship Ride at RTI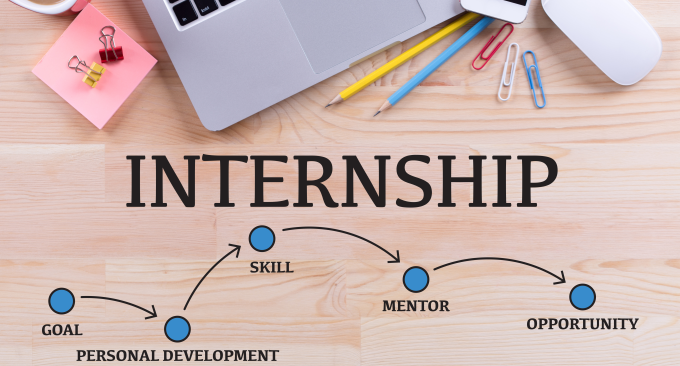 -Where talent meets innovation.
FRIDAY! It's the first thing that comes to mind when I think about RTI. To almost everyone, Friday means the end of the week, the beginning of the weekend, late night parties and, of course, catching up on sleep. But for me, Friday and RTI have an entirely different connection, and I will explain why.
It starts with a cold, snowy Friday in February 2016. I was looking forward to the upcoming weekend – needed a break from the stressful set of assignments and projects for my courses at Penn – when I got an email from RTI saying that the HR department would like to schedule a call.
Immediately, my excitement started to build, since prior to this I had gone through a couple of interviews with RTI, including a coding round for the role of a Software Engineer Intern. I hoped this call would give me a reason to go out and celebrate on Friday. Hope turned into reality when I got the call saying that I was being offered an Internship role at RTI for the summer. Though they proceeded to tell me about the compensation, benefits, etc., all those words only passed tangentially over me. The only information I was excited about was the part that I got the internship I had been hoping for. The call ended at 6 pm that Friday, and yes, as I said before: a reason to go out and celebrate!
After gladly accepting the offer, I communicated with Jan, the VP of Engineering (and the Head of Research) over emails to deepen my learning about RTI and to keep in touch before my start date. We discussed the project and skills to deploy. It was supportive of them to answer my queries and encourage discussions.
Fast forward three months, and it was the end of my 2nd semester. I flew to Sunnyvale, California and prepared myself for the first day at RTI. Starting on a sunny day on May 11th, an initial welcome by HR set the ball rolling for the internship that was to go on for the next 15 weeks.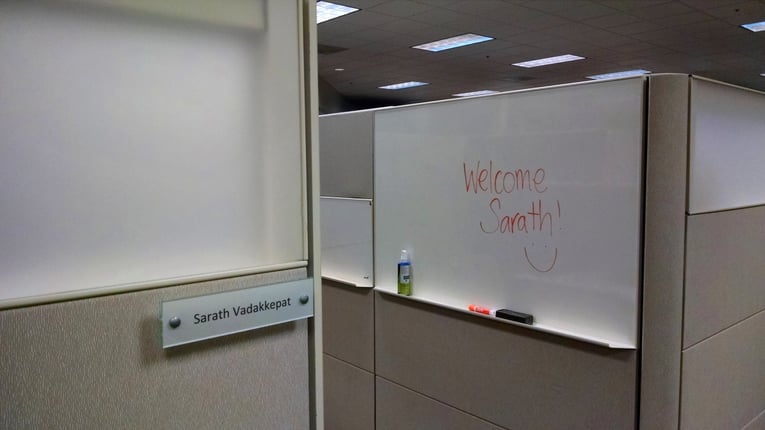 Fig 1: The first view of my cubicle.
After the initial formalities of joining, I was soon greeted by the VP of Engineering, having already spoken over emails with him, I could now link a face to the name. Furthermore, I was introduced to my mentor for the internship project. After a quick tour of the RTI office, I was soon taken for a welcome lunch by my mentor to a delicious place where we discussed a little bit of the project as well as more about RTI.
The very next day was exciting since all of us were going for a toast at the nearby ToGo's to celebrate a recent product release. How awesome is it that you get to attend a toast party the very next day after joining? I was sinking into the moment. I imagined what would be in store for me the next day since it was a Friday, and Fridays meant the start of a lovely weekend. RTI didn't fail to impress me on my first Friday as well since I was told that the company provides lunches every Friday. Yummy delicious food from the best restaurants around the bay area. WOW!
Soon enough, there was RTI Corporate training scheduled at HQ, and I was auto-enrolled to join. The training christened appropriately as "QuickStart," was true to its title in getting me on track with RTI products quickly! The training focused on the products we offer and what they do and how. In addition, the hands-on exercises were truly a bonus. Receiving a training completion certificate from the presenting Principal Solution Architect was truly icing on the cake. Time started to roll by, I started to work on my project, and planned and chalked out a schedule of how and when things were to be done.
My project was to develop an Eclipse plugin from scratch. The project entailed completely encompassing the steps that a user of RTI Connext® DDS would go through in generating code from an IDL, bringing the project to Eclipse, modifying the IDL and regeneration of support code and finally building and executing the code without leaving Eclipse or using any other tool/software.
It was very exciting for various reasons. Firstly, I was to develop this from scratch, which became a true learning experience since I could research the various ways to go about this and choose the best one that would suit our requirements. Secondly, the complete code base was to be done in Java, a language with which I'm comfortable and had a quest to learn in-depth. Developing this plugin resulted in a fantastic learning experience with Eclipse and Java. I also ensured that I followed industry standard coding practices and guidelines along with appropriate documentation and comments in the code base.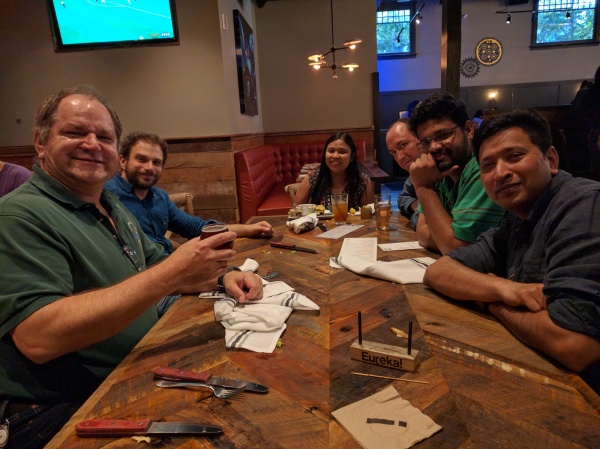 Carrying on further, I started developing prototypes and very proactively communicating all of the developments and progress on my project to my mentor and the VP of Engineering on a regular basis. This communication was well appreciated and helped them to track progress without any follow up from their end.
One thing I'm particularly fond of is RTI's daily lunch time. All of us gather around and go to the food options located in the adjacent building; we buy ourselves food and get back to the office kitchen to eat. This culture undoubtedly creates one of the best times of the day since you get to sit and talk to everyone about various topics ranging from sports to technology to personal favorites (in my case, cars! 😊 ). I was pleasantly surprised and happy to understand that the regular corporate hierarchy and designation-based differences are non-existent at RTI and everyone is extremely friendly and amiable. How cool is it that our CEO plays ping pong with you and joins you at the lunch table for interesting conversations? Another fun thing to add here is the after-hours get-togethers. One such shown below: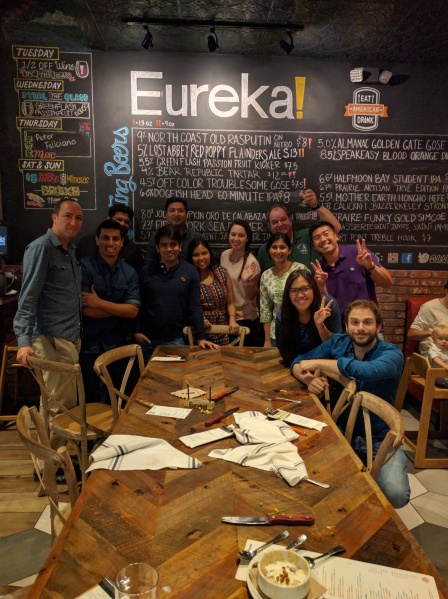 Fig 2b: After hours at Eureka.
After successfully achieving the first milestone in my project schedule, additional milestones and tasks were added. Thinking from the perspective of the end-user, I started to analyze various other requirements and added them to the list of tasks for the next milestone, giving me a sense of accomplishment and satisfactory progression on a task to complete.
Soon enough, I showcased my work to our CTO, who patiently sat with me, went through every step of the project and appreciated me for things I did intuitively. He also provided suggestions that could improve the quality of the plugin being developed. Incorporating the suggestions as I progressed, I was beginning to feel a sense of fulfillment to the project towards the end of July.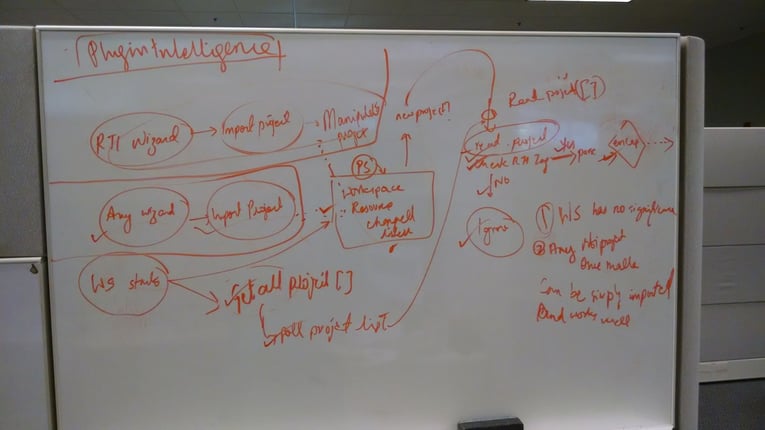 Fig. 3: Figurative form of thoughts in my head 😝
Towards the end, when I had achieved something substantial, I was then given a slot at the weekly R&D meeting to show a demo of the Eclipse Plugin to my colleagues at HQ as well as to my colleagues in our Spain office via a video call. I received valuable input after the demo which helped me shape my project appropriately.
Two months had passed by and it was the end of July. One fine day, the VP of Engineering walked up to my desk and asked me to join him for a short walk around the building, wherein details of my plan to complete my courses for graduation and timeline were discussed.
A few days later, a meeting with HR provided a little more information which gave me a deeper hope about returning to RTI as a full-time employee. I was thrilled. I was waiting. At the end of July on a Friday morning, I was as usual busy with my semi-colons and code, when The VP of Engineering walked up to me with a paper in hand, and said, "Let's discuss a few things." I tried to keep my excitement from appearing on my face, as he revealed that RTI was making me an offer to return as a full-time employee and went over the details about the compensation and benefits.
That moment, just like the moment many, many Fridays ago in February, had a deja-vu effect, as everything spoken that day was only remotely and softly heard by me as I was too excited to receive an offer from RTI. I love RTI, love the bay area for numerous reasons, and being able to come back was something I always hoped for. I quickly gathered my thoughts together, thanked Jan and RTI, and continued my work until the end of the day.
There were about three weeks left, and I completed all the tasks and milestones by the first week of August, leaving me with two weeks to complete all the testing and documentation. This Eclipse plugin was to be deployed and tested on three different platforms mainly Windows, Linux, and Mac. Hence, I had all three machines on my desk, and my desk looked like this. 😝

Fig 4: My lovely desk with my toys.
On the final day of my internship, having completed the exit formalities, I was pleasantly surprised to receive a box full of my favorite brownie bites from one of the friends I had made at RTI. Another lunch from RTI, on my last Friday of the internship, completed the schedule. I was all set to fly out of the bay area that evening, and onward to India for a short vacation. Appreciating the help and support from many of my newfound colleagues, I bid goodbye to everyone at RTI and the bay area with one thought; I'll be back!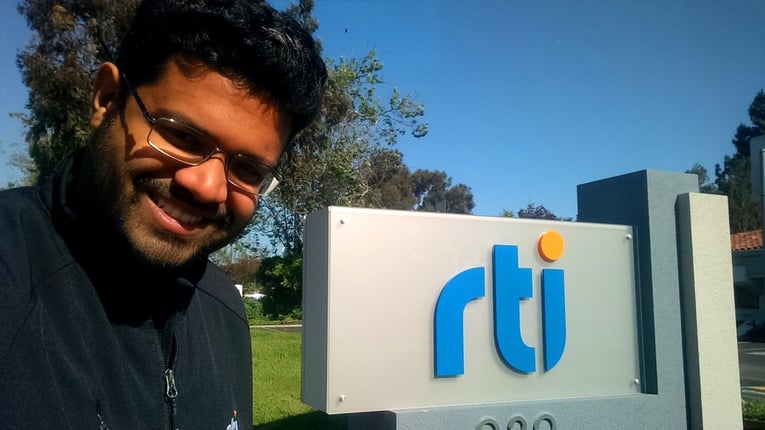 Fig 5: Me with the RTI banner at the entrance.
Subscribe to the RTI Blog