***Notice regarding novel coronavirus (COVID-19): In an effort to protect both the health of our valued customers and employees, RTI has ceased all on-site services until the resolution of the pandemic.
If you are interested in a training option that can be delivered remotely, please contact
scheduling@rti.com
to learn more about our new Virtual Instructor Led Training program. Or let us know if you have needs beyond training; we can work with you to tailor a remote engagement.***
Thank you for your purchase of a Premium Support package subscription, which includes: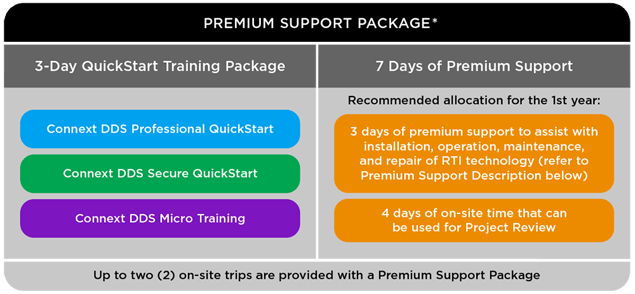 *The Premium Support Package described on this page is for a standard 12-month subscription. Your subscription package may vary based on individual contract details. Please reach out to your account team or scheduling@rti.com if you have any questions.
A QuickStart is the fastest and most effective way to learn about Connext DDS. It is a 3-day onsite training at your facility that teaches your team how to apply the Connext DDS product suite to your application. RTI offers three different QuickStart training packages from which you can choose based on your system needs. If you are unsure which type of QuickStart will best meet your requirements we will discuss the differences during a planning call that is held prior to the training visit.
*If you are unable to access the SurveyMonkey link to schedule your QuickStart, please access this PDF version and return it to scheduling@rti.com.

The three-days include 24 hours of premium support hours with an RTI engineer. The premium support hours may be used in part or full during the same visit as the onsite training, the same visit as the Project Review, or it can be used at a later time for additional remote support. Depending on your projects needs, you have the option to convert your 3-day QuickStart Training Package into 3 additional days of premium support time.
The 4-day Project Review includes 32 hours of premium support with an RTI engineer. This on-site visit is intended to provide a deep-dive into the details of your project. The RTI engineer will review your system architecture, then make recommendations and provide suggestions to help ensure success with RTI Technology. Project Review hours not used on-site can be converted to premium support hours to be used at a later time as remote assistance for follow-up and continued discussions related to your project objectives.
*If you are unable to access the SurveyMonkey link to schedule your QuickStart, please access this PDF version and return to scheduling@rti.com.
Please let us know if your project has training or support needs other than the options listed above. We can tailor the engagement to best suit your requirements.
Thank you, and we look forward to working with you.


About RTI Professional Services
The RTI Professional Services team helps organizations around the world to optimize their high-performance DDS-based systems. Our highly-experienced engineers deliver results ranging from architecture and design review to performance optimization to operational efficiency gains to locating problems in homegrown code. We work on site to provide a deep-dive analysis, recommendations and hands-on code changes to ensure systems work as intended. While each project is unique, they all achieve the same result: total client satisfaction.
---