***Notice regarding novel coronavirus (COVID-19): In an effort to protect both the health of our valued customers and employees, RTI has ceased all on-site services until the resolution of the pandemic.***

Thank you for your purchase of an Essential Support package subscription, which includes: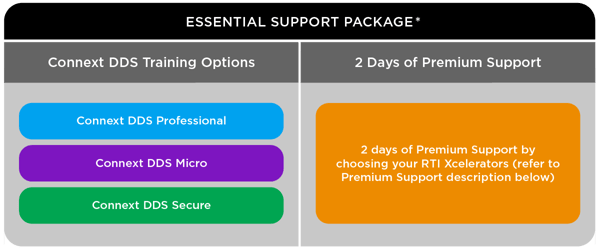 *The Essential Support Package described on this page is for a standard 12-month subscription. Your subscription package may vary based on individual contract details. Please reach out to your account team or scheduling@rti.com if you have any questions.
Connext DDS Training
Training from a member of the Professional Services team is the fastest and most effective way to learn about RTI Connext DDS. Each training option reflects an agenda developed over years of experience.
Due to travel restrictions resulting from the current circumstances, we are only able to offer our Virtual Instructor Led Training program.
Premium Support
The two-day Connext DDS Support Package (CSP) includes 16 hours of premium support hours with an RTI expert. The support hours may be used over a period of time or in one single engagement. If you are unsure how to use these hours, we recommend you choose from the RTI XceleratorsTM. Xcelerators are services designed specifically to help you achieve a targeted result with RTI technology in a matter of days or less. You can customize your Essential Support Plan by selecting Xcelerators based on the phase of your project, near-term milestones, or specific needs.
Additionally, you can opt to convert your training days into 3 additional days of premium support time. We recommend taking this option only if your team already has received training or has sufficient experience with Connext DDS. Please contact your Account Team or the Scheduling Team (scheduling@rti.com) if you want more information about converting your training into premium support.
Please let us know if your project has training or support needs other than the options listed above. We can tailor the engagement to best suit your requirements.

Thank you and we look forward to working with you.
- RTI Professional Services
About RTI Professional Services
The RTI Professional Services team helps organizations around the world to optimize their high-performance DDS-based systems. Our highly-experienced engineers deliver results ranging from architecture and design review to performance optimization to operational efficiency gains to locating problems in homegrown code. We work on site and/or virtual to provide a deep-dive analysis, recommendations and hands-on code changes to ensure systems work as intended. While each project is unique, they all achieve the same result: total client satisfaction.
---