The Industrial Internet of Things
The Internet revolutionized how people communicate, what they do, and how they work together. The next wave of the Internet will connect machines and devices together into functioning, intelligent systems. These interconnected devices — the Industrial Internet of Things — will work together with unprecedented speed, scale and capabilities.
RTI and the Industrial Internet
Forbes magazine published an independent market study that ranked major Industrial IoT influencers, which included RTI, Google, Cisco, GE, Omron and others.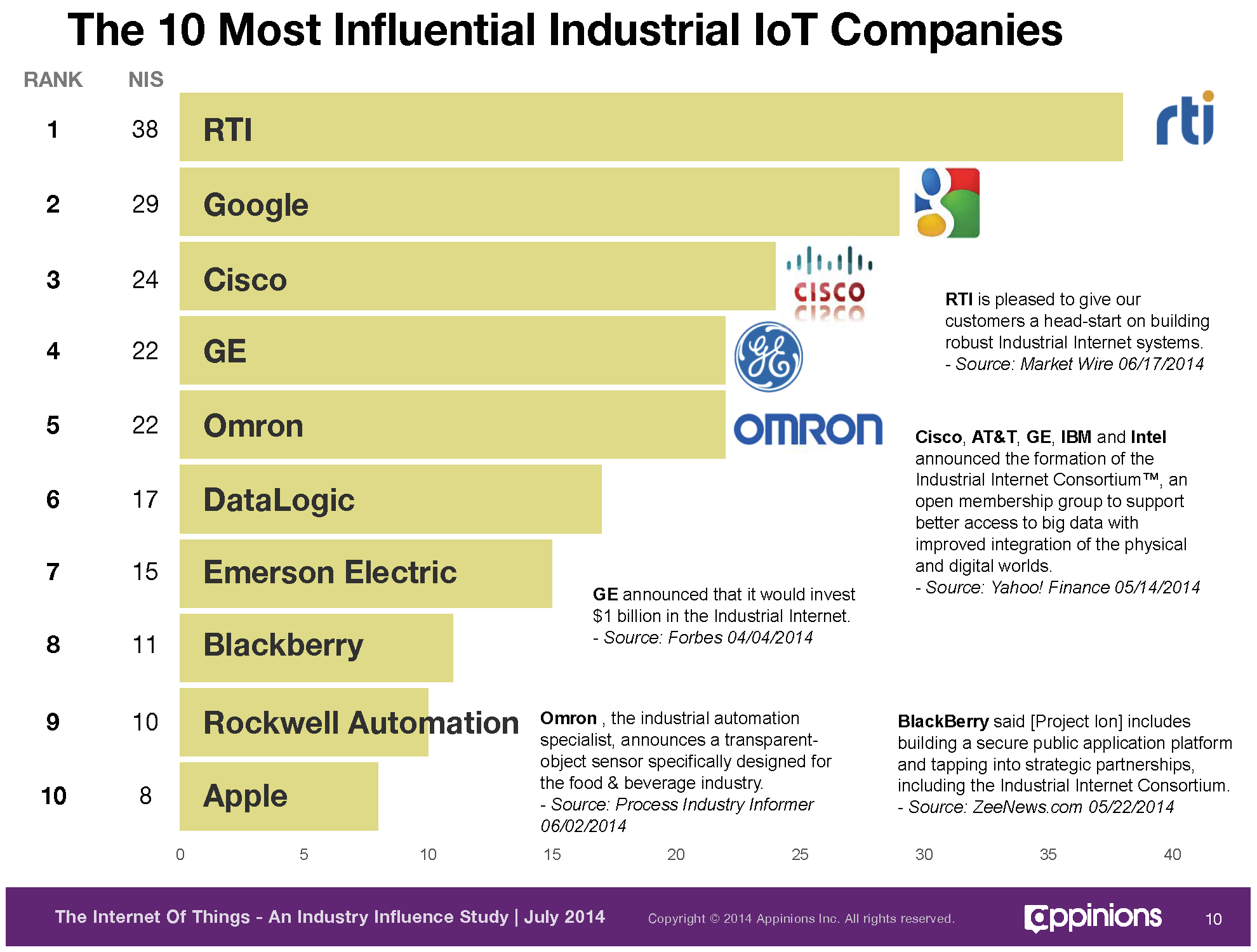 RTI and the Industrial Internet Consortium (IIC)
RTI has joined with 90+ industry-leading companies to form the IIC. RTI CEO Stan Schneider has been elected to the IIC steering committee. The goal is to accelerate the development of connected industrial applications and to provide a common blueprint for the IIC. The IIC offers real market opportunities for motivated and innovative smaller businesses to work closely with leading companies and government and advance the future of industry.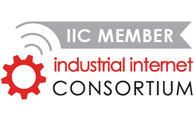 IIC Industrial Internet Reference Architecture
Learn about the new IIC Reference Architecture with a Layered Databus Architecture Pattern for building intelligent, efficient, scalable and resilient Industrial Internet systems.
Connext DDS for the Industrial Internet
For high-performance integrated systems, DDS is the ideal communications protocol. DDS is the only technology that delivers the flexibility, reliability and speed necessary to build complex real-time applications. RTI Connext® DDS has already delivered proven infrastructures for mission-critical military systems, advanced medical systems, wind turbine farms, air traffic control, robotics and factory automation.

Energy
RTI ensures that wind turbines can intelligently integrate with multiple networks and IT infrastructure to achieve the highest possible performance, control and business systems integration. Connext DDS is the protocol for the Internet of Things in renewable energy.
Learn more about RTI in Energy »

Autonomous Driving
RTI Connext software accelerates the design and development of autonomous systems by providing an efficient path from prototyping to production and safety certification. That's why large automobile manufacturers are turning to RTI to help them simplify designs and keep pace with this disruptive market.

Healthcare
The future of the healthcare industry is connected. RTI supports that vision by enabling the development of data-aware medical technology based on RTI Connext DDS. Connecting medical devices can help hospitals deliver quality care faster and reduce medical errors. Connected medical devices can transport and analyze unprecedented amounts of data in real time, ultimately improving the lives of patients.
Learn more about RTI in Healthcare »

Robotics
RTI Connext DDS is an ideal foundation technology and a connectivity platform for highly resilient and responsive robotic and haptic systems. From planetary rovers to minimally invasive heart surgery robots, Connext DDS is used in critical control systems with demanding reliability and performance requirements.

Aerospace & Defense
Deployed in hundreds of unique system designs, RTI provides an open architecture foundation that meets the extreme reliability and performance demands of mission-critical aerospace and defense applications. Connext DDS is the protocol for the Internet of Things in defense.
Learn more about RTI in Aerospace & Defense »