Future Airborne Capability Environment (FACE™)
The Future Airborne Capability Environment (FACE) Consortium is an aviation-focused consortium managed by The Open Group. Its primary purpose is to promote acquisition flexibility by enabling the re-use of capabilities through portable applications.
Within the FACE architecture, the Transport Services Segment (TSS) provides the APIs and capabilities that portable components use to exchange data. To help component developers and systems integrators meet their connectivity requirements, RTI offers TSS related software, support, consulting and engineering services, including:
FACE 2.1 TSS Reference Implementation for developers and integrators who want to take advantage of the Data Distribution Service (DDS) standard. The RTI TSS implementation provides a thin software layer that maps the FACE Transport Services (TS) Application Programming Interface (API) to the DDS API supported by RTI Connext DDS products. RTI provides the TSS Reference Implementation at no charge to customers with a license to Connext DDS.
FACE TSS Support Package to provide expert guidance and support for integration of the RTI reference implementation into your platform.
FACE TSS Design Services to develop customizations to the reference implementation necessary to meet system-specific requirements.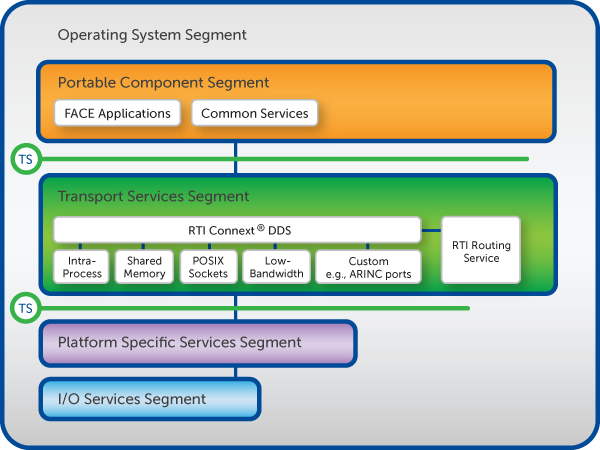 The FACE Consortium and The Open Group
RTI supports open industry standards and has been an active member of the FACE Consortium since 2010. For more information about the FACE Consortium and The Open Group, including its mission, membership, upcoming events, progress, documentation and news, please visit www.opengroup.us/face.