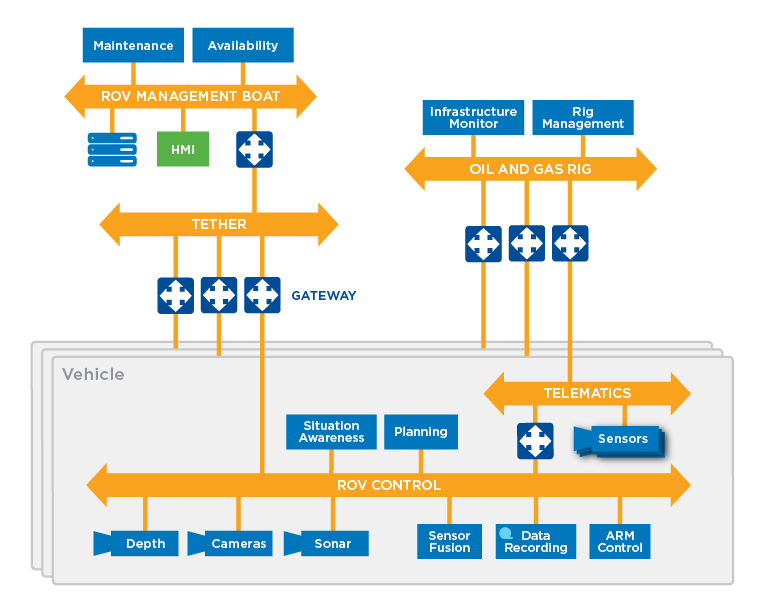 Subsea remotely operated vehicles (ROVs) support inaccessible and inhospitable underwater and offshore projects. Capable of operating at depths of 3,000 meters or more below sea level, the systems assist with servicing subsea infrastructure, managing assets and performing crucial maintenance and construction tasks at the seafloor.
RTI provides the critical infrastructure which enables autonomy to be built into subsea ROVs. Connext is the connectivity framework for next generation subsea semi-autonomous systems, allowing a network of ROV sub-systems to work as a single integrated solution. It provides a standard-based framework to share big data between edge- and cloud-based systems reliably, securely, and in real time.
Customer Use Case
TechnipFMC is building next-generation remote robotics controls with Connext, resulting in a shift from manual to automated functions in underwater, real-time robotic controls. Performance and reliability are essential when operating critical infrastructure below the ocean surface, where the smallest mistake could lead to disaster. Connext delivers real-time connectivity to monitor operations, prevent incidents, and reliably transport sensor and control data within the ROV control system network. It also enables implementation of new features without having to re-architect the data transport infrastructure, for rapid and seamless updates.