RTI Services Delivery Partners
Our Services Delivery Partner (SDP) program is the realization of one of RTI's core values: valuing the importance of working as a team.
The combined efforts of RTI and SDPs will help companies meet the emerging and dynamic requirements of the IIoT market in key verticals including energy, automotive, avionics, healthcare and telecommunications across the globe. SDPs add value by offering outsourced product development, system integration and domain-specific consulting.

Tech Mahindra is a fellow Industrial Internet Consortium (IIC) member. The company's global services team is immediately available to work on IIoT projects with Connext DDS. Customers using these services also have access to RTI's full Connext DDS product line.
Tech Mahindra represents the connected world, offering Consulting, Digital Transformation, Integrated Engineering, Business Services and Solutions, enabling Enterprises, Associates and the Society to Rise. Tech Mahindra is a $3.8 billion company with 103,600+ professionals across 90 countries, helping 750+ global customers includning several Fortune 500 companies. Its innovative services, platforms, products, solutions and reusable assets connect across a number of technologies to deliver tangible business value to our stakeholders. Tech Mahindra is winner of Forbes 2014 Asia Fab 50, Deloitte Tech Fast 50, the CIO 100 among other awards. It is part of the $16.9 billion Mahindra Group that employs more than 200,000 people across 100 countries. The Mahindra Group operates in key industries that drive economic growth, enjoying a leadership position in tractors, utility vehicles, information technology, financial services and vacation ownership.
The IIoT is the next wave of innovation and is profoundly transforming the way field assets connect and communicate with the enterprise as a means to power faster business growth and deeper expansion. RTI is a leader in the industry. Their Connext DDS technology delivers the reliability, performance, scale and security our industrial IoT customers need. Our partnership will create an opportunity for both Tech Mahindra and RTI, enabling us to provide our customers complete solutions, combining the best-in-class products and services to realize the potential of the IIoT.Karthikeyan Natarajan, Global Head, Engineering and R&D, at Tech Mahindra.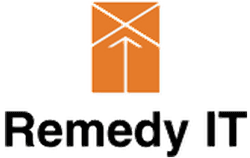 Remedy IT is a fellow Object Management Group (OMG) member and Netherlands-based technical services company committed to open standards. Remedy IT has integrated our Connext DDS technology into their AXCIOMA product, a comprehensive software suite that delivers a component framework for distributed, real-time, and embedded systems. This commercial off-the-shelf (COTS) product provides an interoperable, open component-based architecture built on OMG's open standards, including DDS, DDS X-Types and DDS Security. The partnership with RTI accelerates Remedy IT's ability to deliver a stable, scalable infrastructure that addresses the need for component-based designs.
Remedy IT provides software solutions based on open standards and open architecture developed for real-time, distributed, and embedded systems. AXCIOMA is THE component framework for distributed, real-time, and embedded systems enabling the Industrial Internet of Things (IIoT). AXCIOMA ensures the interoperability between application components on different computing platforms and provides a scalable architecture.
Remedy IT provides software solutions and support to a wide variety of organizations in different sectors (including aerospace, defense, finance and energy).
Remedy IT is dedicated to open standards and open architecture and is one of the leading companies in developing new Object Management Group (OMG) standards.
Remedy IT is a privately held company and located in The Netherlands.
Reliability is a crucial component when implementing technology for industrial systems and RTI's DDS technology provides stability that competitors simply do not offer. RTI has been a trusted partner and together, we can deliver best-in-class solutions and ultimately, empower customers to capitalize on the Industrial Internet.Johnny Willemsen, Chief Technology Officer (CTO) at Remedy IT

Brockwell Technologies, Inc. (BTI) is a woman-owned small business with 17 years of experience providing world-class systems and software engineering, technical, logistics and mission support services to Government and Commercial clients. These services include Environmental Monitoring System Design, Prototyping, and Production (shock, vibration, temperature, humidity), Model-Based Systems and Software Engineering (MBSE), IBM Rational and RTI DDS tool suites training and mentoring; Real-Time Embedded Software Development; Custom Digital Design, Rapid Prototyping, and Production.
Brockwell Technologies prides itself in being the first company to introduce DDS to the Army sector in Huntsville, AL., by designing and developing the Network Operations Center (NOC) for Blue Force Tracker (BFT) using Connext DDS. Couple that expertise with BTI's vast knowledge of Model Based Systems and Software Engineering (MBSE) and you have award winning solutions every time!Harold Pirtle, Sr. Software Engineer / Architect, Brockwell Technologies, Inc.