Scale and Integrate DDS Systems Across Multiple Platforms, Systems and Networks
RTI Routing Service is an out-of-the-box solution that allows developers to rapidly scale and integrate real-time systems that are disparate or geographically dispersed. Routing Service can be used to bridge DDS applications across different domains to support a systems-of-systems architecture, interoperate new and legacy applications to support new product deployment while maintaining previous generation products or to integrate independently-developed systems for progressive system upgrades.
The Routing Service Adapter SDK allows you to build gateways for integrating Connext DDS with other connectivity technologies. The Adapter SDK enables you to bridge multiple networks and topologies, and to form more complex topologies, as needed; truly realizing the vision of Industrial Internet of Things (IIoT).
Features and Benefits
Securely integrates or partitions DDS systems across a LAN or WAN
Builds large-scale systems-of-systems architecture without interrupting existing applications
Uses multicast for efficient, broad data distribution while bridging sites with secure TCP connections for easy firewall traversal
Uses content filter propagation when bridging networks so that only the data of interest, live or historical, is forwarded
Supports the DDS Real-Time Publish-Subscribe (RTPS) protocol
Transforms and filters data for seamless communication between disparate systems that may use different topics and Quality of Service
Supports distributed development teams:

Provides testing and integration capabilities across multiple sites
Selectively exposes and accepts live and historical data on systems from remote sites
Offers live analytics, fault-condition analysis and data verification
Routing Service can integrate systems-of-systems by decoupling topic and type definitions from external interfaces and bridging legacy messaging and networking technologies.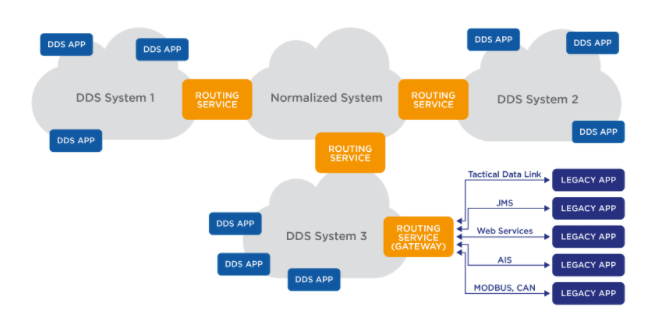 For assistance developing complex solutions to integrate legacy applications and improve data security, please contact RTI Professional Services.
---