Activate your RTI DDS Toolkit for LabVIEW Real-Time
Support Files for NI Linux Real-Time
Use this form only if you have already purchased target Support Files from NI Tools Network and received an activation code from NI via email.
Please complete this form to request a license file for the target Support Files for the RTI DDS Toolkit for LabVIEW. We will email the license file to you.
Please complete all fields.
[1] An Activation Code was emailed to you when you purchased the RTI DDS Toolkit in the NI Tools Network.
[2] See instructions below for help on finding the MAC address.
How to Find the MAC address of Your Target
Using NI MAX
Open NI MAX which can be found in <National Instruments Installation Folder>/MAX/Nimax.exe
Select your target in the Remote Systems list.
Go to the Network Settings tab. Make sure you select the primary network adapter. You will find the MAC address as shown in the following image: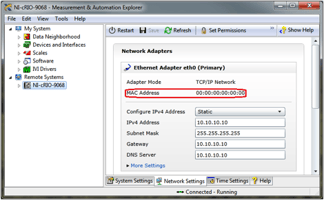 Using Command Line
Connect to your target using an ssh tool (such as Putty)
Run the following command:
ifconfig
You will get the output similar to this. The field labeled as HWaddr contains the MAC address.
eth0      Link encap:Ethernet  HWaddr 00:00:00:00:00:00

          inet addr:10.10.10.10  Bcast:10.10.255.255  Mask:255.255.10.10
---