Oracle Stream Analytics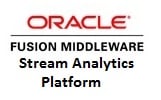 With more than 420,000 customers and deployments in more than 145 countries, Oracle offers a comprehensive and fully integrated stack of cloud applications, platform services, and engineered systems. Your streaming analytical business solutions are unique.
You need an industry leading real time streaming analytics platform to satisfy all your needs FAST. Oracle Stream Analytics provides, not only, the most complete streaming solution platform, but now integrated out-of-the-box with the major related Oracle leading technologies such as Coherence, Oracle Advanced Analytics and Oracle GoldenGate for comprehensive, instant streaming services directly through the Database and Streaming machine learning probability scoring using the industry leading Oracle R Enterprise models.
Unlike most solution platforms in the market today, Oracle provides a complete Fog-to- Cloud Streaming platform. With Oracle Edge Analytics in our portfolio, customers have the ability to execute streaming application intelligence directly in their local offices, departments, manufacturing plants, even on small gateway devices.
To learn more about Oracle Stream Analytics, visit: www.oracle.com/technetwork/middleware/complex-event-processing/overview