Varian Selects RTI Messaging Middleware for MRI and NMR Products
Santa Clara, CA—April 30, 2007—Real-Time Innovations (RTI) The Real-Time Middleware Experts, announced today that its high-performance messaging middleware has been selected for use in Varian's nuclear magnetic resonance (NMR) spectrometer and magnetic resonance imaging (MRI) product lines. Varian is using RTI's middleware to connect sensors, user display systems and control computers within the NMR and MRI instruments.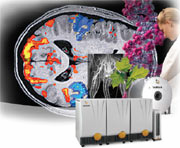 NMR technology allows scientists to analyze the chemical structure of complex molecules by exciting proton magnetic vibrations in the presence of a strong magnetic field. MRI uses the same technique to develop a non-invasive image of soft body tissues. MRI is one of the most important medical imaging technologies used by hospitals worldwide.
"During our evaluation, we tested performance extensively. It passed our throughput tests and matched our bandwidth requirements. It also let us develop a new architecture that scales to multiple processors," said Phil Hornung, the Varian fellow who managed the project. "RTI delivered great functionality at low cost. Using RTI middleware saved us a lot of money, time and effort compared to our previous in-house developed solution."
The new Varian NMR System features parallel controllers for each transmitter and receiver channel, providing pulse-sequence programming power while combining full functionality with ease of use. Supported by the highly acclaimed VnmrJ software for data acquisition and processing, the Varian NMR System is the optimal spectrometer for methods development and routine applications.
When Varian needed a new software architecture to seamlessly handle its expanding product line of NMR and MRI instruments, Varian chose RTI middleware to connect the up to 16 receiver sensors, radio-frequency (RF) generators, and user-interface and control computers. NMR and MRI generate copious data; the flow rates would be sufficient to saturate the Gigabit Ethernet backbone without a careful design.
RTI middleware provided the flexible and powerful quality of service that Varian needed to deliver the data where needed. RTI middleware also connected the real-time computers running the VxWorks real-time operating system with the control and user systems running on UNIX or Linux workstations. Varian is today shipping RTI middleware in its entire NMR Instruments product line, including the advanced Varian 400-MR and research-grade VNMRS spectrometers and the Varian MRI System, with options ranging from small-bore imagers for limbs or animals to full-body research instruments.
"Varian selected RTI because it greatly simplified system integration and connectivity," said Greg Brissey, lead software engineer for NMR Instruments. "Varian has a deserved reputation for advanced, cost-effective scientific instruments," said Stan Schneider, chief executive officer at RTI. "We are proud to count Varian as a long-term customer, and we're honored to provide the core networking infrastructure for such an important product line."
About RTI Middleware
RTI's messaging middleware enables the development and integration of distributed applications that require low latency, high throughput, high scalability, deterministic responses and minimal consumption of network, processor and memory resources. RTI's extensive quality-of-service controls allow applications to tune the delivery of each message for the optimal balance of latency, throughput and resource consumption. This ensures that network and computing infrastructures are optimally applied to deliver performance where and when it is most critical.
About Varian
Varian, Inc. manufactures and delivers the world's finest vertical and horizontal bore magnets for NMR and MRI applications. Their exceptional stability and homogeneity provide the most advantageous operating environment for your samples, while highly efficient cryostat designs ensure low operating costs. Varian also provides a selection of actively and passively shielded technologies for optimal site planning and superior magnet performance. Headquarters in Palo Alto, CA. Form more information, please visit www.varianinc.com.
About RTI
Real-Time Innovations (RTI) works in partnership with its customers to develop and integrate the world's most demanding real-time applications. RTI takes the risk out of distributed application development and system integration by providing deep expertise in real-time communications coupled with the highest performance messaging middleware. The company's software and services have been leveraged in a broad range of industries including defense, intelligence, simulation, industrial control, transportation, finance, medical and communications. Founded in 1991, RTI is privately held and headquartered in Santa Clara, CA. For more information, please visit www.rti.com.
RTI, Real-Time Innovations, RTI Data Distribution Service, Connext and 1RTI are registered trademarks or trademarks of Real-Time Innovations, Inc. All other trademarks are property of their respective companies.
Posted on April 30, 2007
About RTI
Real-Time Innovations (RTI) is the largest software framework provider for smart machines and real-world systems. The company's RTI Connext® product enables intelligent architecture by sharing information in real time, making large applications work together as one.
Media Contacts
For all media inquiries, please contact: press@rti.com
Cameron Smead
Public Relations Senior Manager, RTI
Karbo Communications for RTI (U.S.)
(650) 270-1097
Agentur Lorenzoni GmbH for RTI (EMEA)
T:+49 8122 55917-0
Real-Time Innovations
232 E Java Drive
Sunnyvale, CA 94089
USA
+1 (408) 990-7400
info@rti.com