Raytheon Selects RTI Real-Time Middleware for U.S. Navy Destroyer Program
RTI Data Distribution Service Powers the Total Shipboard Computing Environment Infrastructure for the DDG 1000 Zumwalt Class Destroyer
SAN JOSE, CA—November 14, 2006—Real-Time Innovations (RTI), The Real-Time Middleware Company, has announced that Raytheon Company Integrated Defense Systems has incorporated RTI Data Distribution Service into the implementation of the Raytheon Total Ship Computing Environment Infrastructure (TSCEI) Release 4.0. RTI Data Distribution Service enhances TSCEI to deliver robust and reliable real-time data distribution over a comprehensive shipboard network.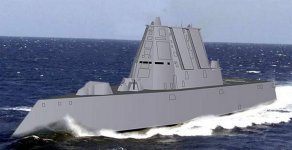 TSCEI is an open architecture platform for software application development for the U.S. Navy DDG 1000 Zumwalt Class Destroyer Program. TSCEI is composed of an integrated suite of standardized hardware, operating system, middleware and infrastructure services. It forms the backbone of the robust, enterprise-network computing system on which all DDG 1000 application software programs run. Among TSCEI 4.0's new enhancements is support for IBM blade server processors running the Red Hat Linux operating system.
RTI Data Distribution Service provides the real-time data distribution layer for TSCEI, enabling high throughput and low latency messaging between shipboard applications.
"TSCEI Release 4.0 is an outstanding accomplishment to deliver an open architecture, standards-based infrastructure to our development sites, "Raytheon DDG 1000 System Software Development director Bob Martin said. "The incorporation of RTI Data Distribution Service into TSCEI is a great example of how DDG 1000 is executing the Navy's Open Architecture (OA) strategy. From a technical perspective, DDG 1000 uses a modular architecture that is based on open standards. The RTI Data Distribution Service fits well with that architecture, providing data ubiquity and real-time distribution."
Martin continued, "OA isn't just about technical solutions. It's also about an open business model that features competition. The selection of RTI came through a process which uses formal evaluation criteria and a source selection board to ensure that the Navy gets the best value. This is an emerging product market and it was determined that the offering from RTI, a small privately held company, provides the best value to the Navy."
SCEI provides the backbone behind all mission-critical applications, including command-and-control, navigation, targeting, weapons control, and radar systems. RTI Data Distribution Service enables these applications to reliably share data and coordinate defenses. Further, the publish-subscribe mechanism used by RTI ensures that new applications can be seamlessly integrated into the environment with the ability to subscribe to existing data and publish new data.
"RTI is pleased to work with Raytheon Integrated Defense Systems on the DDG 1000 software effort," said Stan Schneider, CEO of RTI. "We believe that RTI Data Distribution Service will significantly benefit the TSCEI and the coordination and management of data on board the DDG 1000 Destroyer."
About RTI Data Distribution Service
RTI Data Distribution Service (formerly NDDS) is networking middleware that implements a real-time publish-subscribe communications model and allows distributed applications to share data without concern for physical location or network architecture. RTI Data Distribution Service is an open-architecture platform that complies with the Object Management Group (OMG) Data Distribution Service for Real-Time Systems (DDS) standard. Available with C, C++ and Java programming interfaces, RTI Data Distribution Service is field-proven in a wide variety of time-critical applications.
About Raytheon Integrated Defense Systems
Based in Tewksbury, MA, Integrated Defense Systems is Raytheon's leader in joint battlespace integration. With a strong international and domestic customer base, Raytheon IDS provides a wide spectrum of integrated air and missile defense and naval and maritime warfighting solutions. Under the Navy's DDG 1000 Detailed Design and Integration contract awarded in 2005, Raytheon IDS serves as the prime mission systems equipment integrator for all electronic and combat systems for the DDG 1000 Zumwalt Class Destroyer program. Raytheon Company (NYSE: RTN ), with 2005 sales of $21.9 billion, is an industry leader in defense and government electronics, space, information technology, technical services, and business and special mission aircraft. With headquarters in Waltham, Mass., Raytheon employs 80,000 people worldwide.
About RTI
RTI provides the highest-performance messaging and software integration solutions for real-time applications, data and devices. RTI software and services have been deployed in a broad range of industries including defense, intelligence, simulation, industrial control, transportation, finance and communications. Founded in 1991, RTI is privately held and headquartered in Santa Clara, California. For more information, please visit www.rti.com.
RTI, Real-Time Innovations, RTI Data Distribution Service, Connext and 1RTI are registered trademarks or trademarks of Real-Time Innovations, Inc. All other trademarks are property of their respective companies.
Posted on November 14, 2006
About RTI
Real-Time Innovations (RTI) is the largest software framework provider for smart machines and real-world systems. The company's RTI Connext® product enables intelligent architecture by sharing information in real time, making large applications work together as one.
Media Contacts
For all media inquiries, please contact: press@rti.com
Cameron Smead
Public Relations Senior Manager, RTI
Karbo Communications for RTI (U.S.)
(650) 270-1097
Agentur Lorenzoni GmbH for RTI (EMEA)
T:+49 8122 55917-0
Real-Time Innovations
232 E Java Drive
Sunnyvale, CA 94089
USA
+1 (408) 990-7400
info@rti.com