RTI Middleware Powers New General Atomics Aeronautical Systems UAS Ground-Control Station
Successful Predator UAS flight demonstration proves advanced cockpit-control networking design effectiveness
WASHINGTON DC—August 6, 2007—Real-Time Innovations (RTI), The Real-Time Middleware Experts, announced today that RTI middleware is being used in the General Atomics Aeronautical Systems, Inc. (GA-ASI), Advanced Cockpit Ground Control Station (GCS). A recent flight demonstration on a mission-configured MQ-1 Predator unmanned aircraft system (UAS) validated GA-ASI's major upgrade of the Advanced Cockpit GCS using RTI's networking middleware, which was completed in only 14 months.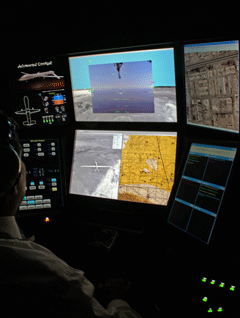 "We are proud that General Atomics Aeronautical Systems was able to meet its aggressive schedule with our middleware," said Stan Schneider, chief executive officer at RTI. "This new ground station will greatly increase the effectiveness of GA-ASI's unmanned systems."
The Advanced Cockpit GCS represents state-of-the-art hardware and software technology. It leverages STANAG 4586 architecture, providing interoperability across many UASs including GA-ASI's Predator, Predator B, Sky Warrior Alpha and Sky Warrior Block 0 aircraft systems. The GCS integrates intuitive controls and information displays, touch-screen technology, improved synthetic video, and fused situational-awareness data. The design includes a Common Operating Picture and complete control station for a pilot operator.
RTI middleware is part of the software communications architecture that GA-ASI has implemented for its Advanced Cockpit GCS. The GCS makes use of RTI's publish-subscribe communications model, which allows any system component to subscribe to the incoming aircraft telemetry stream for such parameters as latitude and longitude, pitch, roll, and airspeed parameters.
GA-ASI chose RTI middleware because it quickly provided the needed real-time functionality. For instance, one architectural feature that attracted GA-ASI engineers was RTI's real-time reliability protocol built on the User Datagram Protocol (UDP). Unlike most other messaging products, which use the heavier-weight Transmission Control Protocol (TCP), RTI's approach provides real-time behavior guarantees, such as reliable notification of delivery deadline misses.
RTI middleware also allows GA-ASI to connect multiple workstations, enabling a pilot at one station to work closely with a sensor operator at a different station.
About RTI
Real-Time Innovations (RTI) works in partnership with its customers to develop and integrate the world's most demanding real-time applications. RTI takes the risk out of distributed application development and system integration by providing deep expertise in real-time communications coupled with the highest performance messaging middleware. The company's software and services have been leveraged in a broad range of industries including defense, intelligence, simulation, industrial control, transportation, finance, medical and communications. Founded in 1991, RTI is privately held and headquartered in Santa Clara, CA. For more information, please visit www.rti.com.
RTI, Real-Time Innovations, RTI Data Distribution Service, Connext and 1RTI are registered trademarks or trademarks of Real-Time Innovations, Inc. All other trademarks are property of their respective companies.
Posted on August 6, 2007
About RTI
Real-Time Innovations (RTI) is the largest software framework provider for smart machines and real-world systems. The company's RTI Connext® product enables intelligent architecture by sharing information in real time, making large applications work together as one.
Media Contacts
For all media inquiries, please contact: press@rti.com
Cameron Smead
Public Relations Senior Manager, RTI
Karbo Communications for RTI (U.S.)
(650) 270-1097
Agentur Lorenzoni GmbH for RTI (EMEA)
T:+49 8122 55917-0
Real-Time Innovations
232 E Java Drive
Sunnyvale, CA 94089
USA
+1 (408) 990-7400
info@rti.com