RTI's Real-Time Middleware Enhances Dynamic Interconnection in Multi-Ship Simulation
RTI Data Distribution Service selected by Force Technology to meet critical performance requirements in world's first four-ship tug simulator system
Long Beach, CA – May 16, 2006 – Real-Time Innovations, Inc. (RTI), The Real-Time Middleware Company, announced today that Force Technology chose RTI communications middleware for its latest marine tug simulator system.
Force Technology is a market leader in the design of multi-ship simulator systems. Its latest marine simulator represents a major step forward. This simulator is the world's first system to provide a complete environment for training tugboat captains in maneuvering large vessels such as oil and gas tankers into restricted spaces using multiple tugs. This demanding, full-mission trainer application simulates in real time the dynamic configuration of up to four vessels and the resulting variables on the tow lines when handling vessels in a seaway.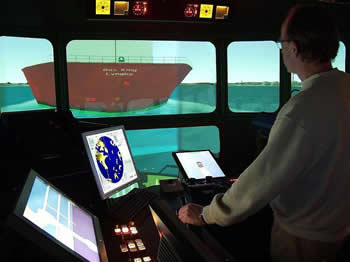 Force Technology wanted to interconnect the various dynamic elements in the simulator using real-time middleware that complied with the Object Management Group (OMG's) Data Distribution Service (DDS) for Real-Time Systems standard. This would provide a COTS-based integration environment for Force Technology's distributed system design. The design team evaluated a number of DDS implementations before selecting RTI Data Distribution Service (formerly NDDS), which was best able to meet the critical real-time performance requirements needed by this demanding application.
"One of the key enabling technologies now emerging in the design of such distributed simulator systems is real-time middleware," commented Peter Justesen, head of Simulation and Information Technologies at Force Technology. "Our decision to select RTI's solution was based primarily on the performance advantage demonstrated by our technical evaluation of available DDS products."
"The publish-subscribe paradigm of DDS enables systems to share data without having to create unique interfaces for each system. It therefore frees our developers from needing to know the internal operation of each subsystem in order to retrieve its data. All the application needs to do is to subscribe to the desired data sets and DDS does the rest," Justesen continued. "And using standards-based interfaces such as DDS provides our designers with a COTS-based development environment that greatly simplifies system maintenance and the introduction of upgraded hardware in our operational systems without requiring a rewrite of the application software."
"Simulators are an ideal application for the DDS standard," stated David Barnett, vice president of Product Management at RTI. "DDS was designed specifically to ease the development of heterogeneous distributed systems such as simulators. These systems have demanding real-time data distribution requirements and incorporate a mix of computing platforms. I am delighted that Force Technology concluded that RTI was best able to meet the stringent performance requirements of its leading-edge application."
The Full Mission Simulator for Tug Master Training
This new interactive tug simulator facility has been developed in close cooperation with SvitzerWijsmuller, one of the world's leading tug operators. The cooperation agreement between the parties will secure the continued development of the facility and the courses. Force Technology was chosen as the preferred partner for this development due to its combination of experience in advanced ship hydrodynamics, mathematical modeling and simulation, all of which is available at the same geographical location in Copenhagen, Denmark.
The simulator offers the following features:
Full six degrees of freedom tug and assisted ship behavior
Tug bridge viewing of 360 degrees
Real bridge equipment similar to a modern state-of-the-art tug
World-class hydrodynamic mathematical models of tug and assisted ship based on extensive model tests and sea trials
Fully coupled and interactive simulations of tug and assisted ship, including effects such as fender, towline, propeller wash interaction, radio communication and so on
All the customary simulator effects such as wind, waves, current, varying visibility, bathymetry, and miscellaneous sound and visual effects
Full flexibility to efficiently implement new tug designs, additional or new assisted ships designs, and additional or new operating areas (This flexibility is achieved because the simulator is completely based on Force Technology's own simulator development, SimFlex Navigator.)
About Force Technology
Force Technology is a leading design consultancy and service provider offering a wide range of services and solutions for the international market. They transform highly specialized engineering knowledge into practical and cost-effective solutions, and provide consultancy within several areas. Force Technology is a privately owned center of expertise approved by the Danish Ministry for Research and Development as a technological service institute. Their experience with simulation technology goes back many years, and includes lay-out and design simulation, determination of safe operational limits in wind, current and waves, maneuvering and stability simulations, etc. Facilities include full-mission simulators, including bridges and tug cubicles, towing tank, and wind tunnels. Force Technology sells their simulator products to customers around the world. The company's headquarters are located in Brøndby outside Copenhagen. They also operate subsidiaries in Sweden, Norway, the Netherlands, USA, Brazil and Russia. In 2004 the group's Danish and international operations employed a staff of more than 1000 employees. For more information, please visit www.force.dk/en.
About RTI
Real-Time Innovations (RTI) is the Industrial Internet of Things (IIoT) connectivity company. The RTI Connext® databus is a software framework that shares information in real time, making applications work together as one, integrated system. It connects across field, fog and cloud. Its reliability, security, performance and scalability are proven in the most demanding industrial systems. Deployed systems include medical devices and imaging; wind, hydro and solar power; autonomous planes, trains and cars; traffic control; Oil and Gas; robotics, ships and defense.
RTI lives at the intersection of functional artificial intelligence and pervasive networkingSM.
RTI is the largest vendor of products based on the Object Management Group (OMG) Data Distribution Service™ (DDS) standard.
RTI is privately held and headquartered in Sunnyvale, Calif
Download a free 30-day trial of the latest, fully-functional Connext DDS software today: https://www.rti.com/downloads.
RTI, Real-Time Innovations, RTI Data Distribution Service, Connext and 1RTI are registered trademarks or trademarks of Real-Time Innovations, Inc. All other trademarks are property of their respective companies.
Posted on May 16, 2006
About RTI
Real-Time Innovations (RTI) is the largest software framework provider for smart machines and real-world systems. The company's RTI Connext® product enables intelligent architecture by sharing information in real time, making large applications work together as one.
Media Contacts
For all media inquiries, please contact: press@rti.com
Cameron Smead
Public Relations Senior Manager, RTI
Karbo Communications for RTI (U.S.)
(650) 270-1097
Agentur Lorenzoni GmbH for RTI (EMEA)
T:+49 8122 55917-0
Real-Time Innovations
232 E Java Drive
Sunnyvale, CA 94089
USA
+1 (408) 990-7400
info@rti.com