RTI provides an efficient path for development, from research to proof-of-concept, and into production. With support for over 100 hardware platforms and a transport agnostic design, RTI Connext Drive® enables fast integration and portability of application, from prototype to production, without the need to modify application code or change the network architecture. By relying on RTI Connext Drive, you can get to market faster and reduce the total cost of production development. Let RTI take care of the complexity of the connectivity of your application, so you can invest all your time developing the core value of your product.

RTI Connext Drive is used in thousands of programs and has been designed to handle both the early stage of development, when requirements continue to change, and the hard requirements of production development. Changing the connectivity and communication architecture part way through a project can introduce significant risk to the cost, reliability and delivery schedule of a project. Depend on RTI's experience to smooth the transition and ensure you have a connectivity framework that will meet your needs now, and into the future.
Use Case / Features
| Use Case | Feature | Value |
| --- | --- | --- |
| Multiple Collaborative Teams | Common Data Model | Teams can collaborate using a common interface definition that enforces interoperability, reducing time spent debugging changes in configuration and application interoperability. |
| Evolving Data Models | Extensible Types (X-Types) | Maintains interoperability between subsystems and over time, despite differences in the data model. Reduces the cost of integration and ensures long term compatibility of your product versions |
| Heterogeneous or Unknown Hardware Platform | Extensive Platform and Transport Support | Applications can be moved between different operating systems and hardware platforms, and use different transport without any code changes |
| Modular Development | Data-centric Architecture | Application depends only on the data interface, not on the behavior of other modules, reducing the cost and complexity of maintaining a system. |
| Scalable | Peer-to-Peer, brokerless, server less | Proven capability to scale from small proof-of-concepts to very large systems with 100,000's of data points |
| Reusing IP in new projects and production | Robust, future proof architecture | Applications can be migrated to production development, or new projects, seamlessly |
Support for ROS 2
RTI applications support the ROS 2 open source project. Connext Drive provides the Robotic Operating System (ROS) community with a proven connectivity platform that is interoperable with other DDS implementations, is scalable, has robust security, and is proven in multi-billion dollar production environments.
Download the latest version of ROS 2, which includes RTI Connext®, today from the ROS repository. If you would like to use our tools or Connext® Secure version please follow the links in the documentation to download a copy of our full version of RTI Connext.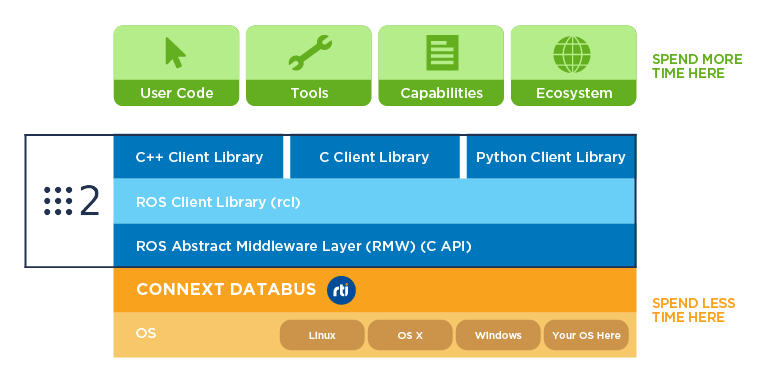 The Open Source Robotics Foundation is building ROS 2 on DDS so they can spend more time on features that add value to the ROS community.

Listen to the podcast series
---