Connectivity for Next-Generation Military Ground Combat Vehicles
Military ground combat vehicle designs are evolving rapidly, based on software-defined platforms that can enable the reliable, real-time flow of mission and vehicle data. These vehicles run on low latency, high-reliability networks that connect and control the performance, efficiency and safety of all key systems. These systems need to successfully scale across manned and autonomous vehicles, as well as integrate capabilities from both legacy and newer platforms.

To meet these intelligent data-centric requirements, military ground vehicles must be able to:
Acquire and integrate operationally relevant on-vehicle and off-vehicle capabilities
Provide support for open GCIA, MOSA and CMOSS standards
Support secure, reliable vehicle-to-vehicle (V2V) and vehicle-to-infrastructure (V2I) communications that facilitate manned-unmanned teaming at the speed of combat
Accelerating Mobile Deployment
RTI Connext delivers military-grade connectivity for ground systems that support open GCIA, MOSA, CMOSS and other software-defined vehicle designs. It provides fast, scalable, reliable and secure connectivity across platforms, integrating with vehicular software standards and enabling rapid insertion of novel technologies and functionalities. By accelerating and optimizing the flow of data, Connext can help increase mission readiness, reduce program risk and reduce operational costs.
Looking for additional information?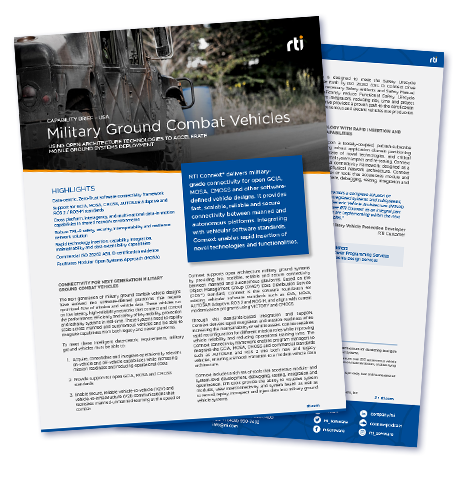 Military Ground Combat Vehicles Capability Brief
Learn about open architecture technologies accelerating mobile ground systems deployment.