Originally presented on April 11, 2017.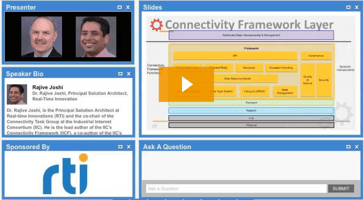 To address the confusion, of the Industrial Internet of Things landscape, the Industrial Internet Consortium (IIC) just released the Industrial Internet Connectivity Framework (IICF). It is the result of years of work by many organizations and the only extensive connectivity analysis by multiple experts from many companies at a major consortium. More importantly, it is not just high-level design. It provides detailed, useful, tangible, and practical guidance for those building IIoT solutions today.
With the guidance of the IICF, system developers now have a clear roadmap for navigating the IIoT connectivity landscape. The framework clarifies the connectivity stack, provides an assessment template for system architects evaluating connectivity technologies, defines a reference architecture for data sharing and establishes criteria for core connectivity standards. It sorts out differences and applicability between connectivity frameworks standards such as DDS, OPC-UA, oneM2M, and connectivity transports standards such as MQTT, CoAP, HTTP that are sometimes used to build ad-hoc frameworks.
In this webinar, Dr. Stan Schneider, CEO of RTI and IIC Steering Committee member, and Dr. Rajive Joshi, Principal Solution Architect at RTI and Co-Chair of the IIC Connectivity Task Group, will discuss the significance of the IICF in accelerating IoT development and the analysis of current standards.