TSN and DDS
Converging two communications standards for deterministic, real-time, end-to-end data distribution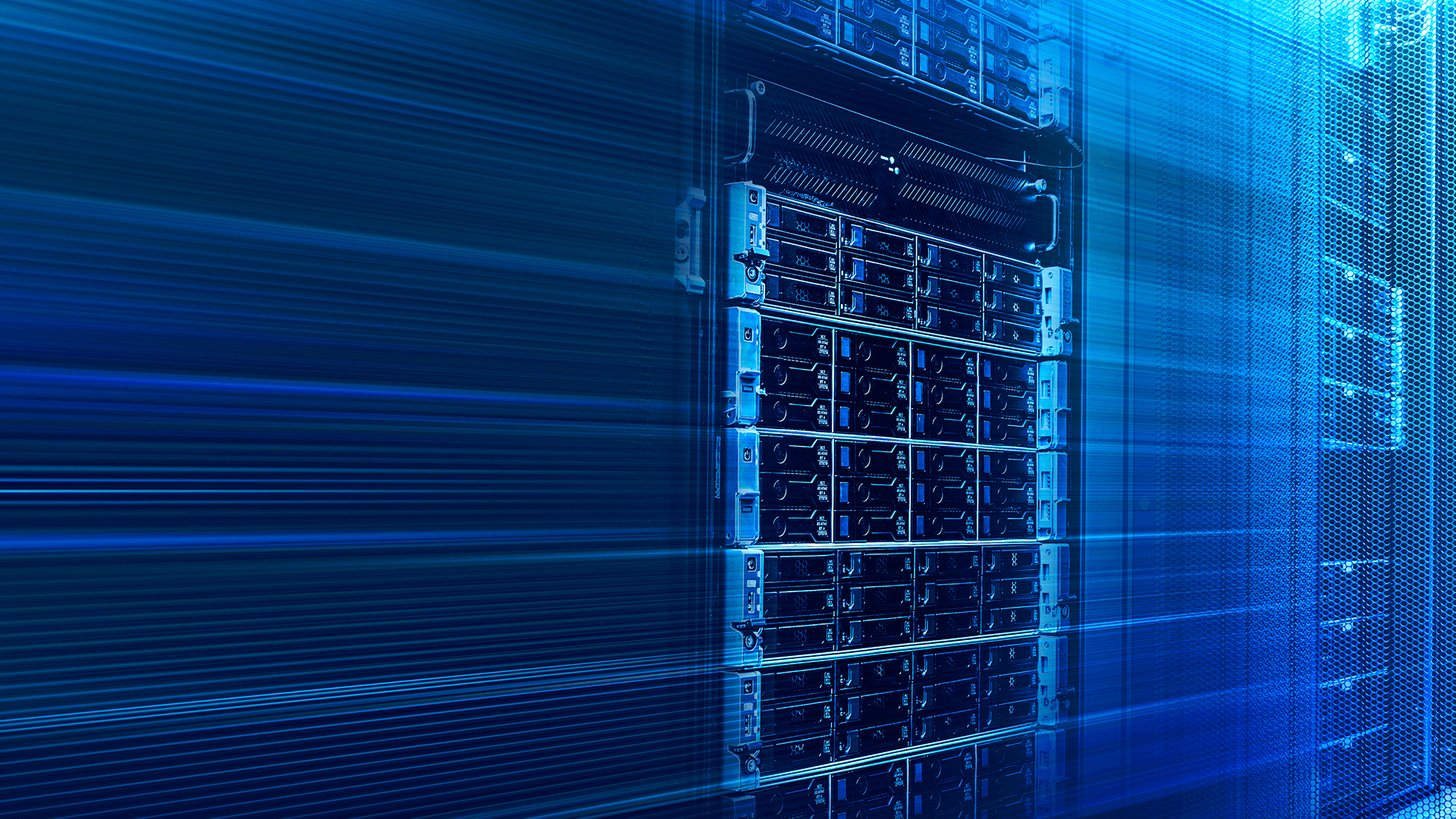 The combination of Data Distribution Service (DDS™) and Time Sensitive Networking (TSN) takes deterministic communication to the next logical step, making it possible to specify and enforce Quality of Service (QoS) for critical data flows in distributed systems.
TSN
An IEEE® standard.
A lower-level (Layer 2) network technology that provides deterministic packet delivery over standard Ethernet.
Intended for real-time applications that require predictable behavior.
Designed to centrally manage network resources (NIC cards and switches) and schedule all the packet flows to minimize jitter and guarantee the latency of the critical messaging exchange.
DDS
A family of OMG® standards that defines a connectivity framework for data-centric applications.
A framework supporting both the publish-subscribe and the request-reply (client/server) communication patterns.
Implemented as a software layer that sits close to the application and provides an open API and Protocol to enable QoS-aware communications, enabling determinism, reliability, scalability and availability.
Together, TSN and DDS are a natural fit to enable deterministic communications in distributed systems using standards-based, commercially-available technologies. By putting DDS on top of TSN, system architects and application developers can leverage the DDS software databus with the advanced networking capabilities of TSN to create a powerful distributed data-centric software integration framework. This combination improves system performance by preventing non-real-time traffic from interfering with deterministic real-time data flows on the same network.
RTI Connext, based on the DDS standard, provides standardized data exchange and communications between applications built from separate components. Combined with TSN, RTI Connext enables system administrators to define the reliability of data flows, latency budgets, deadlines, durability requirements, data lifespan and other factors within a modern architectural framework. This approach enables developers to save on both system development and maintenance costs.
OMG DDS-TSN Standard
In April 2023, the Object Management Group® (OMG) published the specification for a DDS-TSN standard. This new standard enables software applications using the DDS databus to be deployed on, and leverage, TSN-enabled networks. It defines rules for mapping DDS features onto TSN concepts to support the design, deployment and execution of DDS systems over TSN networks in a standardized fashion. The DDS extensions for TSN specification is available here.
Looking for more? Check these out: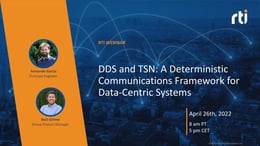 DDS and TSN Technical Webinar
Our DDS-TSN experts provide a deep-dive introduction to the new specification.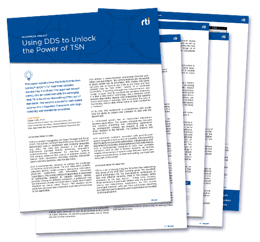 Technical Insight: Using DDS to Unlock the Power of TSN
Learn more about this powerful pairing.
DDS and TSN provide the communications backbone in current and future automotive designs. Together, DDS and TSN enable rapid, reliable communication flow within and across complex distributed systems and subsystems. They ensure that data in motion flows correctly, reliably and with low latency across areas including Advanced Driver-Assistance Systems (ADAS) and Automated Driving (AD).
The NATO Generic Vehicle Architecture (NGVA) provides a highly reliable approach to platform design and integration for a new generation of military vehicles. NGVA systems require continuous access to new, real-time data that can also be delivered over remote, long-distant terrain. It uses DDS and TSN to provide a simplified network structure that creates significant performance improvement by enforcing real-time Quality of Service (QoS) for critical traffic flows. Read the 2022 RTI-Relyum white paper for more details.
Many use cases within Industrial Automation require deterministic Ethernet to achieve fast, deterministic and robust communication. Increasingly connected systems of software-driven smart devices and machines has led to an increase in network traffic in ever-growing converged networks. These systems require flexibility and scalability to support small devices and large server systems while ensuring bounded latency for time-critical communication. TSN with DDS ensures these requirements are met for deterministic and non-deterministic communication from edge to cloud.
RTI Partners
RTI is proud to team with the following leaders in TSN technology.