Originally presented on December 7, 2016.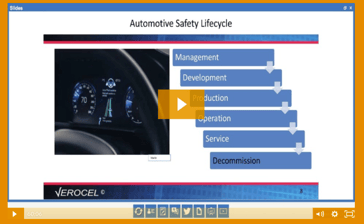 ISO 26262 is the de facto safety standard for road vehicle electronic systems development and production. This comprehensive ten-part standard applies to all elements of vehicle design including functional safety, system development, hardware, software, supporting processes and more. ISO 26262 is organized such that software components can be certified independent of the vehicle, which allows OEMs to take advantage of commercial off-the-shelf software to reduce their certification cost and risk.
This webinar, hosted by RTI and Verocel, will:
Cover an overview of the ISO 26262 software objectives and how commercial software components like RTI Connext DDS can be assessed and used across many various platforms without modification.

Show how Connext DDS reduces initial and recurring certification costs by decoupling modules and easing integration of components with different safety levels.

Define key characteristics of ISO 26262 reusable software along with useful recommendations on how to integrate reusable software in subsequent ISO 26262 assessments.