Originally presented on March 28, 2019.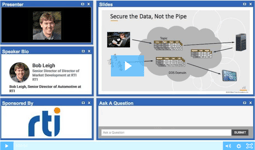 The automotive industry needs a common framework that can meet the performance, safety and security requirements necessary for Level 4 and Level 5 Autonomy. Of the dozens of platforms and architectures being developed for autonomous vehicles, there are 3-4 basic designs (ROS2, Adaptive AUTOSAR, Databus and the Apollo framework) that are most likely to win out. Each design addresses a unique market challenge and nearly all of them are based on DDS, a flexible connectivity framework that is already deployed in thousands of autonomous systems spanning industries from aerospace and defense to healthcare. RTI, with its Connext product suite, is the world's largest vendor of products based on the DDS Standard.
In this webinar, Bob Leigh, Senior Director of Automotive at RTI, discusses how DDS was designed for mission-critical applications with safety concerns, making it the ideal connectivity framework for autonomous vehicles. Bob will uncover:
RTI's newest release, Connext 6, and the features specifically designed to address the needs of Level 4 and Level 5 autonomous vehicles, such as support for very low latency and high data rates, integrated data-flow security, safety certification, and a data-centric, dynamic architecture.
How this technology will ensure that the industry can innovate and compete based on a common software platform that will support autonomous vehicle requirements, now and into the future.