Originally presented on December 3, 2019.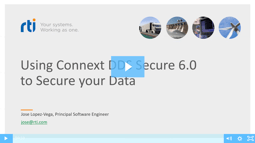 Learn how Connext DDS Secure 6.0 can help you take control of your DDS-based system.
In this Tech Talk, RTI's Connext DDS Secure product lead, Jose Lopez-Vega, introduces viewers to the RTI Security Plugins, which support the Connext DDS Secure implementation of the OMG DDS Security specification. He also highlights tips and tricks on how to effectively switch to Connext DDS Secure from a Connext DDS system, based on the experience we have acquired from customers who are already using the product. Lastly he covers the main changes introduced in the Connext DDS Secure 6.0 release (and upcoming 6.0.1 release), and the benefits these enhancements offer.