***Notice regarding novel coronavirus (COVID-19): In an effort to protect both the health of our valued customers and employees, RTI has ceased all on-site services until the resolution of the pandemic. RTI will work with you to provide services remotely during this period.***

Architecture Study Overview
Thank you for your purchase of an RTI Architecture Study. An RTI Architecture Study helps you maximize the value of your investment in RTI Connext DDS, the most powerful and reliable connectivity framework for the IIoT. RTI's expert Professional Services team works closely with your team to understand your specific project requirements, use cases and schedule, in turn creating an architectural strategy that meets your needs for applying RTI Connext DDS to your system. As a result, you'll be in a better position to meet your short and long-term goals, while avoiding potentially costly rework late in the design cycle.


Architecture Study Steps


*If you are unable to access the SurveyMonkey link to schedule your Architecture Study, please access this PDF version and return to scheduling@rti.com.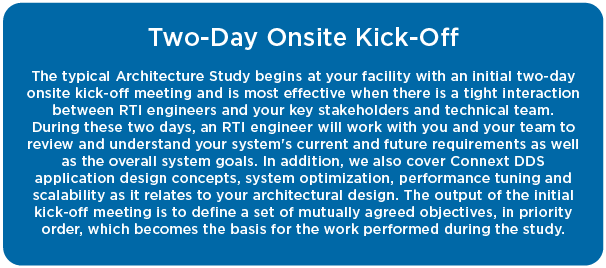 The Architecture Study is typically 4 weeks of effort (160 hours), performed over the course of 5 to 8 calendar weeks following the on-site kick-off meeting, depending on your schedule. We strive to schedule the on-site kick-off meeting within 8 weeks following receipt of the scheduling form, based on your schedule and RTI resource availability. Architecture studies must be scheduled within 6 months of purchase. Travel expenses are included in the purchase price.
Thank you, and we look forward to working with you.


About RTI Professional Services
The RTI Professional Services team helps organizations around the world to optimize their high-performance DDS-based systems. Our highly-experienced engineers deliver results ranging from architecture and design review to performance optimization to operational efficiency gains to locating problems in homegrown code. We work on site to provide a deep-dive analysis, recommendations and hands-on code changes to ensure systems work as intended. While each project is unique, they all achieve the same result: total client satisfaction.
---