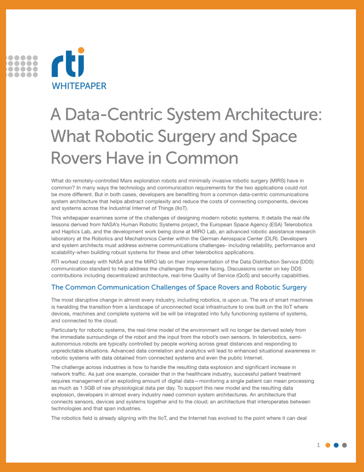 Designing modern robotic systems for the Industrial IoT has become a reality for today's engineers, developers and system architects. However, as the industry moves towards autonomy the technical challenges of connecting to the cloud, achieving interoperability between systems, and meeting the stringent security and safety requirements are only increasing.
You will learn:
How modern robotic systems are addressing the increasingly challenging technology and connectivity requirements

The importance of a layered databus architectural pattern and the DDS standard in meeting and exceeding these requirements

Lessons derived from real-life applications including NASA's Human Robotic Systems project, the European Space Agency (ESA) Telerobotics and Haptics Lab, and advanced surgical robotics systems at DLR's MIRO Lab

How to determine if your robotics project could benefit from using RTI Connext DDS as its connectivity framework
Complete the form to get this whitepaper.